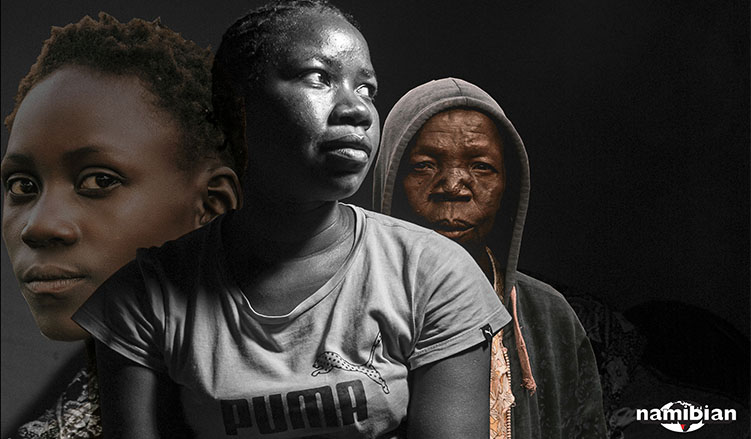 ---
By Pricilla Mukokobi | 15 April 2021
---
EUNICE Mwananyanda (20), a resident of the Zambezi region, says she does not regret indulging in one of the oldest cultural norms among the people in the region called sikenge, an early initiation of young girls into womanhood.
The initiation process isolates girls from the age of 14 and teaches them how to live with their husbands when they get married. It also prepares them for marriage. It is popular in the Zambezi region and is also practised by the Lozi people in Zambia.
Sikenge is conducted by elderly women and also teaches the young girls how to handle a man in bed, how to be disciplined and their marital responsibilities.
"I was so scared in that room because I was alone and my grandmother didn't explain what was happening until some old ladies informed me. I don't see any harm in sikenge; they really taught me a lot. Even when I decide to get married today my marriage won't fail because I have been taught how to handle my husband and how to care for my family and home," she said.
While Mwananyanda sees the tradition as rather primitive, she believes it has shaped her to be the woman she is today.
Another graduate of the tradition, who preferred to speak anonymously, said she first encountered the rare traditional practice when she was 14 when she interacted with her sisters who were in isolation during their initiation. Her role, popularly referred to as a sender (kashambeli), was to merely check up on her sisters and sometimes bring them food during their initiation period.
"Sikenge has no harm but things that they are teaching us at a young age are not good because some girls tend to sleep around to see if the things they are taught are true! Some teenagers are pregnant because they learned it from their elders at a young age." She added that, "Some girls lack respect, love and discipline because they refuse to be taught by elders; the majority are following the new generation, which doesn't help."
She also argued that sikenge does not only prepare women for marriage, but is also a tradition that every Zambezian should go through.
Eline Mabuku, a 51-year-old lady, who conducts sikenge ceremonies at Liselo in the Zambezi region, has been helping young girls who have reached puberty for almost 15 years.
Mabuku told The Namibian newspaper, that the sikenge ceremony is part of culture, which is core to the Zambezi region. Unfortunately, she bemoaned the fact that the cultural practice is fast dying out among young girls.
"Sikenge is a ceremony of preparing young girls for marriage. When a girl reaches puberty, we hide her in a private room and start teaching her womanhood. If the girl doesn't adhere to our rules, we beat her. We do not force these girls into marriage afterwards. We leave them as long as we have done our part as parents, mothers, sisters and aunties," she said.
In the past, Mabuku said, she has kept her daughters and granddaughters in a private room for two months, teaching them discipline and how to dress as a woman. "In our time of growing up, no one was against sikenge because this is our great-grandparents' culture," she said.
While others are keen on keeping the tradition that Katherine Sitali, a resident of the Zambezi region, is against, sikenge is dying because young girls do not know how to speak to elders.
"I'm not impressed by kids of nowadays because cellphones are now controlling them. During our time, when we saw boys, we ran away, but today's girls are not afraid of boys," she said.
According to Doreen Sioka, the minister of gender, sikenge has both advantages and disadvantages.
"I don't like the fact that girls have to go through a lot in sikenge. For instance, girls are beaten; they get traditional cuts (insalo). Such treatment is not needed; that's why we want the ministry of gender to create awareness," she said.
She further explained that girls who went through sikenge are different from girls who did not go through it.
"Girls are taught manners in sikenge and they are being prepared well for marriage. Hence, girls who didn't go through sikenge are taking themselves to marriages/boyfriends and they don't like to be told," she stated.
Sikenge of nowadays is nothing compared to the sikenge she knows from the past, even though she did not go through it.
BACKGROUND
According to research, sikenge is an ancestral culture that originated from Zambia but is shared among Zambians and Namibians in the Zambezi region, primarily those of Lozi descent. The controversial culture has been practised for decades in both Namibia and Zambia. While celebrated in the two countries, it has been criticised for its primitive beliefs where girls are taught how to pull their labia minora (malebe) using chemicals and pegs, which is not healthy, hygienic and safe. Girls are also beaten and deprived of their own rights.
According to Mimi Mwiya, a programme officer from the Women's Leadership Centre in the Zambezi region, sikenge is very harmful to girls, because it is not safe for a 15-year-old girl to be taught how to please a man in bed because if a man sees that the girl is ready, they will want to sleep with the girl.
"I'm not saying sikenge is very harmful, or all of it is bad; it is just unnecessary. I'm a Namibian Lozi. I have seen many girls exposed to this, failing to go beyond primary school. You can go up to Grade 7 then you get married, which is not good at all," she said.
She added, "The other thing is that girls are taught how to dance for their future husbands and in some communities after training is over, they are expected to demonstrate what they have learnt with male relatives – it can be your uncle or grandfather – which leaves them vulnerable to teenage pregnancy and sexually transmitted diseases."
THE FUTURE
Mwiya added that, "Sikenge has been a rite of passage for many women in the Zambezi region, across generations. So, we understand that we cannot do away with it completely. In some parts of the region where sikenge is no longer practised, some girls have felt robbed of this part of their culture."
"Perhaps instead of doing away with sikenge, we can modify it," Mwiya said.
She also suggested adoption of modern ways of dealing with the tradition.
"Instead of teaching and encouraging girls to be silent and obedient and how to please men, we can train initiators (mothers and grandmothers) about menstrual health. This is what they teach girls during initiation: how to cope with periods and the changes that will come with them, cleaning up after and around yourself, etc. Initiation could be used as an avenue for women to foster open communication about sex and sexuality with their daughters and granddaughters," she said.
She added that, "Girls and young women should be taught that they have voices, and the right to express themselves. If girls and young women are taught to respect men and to be good wives if and when the time comes, boys and men of all ages should be taught to respect women, to be good husbands if and when the time comes, but before all that to see girls and women as human beings entitled to their full human rights."
The women's rights activist added that there is a need to empower young women. "We need to raise awareness, especially amongst parents and elders, for them to protect the girl child. We need to educate both young women and their parents about the dangers of all the harmful cultural practices that are being imposed on girls and young women. So, we can all take on the responsibility of transforming our culture," she said.
– This story was produced with funding from the Google Grant