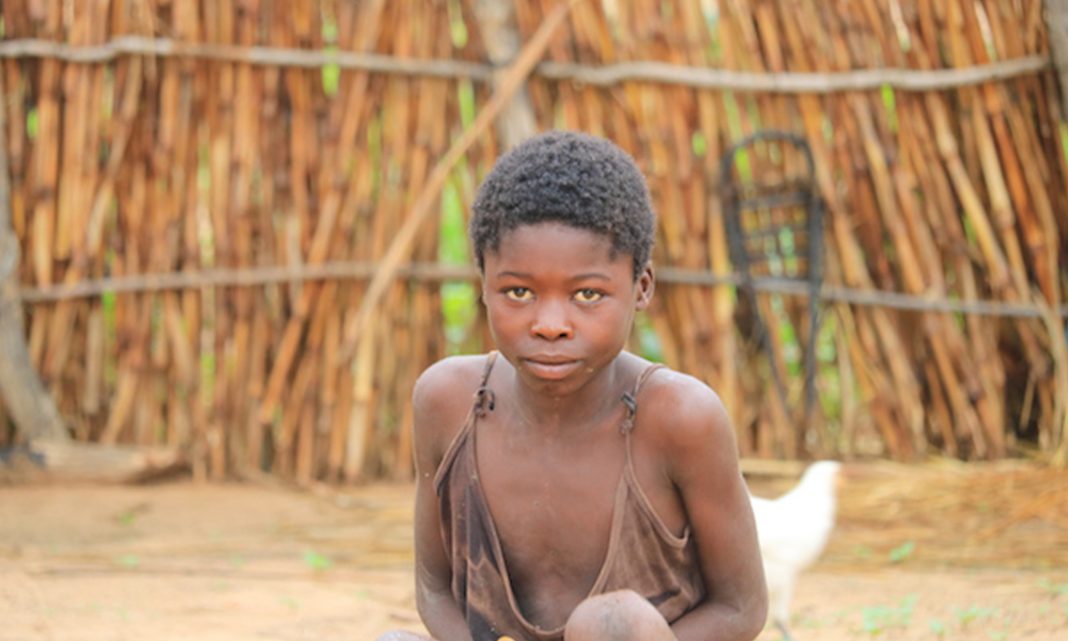 ---
By Michael Thikusho | 26 January 2021
---
THE Kavango regions have consistently been home to among the poorest communities in Namibia.
Poverty often begets poverty, and for 10-year-old Vihinda 'Masozi' Kavavu and his family, this is a reality.
Tormented by poverty for generations, his family has now become a source of cheap labour for the community, working as cattle herders and regulars in minimum-wage jobs.
Masozi's great-grandparents dragged through life as uneducated 'day labourers', eager to get their hands on any type of job, and so did their children, while his mother, Christina Shipipa (51), left school in the first grade to work as a babysitter for her uncle, and never got the chance to be educated again – nor to catch a break.
Masozi's brothers Shipipa Kavavu (15) and Faustinus Kavavu (22) quit school at primary level and subsequently found work as cattle herders – and so the cycle of poverty goes.
Masozi's daily battle of finding water, food, proper shelter, and clothing, coupled with a lack of role models to look up to in the family sets him up for failure early in his life.
Yet Masozi is adamant education will liberate his family from abject poverty.
He lives with his family in the Makandu settlement area at Ndonga Linena in the Kavango East region.
His older siblings left home in 2018 for Rundu in pursuit of a better life and have not returned since.
There are five thatched huts in the family's homestead, made out of yellow thatching grass and pale mud.
Masozi and his mother share the most spacious one.
Inside the hut is a steel wire cutting across the room with clothes hung over it, also serving as a barrier preventing people from seeing inside.
Behind this barrier of clothes is the bedding, with no mattress – just a single layer of 50 kg maize meal bags knit together on a cold mud floor, covered with two blankets.
"Falling asleep on this bedding is quite difficult to achieve," Christina, who is also battling tuberculosis, says.
THE STRUGGLE
Masozi tells The Namibian he usually goes to school on an empty stomach if there are no leftovers from the previous night's supper, and sometimes relies on his classmates to share their breakfast with him.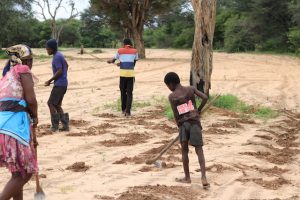 "Food is usually rationed to ensure it lasts for the month, and sometimes supper is just too little to fill my stomach and save some for breakfast. On those days I have to be a man and just go to school on an empty stomach," Masozi says.
He says although his classmates share their breakfast with him at times, he does not always accept this as he wants to maintain some dignity.
During our visit Masozi wears a white shirt scribbled with the words 'Mamba-7', which he says is his nickname on the football pitch, paired with patched-up grey school trousers.
"These are the only trousers I have that are not torn. I wear them to school and play in them after school. My mother has to patch them up often and I barely get the chance to wash them … sometimes once a month," he says.
With their mother unemployed, uneducated, and battling tuberculosis, Masozi and his brothers have no one to depend on or to put food on the table but themselves.
Masozi says he and his brothers try to bring food to the house by doing random jobs.
"My brother Faustinus is a cattle herder, and on some days when he needs rest, I take up this role," he says, adding this means he cannot attend school on those days.
Faustinus says: "I was not bad at school, but I left because of extreme poverty. I could not take it any more. I also had no shoes, wore a torn school uniform, and went to school on an empty stomach."
He adds he would often be blighted with physical pain from eating little food and being overworked, as well as suffer daily humiliation over his torn clothes.
"It is painful seeing some of my friends progressing in school while I take care of other people's cattle for a mere N$500."
Faustinus says dropping out of school is a trend not new to the family.
"I hope it's different for Masozi. I will fight for him to be educated. He is now our last hope to get out of this trap," Faustinus says.
It is almost 19h00 in Makandu, and supper is almost ready at the Kavavu residence. The boys want to know what is for dinner.
"The usual, pap and mutete. We have had it every day for the last two weeks, but mum promised we will have some dry maize tomorrow for a change," Masozi says..
NO WEEKEND
On Saturday, Christina and Shipipa pack leftovers from the previous night's supper and a bottle of water.
They will be working in the fields as 'day labourers' today for a wage of N$30 each.
"Today we will be working on Mr Peter's field from eight o'clock to eleven o'clock. Tomorrow we will work on my sister's field to repay a debt we owe her for a 10 kg bag of maize meal" she says.
Christina says the money she is working for will mostly be used to cover her transport costs to Nyangana hospital for a follow-up appointment, which will cost N$100.
"I was hospitalised for three months for TB, and my children suffered a lot in that period. That is why I am more serious now about my appointments.
"I have to work on Sundays as well just to have enough money to cover my medical expenses and buy my children soap. I am sick, but I have to push," Christina says.
She says the trauma of making difficult decisions continually is detrimental to her mental health.
She is always at a crossroads about whether to use the little money garnered from hard labour to buy food or clothes, she says.
"It is difficult making some decisions at times, because as a mother I am tasked with protecting my children ..," she says.
Christina says poverty forces one to accept rudeness, insults, and indifference.
"Poverty is our family's curse … I found it here, my children have now inherited it, and they too will pass the baton on to the next generation," she says.
Two days have passed since our four-day visit to the family's residence. Upon our return, an excited Masozi shows us the new school uniform his aunt bought him.
He says he now enjoys going to school.
NOT ALONE
While Masozi may feel his situation is unique, in actuality, there are many in the same position as him across the Kavango regions.
Households headed by children, cheap child labour, and child marriages are factors not often spoken about contributing to the vicious cycle of poverty.
The Namibian met with Agatha (28) at Kashira village, some 30 km away from where Kavavu and his family live.
Agatha, just like Masozi, was born into poverty, left school at a young age, and started working.
She runs a business selling various food items around the community, but is still haunted by the effects of poverty.
Many dependants look to her for food, clothing, and to cover medical bills.
Agatha, a single mother of two, is the breadwinner of two households, with a total of 16 mouths to feed.
"It is a big family and everyone has to eat. Clothing and school come second, because I cannot provide that for every single one of them. It is difficult to expand my business, because all the money goes to food," she says.
Factors like the high dependency rate and exclusion from partaking in economic activities due to a lack of education are fuelling the cycle of never-ending poverty in the region.
Michael Santos, the regional head at the Ministry of Labour, Industrial Relations and Employment Creation, says child labour affects children's mental health.
"Children who have been forced into employment at an early age usually exhibit abnormal behaviour – even after proper counselling," he says.
Santos says children who have been liberated by the authorities and reintegrated into the school system often isolate themselves.
"Child labour can sometimes be more than just work. There are times when physical abuse and sexual harassment are involved, and it is quite difficult to reintegrate those children with peers," he says.
Santos says generational poverty in the Kavango East region is a reality and attributed it to the lack of diversity in economic activities in the region.
"This region has relied on agriculture as the only economic activity to create meaningful employment for too long. It was the way of our forefathers, and getting a menial job in agriculture was preferred to going to school. Now that the green schemes are operating at half capacity, we are going hungry because we did not learn other things," he says.