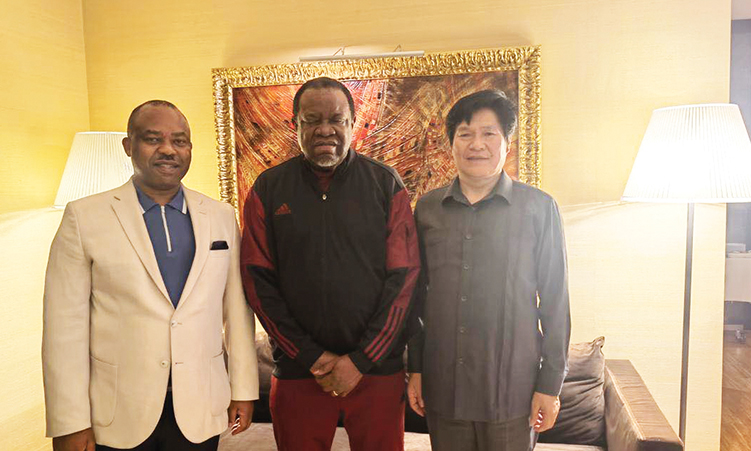 By Shinovene Immanuel and Ester Mbathera | 14 October 2022
PRESIDENT Hage Geingob's friend, Jack Huang, will not face serious charges relating to a N$3,5 billion tax evasion, fraud and money laundering case, his lawyer, Sisa Namandje, says.

Huang, who was Geingob's business partner in a Windhoek township development, was arrested in 2016 for his alleged role in a money laundering scheme.

He has allegedly also helped import the president's tax-free furniture from China.
Huang has since moved to Angola after being released on bail.
The Namibian reported in 2018 that the state forfeited Huang's N$1,5 million bail deposit in 2017 after the Chinese businessman became a fugitive from justice in Namibia.

This tainted reputation did not stop Geingob from meeting the controversial Chinese businessman in Luanda last month during his trip to Angola for the inauguration of the country's president, João Lourenço.
Namibia's Presidency has confirmed the meeting.

Namandje last month told The Namibian that Huang is not implicated in the money laundering case.

"My client, Jack Huang, is only indicted to stand trial on one charge under certain sections of the Income Tax Act," he said.

The Namibian has in the past reported that Huang was facing charges based on allegations that Chinese-owned businesses based mostly at Oshikango used false or manipulated import documentation to send about N$3,5 billion out of Namibia – mostly to China – through the bank accounts of two companies of Walvis Bay-based businessman Laurensius Julius from 2013 to the end of February 2016.

It is also alleged that the accused under-declared the value of goods imported into Namibia to customs authorities to evade the payment of customs duties.

Namandje said the police at the commencement of the investigation seemed to have assumed that Huang was a member of a close corporation, called Golden Phoenix, until 2016.

"This was, however, wrong as he ceased to be a member in 2013. There was no dropping of charges," he said.

According to Namandje, Huang was a suspect and appeared in the Windhoek Magistrate's Court until 22 June while awaiting the finalisation of the police's investigation and the prosecutor general's decision.

"He was never ever charged or indicted with the often-repeated N$3,5 billion fraud. Each accused in the case is facing his or her own charges," he said.

"Please remember that if a person gets arrested on a charge in respect of a suspected offence which could conceivably only be tried in the High Court, the person is not yet indicted and arraigned until the prosecutor general has decided," Namandje said.

"The prosecutor general only decides in such cases to prosecute or to decline to prosecute after the finalisation of the investigation," he said.
Namandje said "so my client is only to be prosecuted on one non-serious charge, which we will demonstrate at trial that it is unmeritorious".

Questions sent to the prosecutor general, Martha Imalwa, on letting Huang off the hook, were not answered.
THE LUANDA MEETING
Geingob has in the past described Huang as his friend.
"When my friend was arrested and spent a night in jail, there was no interference or intervention.
This is because in Namibia, we uphold the rule of law, the separation of powers, and pride ourselves on the total independence of our judiciary," Geingob said in 2017.

A photo of Geingob with Huang in Luanda emerged last month.
Geingob was attending Lourenço's second inauguration ceremony.

Presidential spokesperson Alfredo Hengari last month told The Namibian: "Mr Huang, including China's special envoy to the inauguration of president Lourenço, paid a courtesy call to president Hage Geingob on the margins of the official visit of the president to Angola," he said.

"President Geingob, as a champion of the rule of law and effective governance, does not discuss matters before courts. Besides, the alleged tax issues of Mr Huang has nothing to do with the president, therefore I don't see why the president should be asked such questions," Hengari said.

Geingob and Huang were business partners in African Sunrise Investment Pty Ltd, through which they plan to set up a township with 400 apartments, 24 villas, two mansions, and a hotel in the upmarket area of the Klein Windhoek farmlands.