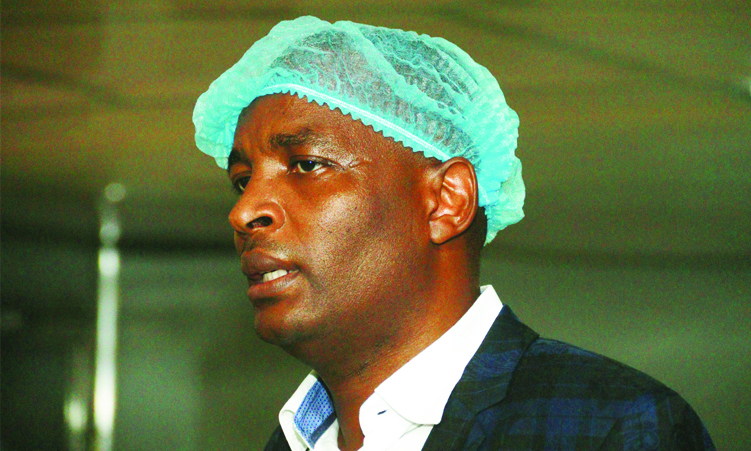 By Shinovene Immanuel and Ester Mbathera | 20 January 2023
BUSINESSMAN Shapwa Kanyama's company, which officially employs three permanent staff members, won a two-year N$650 million government medical supply contract this month, including a deal to supply condoms.

There are concerns that health tenders are continuously being snapped up by a clique of connected companies.

This contract is part of the N$2,8 billion batch of health tenders awarded by the Central Procurement Board of Namibia (CPBN) on 11 January this year.

The tenders for the supply and delivery of medical products to the government were advertised in April last year.

One of the biggest winners from that procurement process is Kanyama's Amnics Trading, a company that was registered two years ago.

The two-year contract given to Kanyama's company represents 23% of the N$2,8 billion health tenders allocated last week.

Amnics Trading's N$650 million tender includes the supply of surgical gloves for N$400 million, condoms for N$111 million and other medical supplies such as needles, blades, bandages, sterilisation paper, latex examination gloves and dressing pads.
Kanyama confirmed to The Namibian yesterday that he owns Amnics Trading (Pty) Ltd.
He said it is a manufacturing company of medical supplies in Namibia.

"I understand the hype around the award to our company, which is yet to be formally communicated to us," he said.

"We bid like any of the 40 other companies which are considered for the award, with nothing untoward suggested against them.

"I tendered like everyone else. If the tender is awarded to my company, it is not because I am politically connected, " he said.

Records obtained by The Namibian from the Social Security Commission (SSC) this week show that Kanyama's Amnics Trading employs just three people.

He, however, insisted yesterday that the company employs 50 workers on a permanent basis and runs at full capacity with 80 staff.

The procurement board said it awarded Amnics Trading the tenders because they manufacture in Namibia. The exact words used were: "locally manufactured".

"I submitted the tender documents like everyone submitted and mine has the factory among all suppliers. The act is clear that first preference must be given to local manufacturers. I don't understand what I did wrong," Kanyama said.

But this reasoning was rejected by some of the competitors, who said companies that won tenders on that basis were not really manufacturing medical products.

"What does he manufacture? The place he is referring to does not have a factory. When did he get the licence from the Namibia Medicines Regulatory Council to manufacture medical equipment since the company just started?" a source familiar with the tender process said.
TOP BENEFICIARIES
Around 32 companies were awarded tenders worth N$2,8 billion by the central procurement board this month.

Beside Amnics Trading, other companies that scooped medical tenders include Taliindje Investment CC (N$141 million), Wellbeing Medical Supplies CC (N$98 million), Trion Technology Solutions CC (N$71 million), Novo Medical Supplies (N$66 million) and Vita Care Medi-Pharm (Pty) Ltd (N$60 million).

The other beneficiaries are Econo Investments (Pty) Ltd (N$54 million), Allybaba and Family Investment Group (N$49 million), Facal Investment CC (N$48 million) and Zet Medical Supply CC (N$45 million).

There are complaints in the medical supply industry that Kanyama's associates or related companies also won big at last week's tender awards.

Also on the list of beneficiaries is Cereal Investment CC (N$37 million), M&H Trading Enterprise CC (N$26 million), MMED Investments and Ninas Investment JV (N$25 million), PP Immigration Business Consultants CC (N$22 million) and Uni Medical Supplies (Pty) Ltd (N$20 million).

Sources said some of these companies are briefcase entities that do not employ people, while others are being used by proxies.

Companies such as Nampharm, which is said to employ 180 full-time staff, won medical products supply worth N$1,6 million from the latest rounds of tenders.
THE BIG TIME
Kanyama, the son of medical doctor Alughodi Paulus Kan-yama, rose to the big time of state-backed medical tenders in recent years.

He is said to be close to South African medical group Avacare Health Group, which owns Supra Health Care – a company that was labelled in the media as a 'darling' of Namibian health tenders in 2020 when tenders were awarded.

Kanyama is politically connected. He was linked to a Swapo congress factor last year.
Kanyama told The Namibian yesterday he feels he is being unfairly targeted by people who have a personal vendetta against him.

He questioned why other companies are not being scrutinised.

"The following must be noted: The Procurement Act was enacted to achieve what the CPBN has done, which is employment creation, value addition and capacity building in Namibia," he said.

"We must ask ourselves how much longer do we want to keep importing and not empower ourselves as a nation?" Kanyama said.

"We have heeded the national call by investing millions to set up the manufacturing unit and employ Namibians.

"Lastly, we must also not forget the massive tax obligations, so we encourage other companies to follow suit and invest in developing our country together."

The decision to award the tender to Kanyama's Amnics Trading has attracted criticism from industry players who are concerned about the distribution of tenders.

The health sector has for years faced allegations of corruption, overpricing and cronyism that has in some cases affected the provision of medical services to the public.

Five years ago, former health minister Bernard Haufiku submitted files to the Anti-Corruption Commission (ACC) containing information on alleged corruption in the procurement of medicines in the public sector.

Questions sent to the procurement board were not answered by the time of going to press.
*This article has been produced by The Namibian's Investigative Unit. Contact us from your secure email at [email protected]

Additional research by Raymond Eiseb