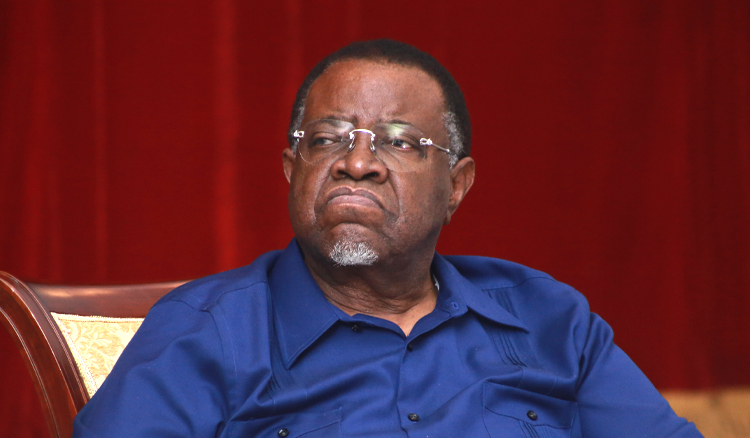 By Eliaser Ndeyanale and Shinovene Immanuel | 23 December 2022
PRESIDENT Hage Geingob may have pocketed about N$3 million in subsistence and travel (S&T) allowances from the 19 foreign trips he undertook this year.

Geingob spent 74 days out of the country.

This payout is the highest he has made from travels since The Namibian began tracking his travelling when he became president seven years ago.

He raked in N$2,4 million in his first year.

Among others, the president made three trips this year to Qatar.

Qatar has partnered with a junior exploration company linked to Geingob's close friend Knowledge Katti.

Geingob's supporters have over the years defended the president's penchant for foreign trips, saying they are meant to attract global investments and to represent Namibia abroad.

However, critics branded the trips a waste of public funds for a president who already earns an untaxed N$1,7 million per year (more than N$141 600 per month).
All Geingob's living expenses are paid by the state.

Political analyst Henning Melber says Geingob should submit a balance sheet outlining the benefits of his international trips to ordinary Namibians.

"When it comes to travelling by senior government representatives, a country's foreign minister is more abroad than anyone else," he says.

Geingob's spokesperson, Alfredo Hengari, yesterday defended Geingob's trips.

"It's disappointing that you don't focus on the work carried out by the president, and why he undertakes missions. The president is invited to participate in meetings as head of state," he said.

Hengari said since becoming president, Geingob has been donating N$60 000 every month from his salary to needy communities in the country, including assisting young Namibians with further studies.

According to him, the N$60 000 is used to help communities at Otavi, Otjiwarongo and Grootfontein with food and other necessities.

"The president has declined no less than 10 other invitations. The increasing number of invitations president Geingob receives and decline is the result of the success of the president at bilateral and multilateral fora," Hengari said.

He accused The Namibian of having an apartheid mindest by painting "black leaders as failures, greedy and incompetent".

"Namibians are not duped by these lies, which are repeatedly told and grafted as news when we all know it is not news but propaganda from a newspaper that spews hatred towards certain citizens, including the president," Hengari said.

Geingob's trips were reduced to one during the height of the Covid-19 pandemic in 2020.
Last year, he made four trips out of the country.

The number of trips this year escalated to 19 foreign destinations. He was out of the country for 74 days. The president kicked 2022 off with a trip to Brest in France for the One Ocean Summit on 10 February.

From there, hewas in Belgium from 15 to 20 February for the African Union-European Union (AU-EU) Summit.

He would have made N$200 334 in S&Ts alone from the eight days (two trips) in February this year. Geingob told the media his meetings in Europe around green hydrogen and the discovery of oil in Namibia made him "a star".
QATAR'S FREQUENT VISITOR

From March to May, Geingob travelled to Zambia, Ivory Coast and Switzerland, where he made N$178 000 from his three-day stay.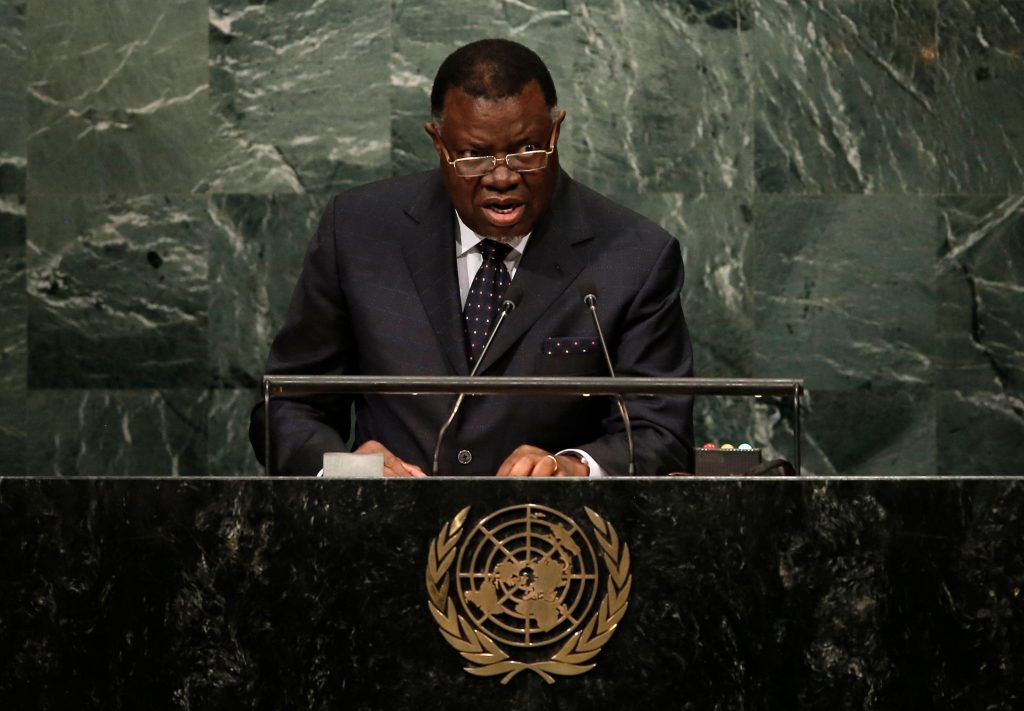 The president's trip to the Expo 2020 Dubai made him around N$284 003.

Government regulations state that Geingob should get N$72 000 (US$4114) for each day he is working in Dubai.

Geingob admitted that he was consulted over a decade ago about the formation of the Dubai Expo.
Years later, his administration dispatched civil servants to be stationed in Dubai for over six months.
Namibia's return on investment for this expo is not yet known.

Geingob travelled to Qatar three times this year, making around N$400 000 in travel allowances.
He went there in February for bilateral talks, and in June for an economic forum on inequality and green energy.

He was also in Qatar this month for the Fifa World Cup final.

Geingob is paid N$54 000 for each day he is working in Qatar.

Qatar is a country of interest for Namibia. Its state-owned company, QatarEnergy, has a 30% interest in an oil block which allegedly features oil.

The block's operator, TotalEnergies, has a 40% stake in it, while Impact Oil and Gas owns 20%.
Katti has a history with these oil blocks dating back to 2011.

Qatar is said to be in the market to buy out more oil blocks in the area where oil was discovered.
The Presidency did not respond to questions on how it would deal with a potential conflict of interest involving Katti.
DAVOS

Geingob's trip to Switzerland for the World Economic Forum was controversial.

The president claimed the summit was an opportunity for the country to display its green energy potential.

He said "people didn't have enough space in the hall to be accommodated".

However, sources who attended the summit said Namibian business leaders were confined to halls, far from the actual event.

Geingob also attended the Southern African Development Community (SADC) summit in the Democratic Republic of Congo from 16 to 17 August, where he was nominated to lead the regional block's security organ as chairperson.

Geingob flew again 21 days later. This time he flew to Botswana in September for the Botswana-Namibia Bi-National Commission. Namibia Local Business Association (Naloba) spokesperson Marius Nangolo says most of the trips Geingob undertakes are beneficial to the country, especially those strengthening bilateral agreements.

"Some are for friendship, and perhaps those are the trips he should have delegated his juniors to attend on his behalf. Any travel of the head of state must have benefits to the country," he says.
MORE TRIPS, MORE MONEY

On 13 September, Geingob jetted off to Angola to attend Angolan president João Lourenço's inauguration in Luanda.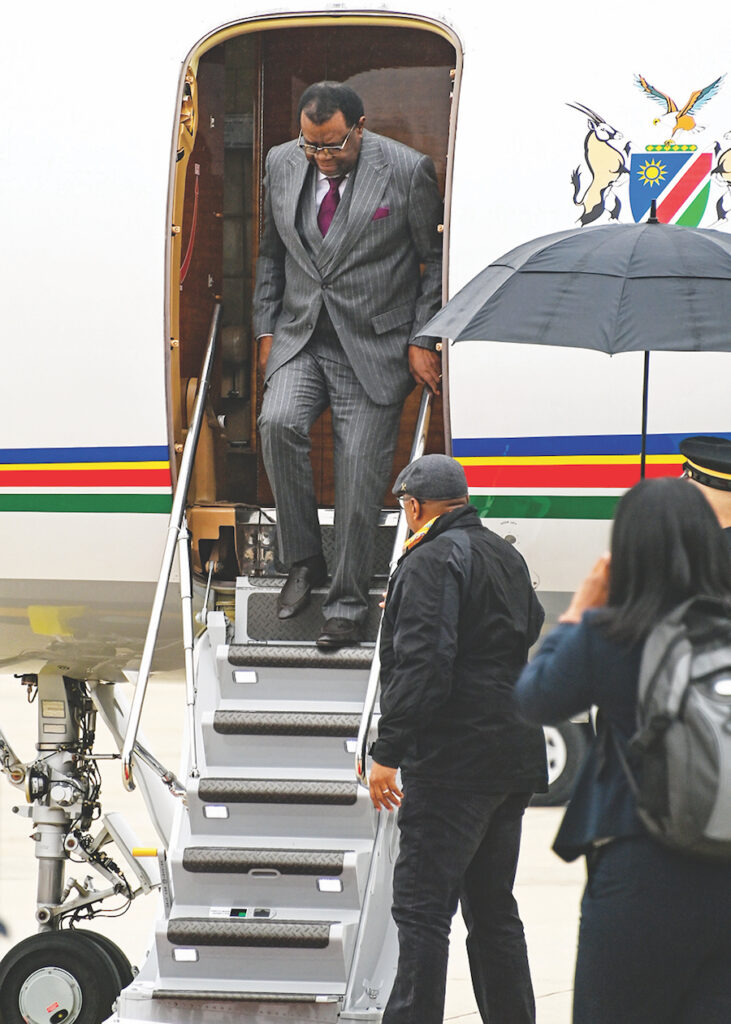 The president was there for three days – raking in N$236 000 in travel allowances.
Angola is one of the most lucrative destinations for public officials regarding travel allowances.
Geingob is entitled to N$77 700 a day in Luanda.

From Angola, he proceeded to the United Kingdom for the funeral of Queen Elizabeth II.
Thereafter, he headed to New York for the United Nations General Assembly.

With the inclusion of the Angola visit, Geingob spent 17 days outside the country and only returned on 2 October. On 24 October Geingob attended Zambian independence celebrations in Lusaka.

He also attended the climate change summit (COP27) in Sharm el-Sheik in Egypt for three days in November.

Geingob's daily S&T rate in Sharm el-Sheik was N$31 500.
THE LAST STRETCH

Geingob rounded off 2022 with a six-day visit to Washington in the United States (US), where he attended the US-Africa summit.

He landed in Washington on 11 December and stayed there for five days – earning around N$446 000.
His daily rate in Washington was N$52 847 (US$3 083).

Geingob left Washington for Qatar on 17 December to watch the Fifa World Cup finals in Doha.
The president was criticised for this. However, the Presidency defended Geingob's attendance of the event, saying he was invited by the Qatar government and Fifa.

The Presidency said Qatar is an investor in the hospitality and oil sector in Namibia, and attending the World Cup finals after the summit was cost-effective.

"The presidential plane and pilots are as per aviation rules obliged to rest for a minimum of 12 hours after a trip of nine to 10 hours," the Presidency's statement said.

"Moreover, the aircraft needs refuelling, which makes the stop-over in Qatar logical from a technical point of view."

Sources familiar with this matter rejected this explanation, branding it as an excuse to land in Qatar.
"It makes no sense to take that route. It's a cheap attempt to spin and to undermine public intelligence," the source said, adding that presidential trips of previous presidents, such as Sam Nujoma and Hifikepunye Pohamba, always landed in Cape Verde, Sierra Leone, or Ghana to refuel and change pilots.

"Those are the most economical and sensible routes."
GROUNDED

In 2020, the president only travelled to one destination before his love for travelling was brought to a standstill by the outbreak of Covid-19. At the time, governments all over the world banned travellers from entering their countries to avoid the spread of the virus which has killed more than six million people worldwide to date.

In February 2020, before the outbreak of the virus, Geingob said he would not undertake any international trips until June that year. That year, he only made one international trip to Maputo in January when he attended the inauguration of Mozambican president Filipe Nyusi.

From there, he could not travel due to the pandemic.

After taking a long break, Geingob made his first international trip in July 2021 to Lusaka, where he attended the burial of former Zambian president Kenneth Kaunda.
Later on, he flew to Algeria, New York, and Scotland.

In 2019 Geingob travelled to 14 destinations. His first 2019 trip was to Abu Dhabi, United Arab Emirates, on 16 January.

In the last four years Geingob made about 86 international trips to different destinations in the world, totalling 124 days outside of the country.
*This article has been produced by The Namibian's Investigative Unit. Contact us from your secure email at [email protected]