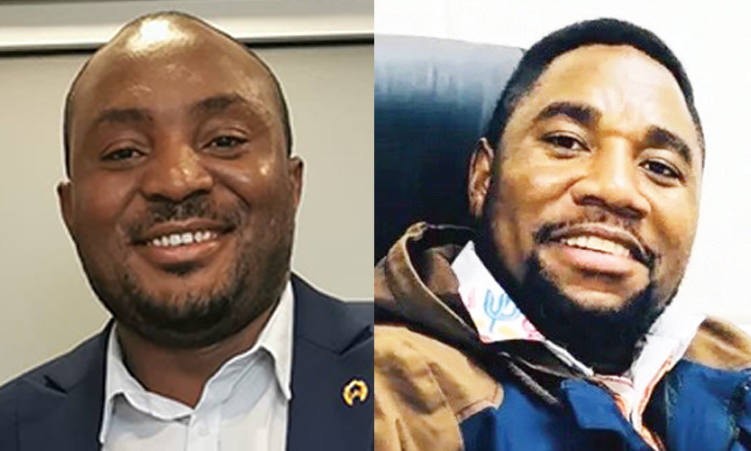 By Tileni Mongudhi and Ester Mbathera | 7 November 2022
A BRIEFCASE company implicated in the N$50 million lithium mining transaction allegedly hijacked another exploration licence from a Canadian company that invested over N$88 million in the project.
Court documents state that Ralph Muyamba – former technical adviser to minister of mines and energy Tom Alweendo – was directly involved in the process which benefited his cousin, who is said to have a history of hijacking natural resource deals.
The licence in question belonged to Haib Minerals (Pty) Ltd, a subsidiary of Canadian-listed company Deep-South Resources Inc, which claims to have spent around 17 years prospecting for copper near Noordoewer in the //Kharas region.
The Canadian company also claimed they found "significant" copper in the area.
However, the Ministry of Mines and Energy stripped them of the mining rights and shifted the exploration licence (EPL) to Orange River Mining – a company belonging to mining speculator Peter Shifwaku.
Shifwaku's cousin is Mu-yamba, who until the middle of last month was Alweendo's technical assistant.
The matter is currently unfolding in the High Court.
Court documents indicate that Muyamba emailed Deep-South representatives on 10 May 2021, confirming receipt of their representation and appeal to Alweendo.
Deep-South appealed to Alweendo to reconsider his decision after rejecting their renewal.
In the email, Muyamba also asked the company to provide proof of the N$23 million it claimed to have spent between 2017 and 2019 on exploration activities.
Muyamba also attended meetings between Alweendo and Haib representatives discussing the EPL in question.
Haib in court documents is accusing the ministry of shifting their EPL to Orange River Mining, while the Canadian company still had two days left before it expired.
They happened claimed that Orange River only applied for copper exploration rights in the same area around six months before the Deep-South EPL was due to expire.
This while they applied for renewal three months before their licence expired, as required by the ministry.
The aggrieved company also alleges in court documents that Orange River Mining's November 2020 EPL application covered precious metals, base and rare metals, which were part of Deep-South's exploration licence.
This, according to the company, is not allowed by the Minerals Act.
The exploration licence was then redesignated and named EPL 8457 in the hands of Orange River Mining.
The company says it did take longer than the prescribed six years, which was due to suppressed international copper prices, and was further dealt a blow when the Covid-19 pandemic hit.
REFUSING TO RECONSIDER
Alweendo later refused to reconsider and opted to favour a company belonging to his then adviser's cousin, upon which the Canadian-owned outfit took the matter to court.
The company is asking the court to review and declare Alweendo's decision null and void. It also asks that no other mineral rights be granted in the area where EPL 3140 was designated until the court pronounces itself on the matter.
The court granted the interdict preventing the ministry from awarding any mineral rights in the same area pending the conclusion of the case.
In his answering affidavit, Alweendo says the decision to refuse Deep-South's renewal application, was because the company failed to submit a pre-feasibility study, which was a requirement when the licence was granted for the period between 2019 and 2021.
"The applicant's failure to submit this crucial report was a strong indication that the applicant was not moving towards the mining stage in terms of the agreed timeline," the minister says.
He says his decision was communicated during 2021 at a meeting attended by the company's directors, John Akwenye, Ally Angula, and their Canadian partners Pierre Leveille and Stuard Willian.
The meeting was also attended by former mining commissioner Erasmus Shivolo and Muyamba, whose cousin, Shifwaku, ended up winning the licence.
The renewal of EPL 3140 was refused, just as the Canadian company completed a two-year exploration programme where they spent N$31 million, court documents state.
Léveillé, Deep-South's chief executive officer, says the company was still running three drilling sites, as well as metallurgical tests running in Australia.
"The company has brought the project to a more advanced level than proposed to the ministry in April 2019, and has invested over N$8 million more than the original proposed budget.
"Haib was proposing the renewal of April 2021 to advance the project at the feasibility study level with an investment budget of N$ 81 million.
"It seems the ministry preferred to consider the application of Orange River Mining, a company that had no cash and no technical expertise at the time," Léveillé says.
GOVERNMENT OFFICIALS
The Namibian last week reported that a clique of government officials played a role in a N$50 million sale of a lithium mining deal. One of the main beneficiaries of this deal includes Muyamba's cousin.
It is not clear if this EPL in question was part of the transaction in which Orange River Mining was part of a N$50 million transaction with Chinese-owned Xingfeng.
Other people named in this transaction include Muyamba, and Timoteus Mashuna, a historian in the Ministry of Defence and Veterans Affairs.
The third official is Ndili Benyamen, a mines ministry geologist and his wife, Albertina Ekandjo.
Others named in the lithium saga include Immanuel Shoopala Iipanda, Hosea Isak Shoombe, and Tomas Alfeus.
The officials are suspected of using their relatives and associates to apply for mining claims in areas with high-value minerals, especially where there is interest from foreign mining companies.
These claims are mainly about those that are about to expire and where little or no substantial exploration work is carried out.
Some government officials are suspected of sharing information with these companies to ensure they are awarded such rights.
LAWMAKERS QUESTION ALWEENDO
Namibian parliamentarians have since last week questioned Alweendo on how he could allow corruption to continue in his ministry.
The minister then got rid of mining commissioner Erasmus Shivolo with no explanation.
"Can you explain to this august house why you deemed it fit to dismiss the mining commissioner?" a PDM parliamentarian asked Alweendo last week.
"Can you also explain what is being done by the ministry to address the serious allegations surrounding the N$50 million lithium mining EPL?"
Another PDM parliamentarian, Hidipo Hamata, asked: "Can the minister please explain why the previous mining commissioner was removed from the position? Don't you think the previous mining commissioner should be suspended to allow proper investigations?"
*This article has been produced by The Namibian's Investigative Unit. Contact us from your secure email at [email protected]