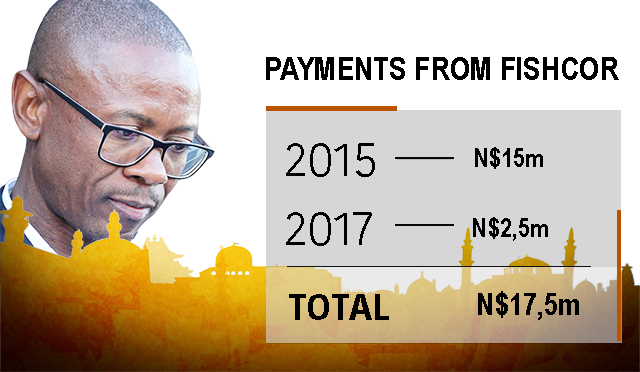 ---
By Shinovene Immanuel | 29 November 2019
---
STATE-OWNED National Fishing Corporation of Namibia (Fishcor) paid N$17,5 million to lawyer Sisa Namandje & Co Inc Trust in 2015 and 2017 – money linked to the 'Fishrot' scandal which involves at least two ministers, prominent business people and Swapo.
The payments are part of information in a documentary, 'Anatomy of the Bribe', by global television network Al Jazeera's Investigative Unit, which is set to be broadcast worldwide on Sunday.
Al Jazeera compiled the documentary using a sting operation to show how easy it was for foreign nationals to acquire fishing licences by working closely with ministers, lawyers and business people with the power to influence political decisions.
Prominent lawyer Sisa Namandje declined a request by The Namibian to comment on the payments, citing client confidentiality. In the documentary, he also dismissed suggestions that he was a lynchpin in schemes that involved at least N$2,5 billion.
Apart from Namandje, undercover Al Jazeera journalists exposed former ministers Bernhard Esau and Sacky Shanghala, Fishcor's chief executive Mike Nghipunya and Swakopmund-based lawyer Sacky Kadhila Amoomo.
The key players in the Fishrot scandal have been dubbed 'the sharks'.
Al Jazeera's Investigative Unit, The Namibian, the Icelandic State Broadcaster RUV, and Icelandic magazine Stundin collaborated – using documents provided by WikiLeaks – on exposing kickbacks mainly paid by Icelandic seafood company Samherji.
The unit carried out the undercover operation by pretending to be representatives of a wealthy Chinese investor. They travelled to several countries, including Namibia and Japan, over a period of three months.
The investigations led them to key players in Namibia's fishing industry, and exposes how the system can be rigged by money and power.
Namibia's fishing industry has generated more than N$4 billion a year over the past five years.
LAWYER, LAWYER
The documentary paints Namandje and Kadhila Amoomo as the fixer lawyers who enable transactions between investors and Namibian personalities connected to decision-makers.
The Al Jazeera 'investor' contacted Namandje, asking if he would be their 'local consultant'.
Namandje accepted the offer, but said: "I'm there to guide you how to do it legally. If you want local partners, local business people, I can also get you to the right people to speak to. That's my specialisation, and I do deliver."
Namandje introduced the 'investors' to his friend, Kadhila Amoomo, a lawyer involved in the fishing sector and based at the coastal town of Swakopmund.
"I'll have a tea," Kadhila Amoomo says at a meeting set up by Namandje in Namibia.
The undercover journalists proposed buying into Kadhila Amoomo's fishing company called Omualu.
Kadhila Amoomo was hooked: "I want to work with you guys."
"We could find somebody in the [fisheries] ministry that we could also place in our company," he says in the documentary.
"That person is only for the influence, to ensure that Omualu always gets a quota."
THE CONNECTION
Amoomo then introduced the 'investor' to fisheries minister Esau at a meeting, the documentary shows.
During their meeting, the former minister gave the investors an overview of Namibia's fishing industry.
Esau warns: "People are looking at us. We have to be careful. We must be careful. This is known as money-laundering".
"You give the US$70 000 [N$1 million], and you give maybe for the [Swapo] party the US$100 000 (N$1,4 million), which we can just talk about. Let's see, for campaigns," Esau says in the documentary.
The 'investor' agreed to pay Esau around N$2 million through a law firm.
"Yes, we have to be careful. Otherwise people will find out and then OUF… 'it's money-laundering. That's why Sisa… Sisa has got his law firm. There would be ways of explaining why you are doing that. Because you're doing investments here," he added.
The undercover journalist then celebrated with Esau. "To Africa!"
Esau responds with, "To China and Africa!"
At a conference in Norway a few weeks later – where the former minister was set to make a speech about transparency in the fishing sector – Al Jazeera journalists asked about his links to Icelandic seafood company, Samherji.
Reporters showed Esau a video of him agreeing to bribes in the sting operations. "No, no, no, no. I need to get more information on this one," he says.
Asked about payments Samherji made to former Investec Namibia managing director James Hatuikulipi, Esau responds: "I don't know, I don't know anything. I don't know."
He, however, admitted meeting Samherji executives twice, including at his farm.
Esau later told the reporters: "I am not a corrupt person. I am not involved in money-laundering."
'GET QUOTAS FROM ME'
In another scene, lawyer Kadhila Amoomo also secured a meeting for the 'investors' with Fishcor chief executive Mike Nghipunya at the Fishcor stand at the Ongwediva trade fair in August this year.
Nghipunya's sudden rise to head Fishcor raised eyebrows among industry players.
His LinkedIn account shows that in 2010, he was a regional statistician at National Planning Commision.
Then, he joined the fisheries ministry as an economist. Suddenly, he was catapulted to Fishcor chief executive in 2014, the same year James Hatuikulipi (one of the kingpins in the scheme) was appointed by Esau as chair of the parastatal's board.
The documentary quotes Nghipunya boasting to undercover reporters: "As long as I am with Fishcor for the next five years, you will see that you can get quotas from me."
To sweeten the deal, Nghipunya was offered 20% in the joint venture between Omualu and the 'investors', plus a one-off payment of N$7 million.
"He will make sure that you get the quota. And it's in his interest because by virtue of having 20%, he has an interest in the operations," Kadhila Amoomo told the prospective investors.
Fishcor's chief executive warned: "Make sure that the whole deal is with Sacky [Kadhila Amoomo]. Then, I'm just there to support you with your quota.
PAYMENT
Once the deal and a payment of around N$2,5 million to Esau were agreed on, the next phase was how the money would be paid.
"I was with the minister yesterday morning," said Kadhila Amoomo. "We discussed the T-shirts (for Swapo's campaign), and we also discussed the amount that should be transferred."
'Investor': "You will take [the money] from Sisa? And then you will give it to the minister?"
Kadhila Amoomo: "Yes. The minister will let me know whatever funds he wants to expend, to give to the party [Swapo], and how that should flow, and I will handle it."
Kadhila Amoomo added: "That is why when the payment is made, it must be made with a reference that Sisa gave. You can't mention anything about a donation to the party, or a donation to the minister, or anything like that. Because the Financial Intelligence Centre in the Central Bank…"
The 'investor' asked Kadhila Amoomo whether they had done this before.
Kadhila Amoomo replied: "That's why we're dealing with it this way."
'Investors': "And the minister is okay with this arrangement?"
Kadhila Amoomo: "That's why the minister told you to speak with me."
"As long as the US$200 000 can reach the minister…," the 'investor' told Kadhila Amoomo, who replied: "No worries … once it's in Sisa's account, then you are assured that it has reached the minister."
The 'investors' went to Namandje to confirm that the money to be paid was for minister Esau.
"You guys must be careful speaking to people about paying the minister. If you speak to a number of people about that, you will end up (makes handcuff gesture). I'm not involved in who is to be paid and what the money's for. I also do not want to be involved in that discussion. But it's fine. Once money comes in, I have given Sacky [Kadhila Amoomo] the file with the money," Namandje said.
"And Sacky, obviously having discussed with you guys, … he will know how to channel it. He has a very good relationship with the minister."