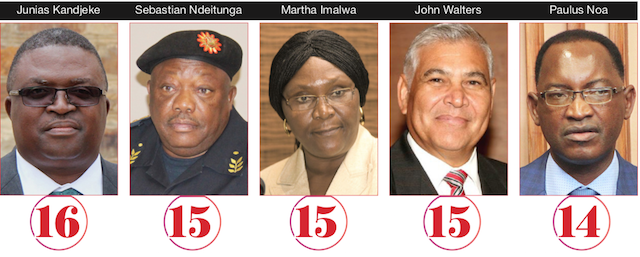 ---
By Mathias Haufiku and Tileni Mongudhi | 21 November 2019
---
A CALL last week for Anti-Corruption Commission director general Paulus Noa to step down has cast the spotlight on five top government watchdog bosses who have served a combined 75 years since 2003.
In addition to Noa [14 years], the others are police inspector general Sebastian Ndeitunga [15 years], prosecutor general Martha Imalwa [15 years], auditor general Junias Kandjeke [16 years] and Ombudsman John Walters [15 years].
All these appointments date back to the era of either founding president Sam Nujoma, or his successor, Hifikepunye Pohamba.
On Friday, members of civil society and the public, as well as lawyers, marched to the ACC offices in Windhoek to demand that Noa steps down as head of the country's graft-busting body. Some chanted "Noa must fall".
The protesters echoed the sentiments of many people – that Noa and others were being allowed to 'overstay' because they were well-disposed to the government.
Being exposed on WhatsApp last week as a member of the ruling party's structures has not helped Noa's case. WhatsApp messages of his participation on Swapo's Windhoek West WhatsApp group were circulated publicly, calling his impartiality into question.
The ACC is, however, seen as being effective when it comes to investigating 'commoners'.
The protest against Noa was triggered by the Fishrot Files exposé, which led to the resignations of disgraced justice and fisheries ministers Sacky Shanghala and Bernhard Esau.
The two were exposed as key figures in a scheme which allegedly corruptly awarded fishing quotas, and allegedly received kickbacks running into tens of millions of dollars.
TERMS OF ENDEARMENT
The public call for Noa to step down and a stand-off two months ago between the Swapo Party Youth League (SPYL) and Imalwa ignited a debate on whether their terms should be capped.
Institute for Public Policy Research (IPPR) executive director Graham Hopwood said how these officials are appointed and how their terms of office are renewed needs to be revisited.
"Renewal should be subject to performance assessments by independent panels, rather than at the discretion of an individual," Hopwood reasoned.
He proposed 10 years as the maximum tenure to ensure that the office did not become personalised.
In September, SPYL information secretary Lineekela Dumeni not only called for Imalwa's head, but said the PG should be limited to one 10-year non-renewable term.
He cited South Africa's public protector's seven-year non-renewable term as an example.
Dumeni's attack followed an announcement by Imalwa in August 2019 that her office would no longer pursue cases involving the failed Development Capital Portfolio (DCP) investments of the Government Institutions Pension Fund (GIPF) – with the exception of one case.
The DCP pumped N$660 million in pensioners' money into a number of politically connected start-ups. Imalwa told a media briefing that the money was lost, and that the state could not criminally prosecute those involved.
DOUBLE-DIPPING
An apparent lack of political will in sections of Namibia's 'criminal justice hub' has also led to fears that the rule of law is being eroded.
One example is defence minister Penda ya Ndakolo, who evaded investigation and prosecution, despite admitting that he committed malfeasance.
In 2015, the newly-appointed minister racked up a hotel bill of about N$1 million in eight months.
The government was shelling out N$2 600 a day for his room, and N$700 a day for his meals. Ya Ndakolo's excuse was that he was struggling to find accommodation in Windhoek because he lived at Omuthiya before his ministerial appointment.
This was despite being paid a monthly housing allowance of more than N$13 000.
The abuse of government housing benefits, or double-dipping, is illegal. Others have been convicted for it.
However, then attorney general Sacky Shanghala negotiated a deal which allowed Ya Ndakolo to avoid investigation and prosecution.
In exchange, Ya Ndakolo agreed to pay the government the N$136 500 he received in housing allowances during his hotel stay, and the N$50 000 spent on his hotel meals.
THE 'IMALWA ACT'
PG Imalwa was appointed 15 years ago, in 2004, for a 10-year term. In October 2013, her term was renewed, but this time for seven years. It was tailored to end when she turns 60 next year.
There are no term limits to the PG's tenure.
The Namibian Constitution only stipulates that the PG is appointed by the president on the recommendation of the Judicial Service Commission.
As a deputy prosecutor general responsible for the northern regions, Imalwa benefitted from amendments made to the Legal Practitioners Act in 2002.
The law was changed to allow prosecutors and magistrates with a minimum of five years' working experience to qualify for admission as legal practitioners in the High Court without having to go through the normal process – attending the Justice Training Centre and completing 900 hours attachment, for nine months – under the supervision of an admitted lawyer.
To become prosecutor general, one is supposed to be admitted as a legal practitioner in the High Court. As a result of these changes, some lawyers refer to the changed law as the 'Imalwa Act'.
As a British-educated lawyer from the University of Warwick, Imalwa initially slotted into her PG role well. In later years, though, she came under public scrutiny over her office allegedly dragging its feet over a number of cases.
The ACC blames their low conviction rate on delays by the PG's office, which it accuses of sitting too long on dockets.
Imalwa also raised eyebrows when she failed to take leave of absence when her office was dealing with a criminal case against her son, emanating from rape charges. In 2016, she told The Namibian she had recused herself from her son's case.
PERFORMANCE ANXIETIES
It was never made public, but Noa's initial appointment as the head of the ACC was not without controversy. Word is that before his appointment in 2006, then prime minister Nahas Angula was informed by the panel responsible for appointing the ACC chief that none of the candidates interviewed were suitable.
Angula allegedly then asked the panel to rank the candidates, based on performance, so that he could reportedly go back to the drawing board. Before the panel could blink, though, Angula unveiled Noa as the potential candidate in the National Assembly, and sought endorsement to appoint Noa as the head of the new anti-graft body.
Thirteen years later, Angula said he could not remember the events leading up to Noa's appointment. "I can't even remember the chairperson of that panel," the former prime minister added.
Angula said he remembered Noa asking then president Hifikepunye Pohamba if the government could set up a special corruption court. Noa felt this would make the ACC's work more efficient.
Noa (55) is now in his third five-year term. His current terms ends in December next year.
MINISKIRTS AND MEGA MOMENTS
Namibia's chief of police's main claim to fame is not his crime-fighting prowess. Rather, he made headlines for ordering the arrests of women wearing miniskirts in public.
Sebastian Ndeitunga (57) was a dark horse when he ascended to the police throne in 2005 to replace Lucas Hangula.
The Namibian understands that his appointment was recommended by then safety and security minister Peter Tshirumbu.
As a result, a handful of officers considered senior to Ndeitunga were overlooked. Before his appointment, he was mainly deployed as an administrator.
During his tenure, Ndeitunga has been linked to controversial business people, and in one instance, a convicted Mafioso.
In 2014, The Namibian reported that a fugitive from justice, convicted Mafia boss Vito Palazzolo, also known as Roberto von Palace Kolbatschenko, visited Ndeitunga at his office.
On that day, in and around 2010, Palazzolo allegedly went to confront Ndeitunga about claims that he was allegedly under surveillance by local police and Interpol. Palazzolo was accompanied by former president Sam Nujoma's son, Zacky.
At the time, the Italian government had asked Namibia to arrest Palazzolo, and extradite him to Italy.
Ndeitunga denied being confronted, but said he vaguely remembered Zacky Nujoma paying "a courtesy visit" to introduce his business partner.
Ndeitunga also denied knowing that Palazzolo was a wanted man. If so, he would have arrested the Italian on the spot, he said.
Zacky Nujoma, however, said in 2014 that he recalled the meeting, and that it was to seek clarity on claims that Palazzolo was a wanted man "since he [Palazzolo] and the media were saying different things".
Nujoma recalled that "some form of communication structure" between Palazzolo and the police, including Interpol, was subsequently set up.
Ndeitunga's alleged friendship with controversial Chinese businesswoman Stina Wu has also been highlighted. Wu has been investigated by the ACC, especially over how she acquired a vast Namibian property portfolio running into billions of dollars. Nothing has come of it so far.
Ndeitunga told The Namibian on Monday that he would retire if the majority of Namibians demand it. He, however, said that he refuses to give in to demands from detractors with no "grounds".
"We will not succumb to malicious demands from those detractors trying to force us out with their malicious motives aimed at satisfying their ill intentions," said the police chief.