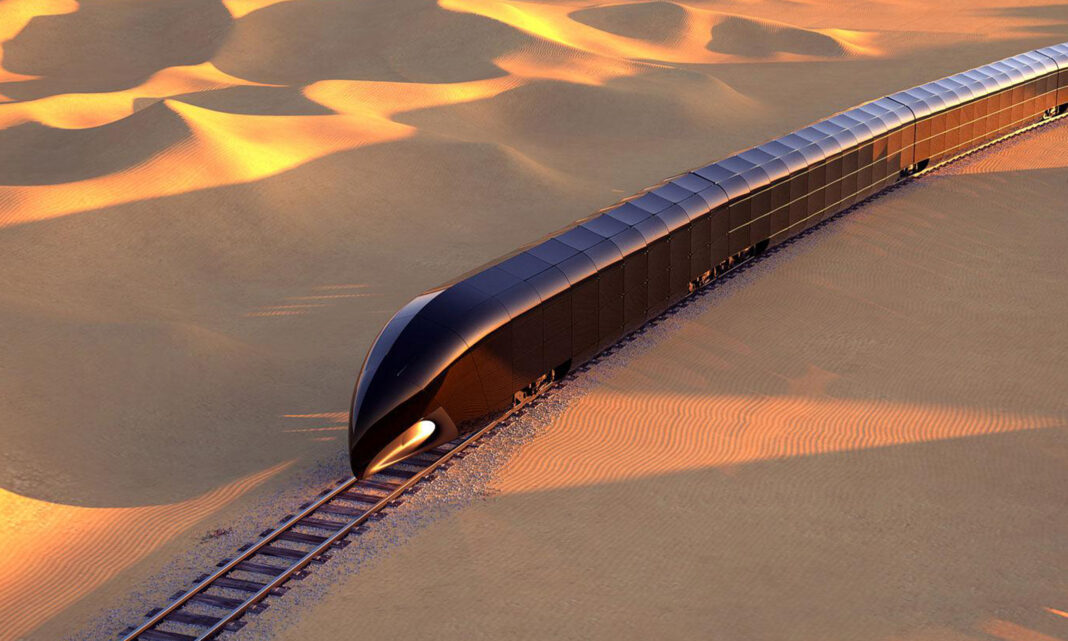 By Tileni Mongudhi and Timo Shihepo | 1 April 2022

A PROMINENT lodge operator says a proposal to construct a motor and railway transport system in the pristine Namib Desert ecosystem could threaten the environment and create a monopoly for businessman Laban Kandume.
The area in question is the renowned Sossusvlei – which offers landmarks with its red dunes, white salt pan and Dead Vlei – situated in the western part of Hardap region in the Namib-Naukluft National Park.

The state-owned Namibia Wildlife Resorts (NWR) has warned that Sossusvlei is part of the Namib Sand Sea – a Unesco World Heritage Site – and that its "natural beauty and simplicity of the environment must be preserved". Major constructions, excavations and mining are prohibited on World Heritage Sites.

A showdown at Sossusvlei is expected at today's public consultation, where Kandume's company is in the process of conducting an environmental impact assessment (EIA) and is seeking a clearance certificate from the Ministry of Environment, Forestry and Tourism.

Kandume plans to introduce a train, road system and tethered helium balloons that lead into Sossusvlei.

The businessman wants to implement the transporting system through his company Sky Eye Hospitality and Tours in a deal he estimates to be worth around N$280 million.

However, this proposal has been criticised by several players in the tourism industry, such as NWR and tourism operators.

If approved, people who enter the park would need to do so via Kandume's transport system to reach Sossusvlei.

"Allowing a monopoly in regard to transportation into Sossusvlei is unethical, and will cause tremendous job losses," says Chirstelle du Toit-Oosthui­zen, representing Taleni Africa Tourism, which owns Sossusvlei Lodge.

Oosthuizen said this in a submission to Green Earth Environmental Consultants, which is conducting the EIA on behalf of Kandume.

Sossusvlei Lodge says it offers direct access to the towering red sand dunes, the famous pan of Sossusvlei, the scorched black trees of Dead Vlei, and the remarkable depths of the Sesriem Canyon.

Oosthuizen says about 48 lodges in the vicinity of the national park employ at least four tour guides that will lose their jobs due to the fact that personalised guided tours by lodge-owned game-viewer vehicles would no longer be allowed.

"A rough estimate of 200 tour guides losing their jobs versus the employment of about 30 staff members operating this new project – not really worth it," she says.

Oosthuizen says setting up generator hubs, ticketing offices, staff facilities, snack vendors, and bar areas would put tremendous pressure on the area itself, and on already sensitive water reserves.

"All of the above generates waste and sewage that need to be properly managed and removed. French drains would not be sufficient," she says.

"Everyone familiar with the operation of heavy-duty generators are aware of the fact that oil spills, diesel spills and noise pollution are part of the package. How would this be properly managed? How would these generators cope in temperatures of 60 degrees Celsius and more?"

Oosthuizen yesterday declined to comment.

'SHOWDOWN'

The Namibian last year reported that minister of environment, forestry and tourism Pohamba Shifeta unilaterally stripped NWR of its rights to carry out shuttle services into Sossusvlei – an undertaking which used to bring them more than N$10 million in yearly revenue.

This concession was then granted to Kandume's Skey Eye Hospitality and Tours.

The ministry has denied any wrongdoing.

The proposed activities will only proceed if an environmental clearance certificate is obtained from the ministry, and all other legal requirements are complied with.

Kandume has since roped in the services of Green Earth Environmental Consultants to complete an EIA and an environmental management plan (EMP) to obtain an environmental clearance certificate.

"I expect a showdown, and I am ready for it," Kandume told The Namibian on Wednesday.

He said the showdown is expected because it's a high-profile project with many interested parties.

"We have received a lot of comments. Only a few have raised serious concerns. We ought to appreciate that people care by raising these concerns to point out what we may have overlooked," he said.

Kandume said Sossusvlei is one of the most popular tourist destinations in Namibia.

He estimated that the area is visited by around 600 000 tourists every year – between 1 000 and 1 500 a day.

Kandume said the proposed project would solve the current problems posed by a large number of 4×4 vehicles.

"We are proposing a project that is beneficial to everyone. Those using cars can still do so until the road is tarred. From there they can jump into our train," he said.

Kandume said they are anticipating tourism to pick up in the next five years to increase the number of visitors to Sossusvlei to more than one million people.

'LESS DAMAGING'

He said the project would be less damaging to the environment than the current situation at Sossusvlei.

The Namibian has seen a written submission from the state-owned NWR dated 29 March, which objects to the proposed development.

In the letter, NWR managing director Matthias Ngwangwama says the company objects to the plans to construct a motorised-transport, helium-balloon and supporting-activities project as it could have a serious impact on the financial sustainability of NWR.

"It is a major income stream that sustains the company financially," he says.

He says NWR maintains its right to supplement and amplify further objections and commentaries in the matter.

"NWR was primarily established to operate and provide wildlife services in national parks. The company is the focal point for conducting wildlife services in parks, including the first right of refusal for concessions," Ngwangwama says.

NWR spokesperson Nelson Ashipala this week said NWR was not consulted on the project.

"We currently hold the concession to transport clients from the 2 x 4 parking area to Sossusvlei and Dead Vlei, but the consultations before awarding the same concession to another party were not there. This should in fact have been the first step through this process," he said.

Ashipala said NWR will not engage Kandume's Sky Eye Hospitality and Tours until consultations between the parastatal's board and the environment ministry have been held.

NWR said the ministry's mandate to grant concessions in national parks is acknowledged.

However, the granting of these concessions must not infringe on NWR's statutory duty and profitability as indicated in the law.

"Until NWR's establishing act has been repealed, the company's right to exist must not be impeded," said Ashipala.

In 2012, businessman Lesley Gariseb joined forces with NWR to set up tethered helium balloons on the edge of Sossusvlei.

They said the move would bring the destination more tourists.

The Namibia National Commission of Unesco was one of the bodies opposed to the move, citing it was waiting for its application to the secretariat of the World Heritage Committee for Sossusvlei to be declared a World Heritage Site.

It stated that granting permission for the erection of tethered helium balloons would jeopardise the application.