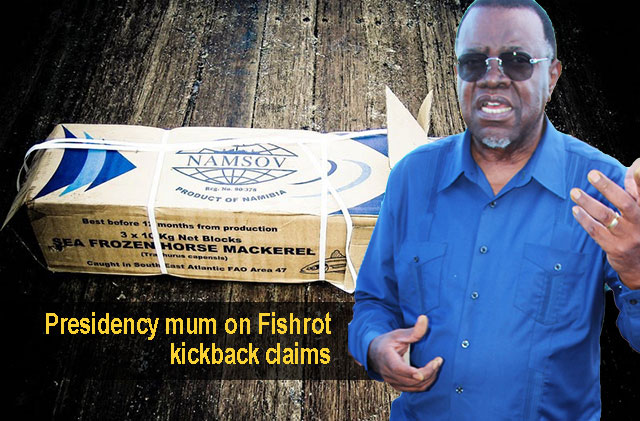 ---
By Shinovene Immanuel | 05 December 2019
---
NAMSOV Fishing lobbied to buy the fishing quota that Namibia donated to Angola – aimed at benefiting Namibians and Angolans – to avert job losses.
Namsov says it went as far as writing to president Hage Geingob, then prime minister, in 2014, to ask him to intervene, but nothing happened.
For years, Namsov was one of Namibia's biggest fishing companies, and one of the largest employers. The company said it employed around 650 people and, by 2014, was valued at N$1,1 billion.
After 2014, however, former fisheries minister Bernhard Esau squeezed them tightly by heavily reducing their quotas, and favouring a briefcase company instead.
Namsov's losses began to mount and it collapsed, forcing Bidvest, the majority owner, to sell the company. It was bought by the Tunacor Group.
The briefcase company turned out to be a fishing scheme which benefited politicians and some of their business cronies.
It marked the start of Namibia's infamous Fishrot scandal.
So far, six people have been arrested over the scandal, including two former ministers – Esau and ex-justice minister Sacky Shanghala – on charges of fraud, money-laundering and corruption. Court papers estimate that N$103 million was paid in bribes from 2014 to 2019.
The chairman of the Namibian Fisherman United Association, Mathew Lungameni, told The Namibian this week that 25 fishermen allegedly died after losing their jobs when Namsov went out of business. He claimed the deaths were due to stress, high blood pressure and suicides.
In the letter Namsov wrote to Geingob on 21 August 2014, the company set out several concerns regarding fishing quotas.
They complained that the 5 908 metric tonnes (mt) Esau allocated to Namsov "is less than what we agreed was available and would be allocated to Namsov".
"Due to the quota shortfall of 24 000 mt, two vessels partly owned and operated by Namsov Fishing Enterprises (NFE) are laid up at anchorage, and their crew (including 120 sea-going Namibian employees) are without work, earning less than 25% of their normal remuneration," the Namsov letter stated.
"Without expensive quota purchases, another 180 Namibian crew members would have been in a similar situation," the company wrote.
They asked that Geingob and the fisheries minister help them save these jobs.
"Instruct the beneficiaries of the Angolan allocation of the 7 000mt [fish donation] to make this available to Namsov," the company wrote.
It pleaded: "With no guarantee that such quota procurement will be available next year, we may well end up in an even worse situation during 2015."
In the letter, Namsov indicated: "We remain heavily dependent on outside contracted and purchased quotas, and the availability of quotas".
Wikileaks documents reveal that disgraced former ministers Esau and Shanghala, and former Investec Asset Management Namibia managing director James Hatuikulipi were concocting a scheme to benefit from the quotas while Namsov was complaining to Geingob.
Details are now emerging of alleged bribes to favour Iceland fishing company, Samherji.
Statements submitted by whistleblower Jóhannes Stefánsson to Namibian authorities this year indicate that at around the same time (2014) that Namsov was pleading for quotas to save jobs and their business, the first bribes allegedly started exchanging hands.
"In the preparation in 2014, N$5 million was paid from Mermaria Seafood Namibia's bank account at FNB to one of the companies of James Hatuikulipi in Namibia. This payment was to move things forward with the higher-level politicians in Namibia," he said.
Mermaria Seafood Namibia is owned by Samherji.
Stefánsson, then managing director of Samherji's operations in Namibia, said in an Al Jazeera investigative documentary on Sunday that another N$2 million was allegedly for president Hage Geingob's election campaign in 2014 to "pay his supporters".
He said businessman James Hatuikulipi asked him for the campaign payment.
Hatuikulipi had not responded to questions on the alleged payments before his arrest last week. Questions sent to Geingob's office on Monday were not answered.
In 2014, Esau not only gave a fishing quota donation to Angola, but also wrongfully allocated a quota to the state-owned National Fishing Corporation of Namibia (Fishcor). Both allocations posed a threat to Namsov.
Namsov sued the former minister over the Fishcor quota, and the High Court ruled that the allocation was illegal because Fishcor did not qualify for quotas.
The same Fishcor later paid an unexplained N$17,5 million to lawyer Sisa Namandje Inc Trust in 2015 and 2017. Namandje declined to explain the reasons for that payment, citing client confidentiality. He denied any wrongdoing.
Around a year after Namsov wrote to Geingob, the government gazetted a bilateral agreement, signed by the president, which allowed Namibia to donate fish to Angola.
The agreement – gazetted on 26 July 2015 – resulted in the formation of a joint venture company between Namibia and Angola called Namgomar SA Pesca, which is mainly in the horse mackerel industry.
Namgomar was used to pay kickbacks worth more than N$103 million.
This transaction continued for years, partly because of the secrecy, and details of the deal not being made public.
The bilateral agreement states that "the parties will, in accordance with the laws of their respective countries, maintain the strictest confidentiality with regard to all information acquired from or concerning the other party, which may include trade secrets, financial information, technical data, or any other non-public information, and communication between the parties".
One of the clauses deals with the termination of the agreement.
"A party which intends to terminate this memorandum of understanding will present a written notice to the other party six (6) months before the termination to inform it of such intention," the document stated.
But there was a catch: "The termination of this memorandum of understanding will not affect the provisions of any separate agreement or protocol entered into, existing obligations, or the completion of activities carried out within the framework of this memorandum of understanding."
The fisheries ministry has always been secretive about fishing quota donations to other countries. These quotas are, in most cases, hijacked by politically connected business people and state agencies.
For instance, The Namibian reported that a Namibia Central Intelligence Service (NCIS) senior manager for criminal intelligence, Paulus Tshilunga, appeared in a Windhoek court last year over the disappearance of N$17 million from a fishing company co-owned by the Namibian and Mozambican intelligence agencies.
That joint venture dates back to when Sam Nujoma was president.
Tshilunga died three weeks after a court appearance that was closed to the public.
The police said he shot himself, and the N$17 million court case was closed last year after his death.