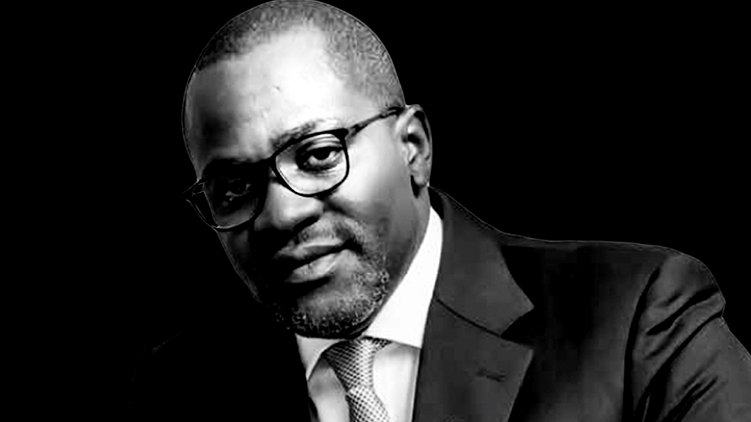 ---
By Tileni Mongudhi and Mathias Haufiku | 25 June 2020
---
BUSINESSMAN James Hatuikulipi instructed lawyer Marén de Klerk by SMS to pay N$2 million "for the boss".
The message, sent in August 2017, is contained in a document on an investigation into the De Klerk, Horn, Coetzee Inc (DHC) law firm's handling of its trust account.
The report was done by Ernst and Young (EY) auditors for the Law Society of Namibia, which is looking into the firm's possible link to money laundering and unethical conduct in connection with the Fishrot scandal.
The report flagged at least N$75 million in Fishrot transactions by De Klerk, Horn, Coetzee Inc, which has been accused of facilitating money laundering and bribes to politicians and their cronies. DHC is owned by De Klerk, Stoan Horn and Celeste Coetzee.
The probe also found communication between De Klerk and ex-Fishcor board chairman James Hatuikulipi.
Hatuikulipi – former Investec Asset Management Namibia managing director – instructed De Klerk on how money from the trust account should be distributed.
---
"Pay an amount of N$2 million from Celax as discussed for the Boss! SEND POP when done. Otuafika Logistics CC, Acc No 8004027421, Bank Windhoek," says a text sent by Hatuikulipi to De Klerk in August 2017.
---
According to the report, "boss" appears to refer to former justice minister Sacky Shanghala.
Otuafika Logistics is owned by Pius 'Taxa' Mwatelulo, James Hatuikulipi's nephew.
Celax Investment Number One – owned by De Klerk – is alleged to have been used to launder N$75 million from the state-owned National Fishing Corporation (Fishcor).
It's unclear if the N$2 million to the "boss" was eventually paid.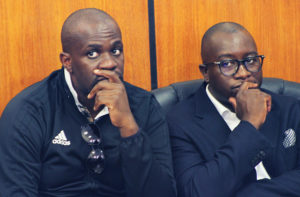 The report said investigators could not inspect all DHC's files, because "Mr [Marén] de Klerk appeared to have abandoned his practice and did not respond to any of our questions or requests during the inspection, and the other shareholders could not provide information on his whereabouts".
The investigators recommended that the Law Society "should conduct a comprehensive investigation into De Klerk's private business, Celax Investments Number One, which was instrumental in channeling some of the funds linked to the list of transactions identified by the ACC [the Anti-Corruption Commission of Namibia]".
"Note that Mr De Klerk made certain investments on behalf of Celax Investments Number One in his official capacity, representing DHC Inc, and those transactions could therefore form part of a further investigation," the investigators said.
They said some of the transfers were paid after hours or over the weekend.
This is not the first time Shanghala has been linked to flagged deals.
Al Jazeera's Investigative Unit last year cornered Shanghala during an interview over a separate N$4,5 million paid to his company Olea Investments.
Olea Investments benefited from an Angolan fishing quota donation scheme used as a conduit to divert quotas the Namibian government donated to the Angolan state.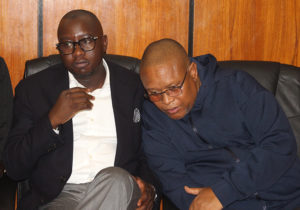 Shanghala and disgraced former fisheries minister Bernhard Esau helped craft the donation scheme.
Shanghala told Al Jazeera that after he joined Cabinet he had stopped his day-to-day involvement in the company, indicating that Hatuikulipi was running the company.
This is not the first time Hatuikulipi is linked to payments of slush funds.
Whistleblower Jóhannes Stefánsson told Namibian authorities he paid politicians bribes since 2012.
Stefánsson said N$2 million was allegedly paid to former Fishcor board chair James Hatuikulipi for Geingob's political campaign in 2014.
DE KLERK IN CAPE TOWN
The reported 'paymaster' at the heart of this scandal – De Klerk – travelled to South Africa at the beginning of the year and has not returned.
De Klerk allegedly effected payments to deputy transport minister Veikko Nekundi and Swapo Youth League secretary Ephraim Nekongo, among others.
The Namibian understands De Klerk checked himself into a psychiatric facility in Cape Town on 25 January 2020.
This was about a week or so after he was interviewed by the Anti-Corruption Commission in Windhoek.
"This letter merely serves to confirm that the above-mentioned patient has been admitted to West Beach Clinic for psychiatric treatment," according to a note from the clinic's administration manager Rhiannon Mansour.
It's not clear if the medical check-in is linked to the Fishrot scandal.
The Namibian could not establish whether De Klerk left the hospital or not. The note was sent from the clinic in South Africa to DHC, and anyone who was seemingly looking for De Klerk.
The report said De Klerk's partners, Coetzee and Horn, were not linked to dubious transfers they reviewed.
"We have no reason to believe they were aware of or involved in any of the apparent irregularities mentioned in this report. This is further supported by their confirmed fields of practice," the report states.
The inspection found that in terms of DHC's shareholder agreement, De Klerk was responsible for commercial transactions, Horn for litigation, while Coetzee dealt with debt collection.
A source within the legal fraternity, who did not want to be named, claimed it was unlikely that the other directors were not aware of De Klerk's transactions.
In a joint response to questions from The Namibian, Horn, Strauss and Coetzee chose not to answer, but vowed to give their full cooperation to all relevant institutions.
"We reiterate, as we have done many times before, that due to the ongoing investigations conducted by the Anti-Corruption Commission and other governmental agencies, we are not in a position to give you any comment at this particular point in time," the directors said.