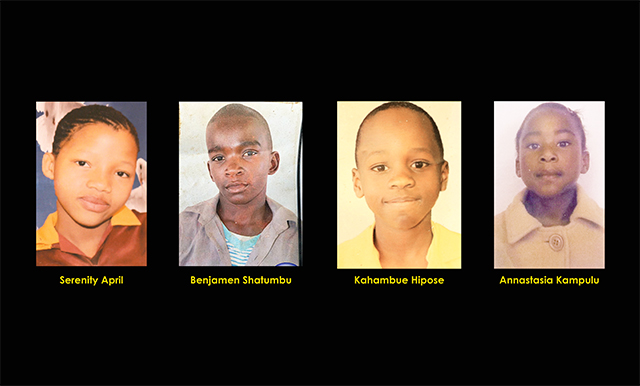 ---
By Nomhle Kangootui, Ruth Kamwi and Terttu Newaka | 18 October 2019
---
IT IS three years since 12-year-old Serenity April took her own life. Time may have moved on, but her mother Tessa April has not.
Haunted by unanswered questions, Tessa is still struggling to accept her daughter's death. Her pain is raw as if her daughter died yesterday.
She is not alone in this predicament. Serenity is one of 36 youngsters who committed suicide between 2017 and 2019.
Their parents' lives were changed forever, as it is hard for them to move on. It's the anguish of not understanding why the children took their own lives, of not being been able to say goodbye, of having a sense of helplessness.
Some grieving parents still hope to hear the familiar sound of their child coming home from school, or the echo of their laughter as they play outside. They long for one more goodnight hug, or that home-from-school kiss.
A MOTHER'S ANGUISH
Tessa says there were no warning signs ahead of Serenity taking her own life.
The youngster died on 28 April 2016 while on holiday with relatives at Mariental. She was found hanging from the roof of the garage.
Last week, The Namibian accompanied Tessa, who lives in Khomasdal, to Serenity's grave at Katutura's Oponganda cemetery in Windhoek.
The walk from the car to the grave seems long, compounded by the silence of her mother, lost in a world of her own.
It is an almost awkwardly tense moment. However, mistakenly reaching a grave not belonging to Serenity breaks the tension.
"Aai, Poplap, are you playing hide and seek with me now?" she exclaims as she realises she is at the wrong grave.
As she cleans her daughter's grave, Tessa's feelings spill over.
"The pain is still there, and the questions. But to suppress that, I try not to think about it. I don't like it when people ask me about it, and that is why I grieve alone and keep it a secret when I feel sad or miss her," she tells The Namibian.
Her words linger in the stillness of the cemetery, a sharp contrast to the hustle and bustle of the nearby streets.
Life and death exist so close yet so far apart.
"She was so precious, kind and full of love. I still can't understand why she did it. She was supposed to be a teenager, 15 years by now. My best friend, my partner, is gone," Tessa says.
"I really miss her, her death was and still is a tragic loss. A few months after her death, I went through severe depression, which led to alcohol abuse," Tessa confesses.
Since then, she has started to visit her daughter's resting place more frequently to find closure, but she says it has not been easy.
"At first, I thought coming here would make me sadder because it would remind me of the reality of her suicide. But surprisingly, I started feeling peaceful, although some days are tough. Since then, I've started controlling my alcohol consumption and I am working on rebuilding my life," she adds.
Tessa feels condemned by some community members.
People play a silent blame game.
It is one of the reasons why she has not been open about her grief over the loss of her daughter.
She looks forward to starting a support group for mothers who have lost children through suicide or illness.
DEADLY GAME
Cecilia Mbaha (53) says she still waits for her grandson Kahambue Nyandee Hipose to come home from school.
About three months ago, Kahambue was found hanging from the washing line behind his uncle's home in Katutura. He was 10 years old.
"I expect that voice to greet me, to ask me for food, and to sing in the house. It is not easy, really," says Mbaha.
A deadly game in which children are allegedly dared to take their own lives reportedly drove Kahambue to hang himself.
Khomasdal Primary School principal Bonny Matengu told The Namibian that Kahambue and his friends were playing the game before he took his life.
The 'players' are allegedly dared to commit suicide after receiving a certain image on their phone.
Another family, who preferred not to be named, suffered a double blow when they lost two children to suicide.
A close family member said although it is nearly five years since they took their own lives, their parents still grieve for them as though it was yesterday.
The children's ages were not revealed to the newspaper. One committed suicide in 2014, and the other on the same day in 2015.
"This was a heavy blow for them. No parent deserves to go through what they went through, and they are the kindest people I know. We don't know how to comfort them because we do not understand what they are going through," the family member empathised.
NATIONAL CRISIS
Namibian Police statistics provided to The Namibian show that 36 children killed themselves from 2017 to 2019, a number described by the education ministry as "tragic and devastating".
Nationwide, 18 children committed suicide between 1 April 2018 and 31 March 2019, while a similar number died between 1 April 2017 and 31 March 2018.
Of the 458 suicides recorded by the police between 2018 and 2019, 10 were young boys and eight were young girls.
Fifteen boys and three girls were among 465 cases of suicide recorded by the police from 1 April 2017 to 31 March 2018.
While their ages have not been released, the police have classified them as juveniles. Boys topped the suicide statistics, with the highest – four – being recorded in Omusati between April 2018 and March 2019. Between 1 April 2017 and 31 March 2018, three boys from Omusati also committed suicide, police records show.
Between 2014 and 2015, 28 teenagers died by their own hand – 19 in 2015 and nine in 2014.
'DEVASTATING'
Education executive director Sanet Steenkamp said the suicides were not only tragic, but also have a far-reaching and devastating impact on those left behind.
She was responding to questions on youth suicides sent to her by The Namibian. Steenkamp cited poverty, poor grades, depression and teenage pregnancies as some of the factors which push Namibian youths to kill themselves.
"The ministry launched the National Safe School Framework, which has an entire section on the response to violence and self-harm. It has a particular focus on how to assess/identify pupils showing signs of suicidal ideation or are at risk, and how to intervene in these cases," Steenkamp said.
She noted that the framework is supported by the school health programme, which also looks at the psychosocial well-being and mental health of pupils and teachers.
The life skills subject also deals with issues related to mental health, depression in particular.
"The ministry offers counselling services for pupils. In addition to the counselling services provided by the ministry, various organisations provide counselling devices, particularly for young people," said Steenkamp.
Delaine Sikerete, a project manager at Lifeline/Childline Namibia, said people tend to feel overwhelmed when they reach their teenage years.
"Many teenagers start to go through an identity crisis, feel the need to belong in certain groups or deal with pressure from parents and society, and become overwhelmed with emotions," she explained.
Sikerete said the organisation receives the highest percentage of calls for help in December, January and September.
"The highest number of suicides happen in the Kavango regions and the north, where teenagers are not taught how to communicate their emotions; do not feel comfortable expressing their emotions; and where parents tend to be harsher," she said.
Sikerete added that a child's cultural background also plays a big role. It is important for parents to pay attention to their children and have open conversations with them, she urged.
"Parents should be friends with their children so that they feel comfortable to open up to them.
"We have children as young as seven years old who call and say they were told to call our number when they are feeling down, or if their parents are not around to talk to," Sikerete noted.
"We also have children who call us because they don't feel comfortable talking to their parents," she added.
She thus felt there was a higher number of suicide cases among boys because they often feel uncomfortable expressing their emotions.
SUICIDES THAT SHOCKED NAMIBIA
Some of the suicide cases involving children that the media has reported on:
In March 2018, a 12-year-old boy committed suicide by hanging himself with a piece of cloth at his family home at Lüderitz. The deceased was a Grade 6 pupil at Nautilus Primary School. The incident happened in Area 7. The boy reportedly had some problems at school, and his father sat down with him to discuss the issue on the night of the incident.
In December 2018, 13-year-old Benjamen Shatumbu committed suicide in his mother's shack at Havana, Windhoek. His mother, Kristofina Sheya, found the teenager hanging in their shack after she had quizzed him about missing chips that were supposed to have been sold. She described her son as one who "always had a short temper". She said his first attempt at suicide was when he was in Grade 3.
In January, seven-year-old Annastasia Tilomalenga Kampulu's mother, Anna Oscar, found her hanging from a cupboard with a scarf around her neck at the family's Walvis Bay home. Oscar said her daughter seemed normal the last time she had seen her alive, adding that on that day, she had played with her friends the whole day. According to the seven-year-old's family and neighbours, she did not show any signs of depression.
SUICIDAL IDEATION
Psychological counsellor John van der Linde says suicidal ideation [suicidal thoughts] may not always be completely obvious to others, including a child's parents.
"Part of the reason for it is that children and teens with suicidal thoughts will probably not speak directly about them as an adult might," he explains.
"Most suicidal youth demonstrate observable behaviour that signals their suicidal thinking," he adds.
Van der Linde advised that where people – family, friends and/or teachers – close to a distressed child or teenager pick up any signs of depression, they should immediately seek help.
"Never take these warning signs lightly or promise to keep them secret," Van der Linde cautions.
Factors which increase the risk of suicide among children and teenagers include emotional, physical or sexual abuse; bullying; a history of depression or suicide; parents' divorce; feelings of social isolation; a previous suicide attempt; and financial challenges.
He noted that suicide is rated as the second-biggest cause of death among school-age youth.
When a young person mentions that they are thinking about suicide, Van der Linde advises, it is important to stay calm; listen without passing judgement; provide constant supervision (by not leaving the child or teenager alone); remove any means of self-harm; and provide assurance that there is help.
*This article was produced by The Namibian's investigative unit. Send us story tips via your secure email to: