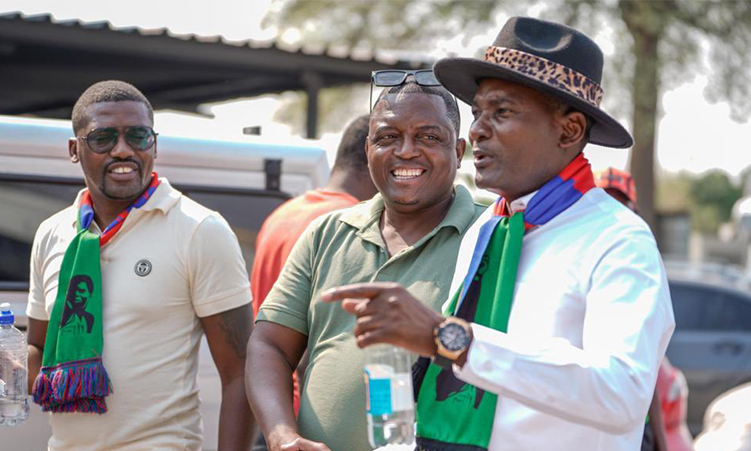 By Timo Shihepo | 11 November 2022
LABAN Kandume, the businessman who was involved in government contracts worth around N$700 million, has over the years developed a reputation of being close to government officials who are supposed to supervise his work.

Government contracts have powered the rise of his company, Uundenge Investments.
Its operations straddle construction, agriculture, and tourism.
Kandume has over the years kept a low profile, but Swapo's political campaigns thrust him into the limelight.

He has appeared alongside minister of environment, forestry and tourism Pohamba Shifeta in various regions in Swapo's ongoing campaigns.
Kandume says he is supporting Shifeta's Swapo vice presidential campaign.

His proximity to Shifeta adds to the ongoing debate about the relationship between government officials and business people they are supposed to regulate.

In this case, Shifeta hand-picked Kandume's company last year to exclusively transport travellers into the Namib Desert to Sossusvlei.

Now Kandume is a key figure in Shifeta's campaign to become Namibia's president.
"I chose to support Shifeta (for the Swapo vice president position)," the businessman told The Namibian this month.

Kandume has also established himself among the top echelons of Namibia's political elite, including an agricultural partnership project with Swapo Party Youth League secretary and member of parliament Ephraim Nekongo.

Kandume was involved in a land deal that included government officials who are supposed to supervise his work.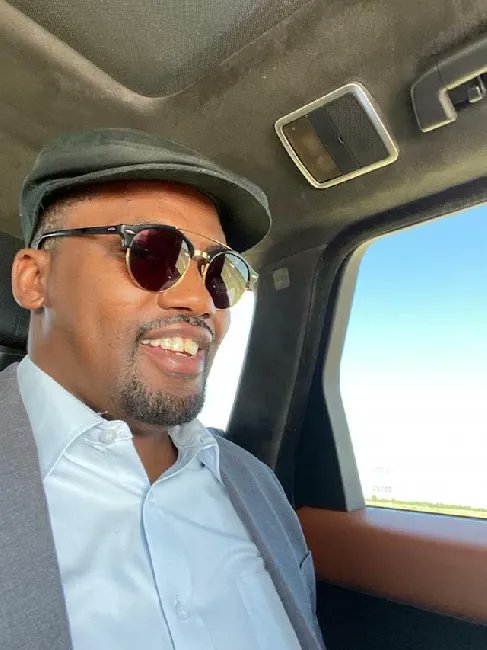 He has a reputation of not completing agriculture projects, but co-owns a farm with the former permanent secretary of the Ministry of Agriculture, Water and Land Reform and now NamWater's chief executive officer, Abraham Nehemia, and the agriculture ministry's director of planning and business, Mesag Mulunga.

Government officials have in the past complained about Kandume dominating agriculture ministry tenders.

It's a rapid rise for a man who said he started out his professional life as a cleaner.
At the age of 37 he has been involved in at least N$700 million in tenders in the last decade.
Kandume is unapologetic about his ties to Shifeta.

"How many business people who are in other candidates' camps and linked to government projects have you written about? The questions are meant to decampaign someone," he said.
Shifeta yesterday insisted he only has individual supporters "who volunteered their time and effort towards my campaign".
THE NAMIB DESERT DEAL
The Namibian reported last year that Shifeta had hand-picked Kandume's company Sky Eye Hospitality and Tours to exclusively transport travellers into the Namib Desert's renowned Sossusvlei area.
The businessman estimates that deal to be worth around N$280 million.

Shifeta's decision to award Kandume the deal was criticised by the state-owned Namibia Wildlife Resorts (NWR) and other tourism operators who said such a move would damage the desert, create a monopoly for Kandume's company, and result in job losses.

Shifeta insisted this week that the Namib Desert concession was not final since four conditions had to be fulfilled in totality.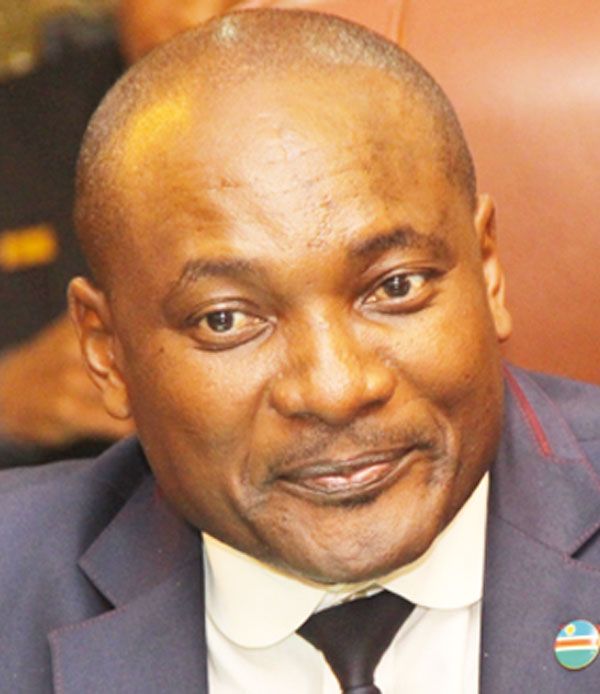 "No final unsolicited award was granted to Skye Eye Hospitality and Tours CC, as they had not met the conditions set out in the provisional award letter and failed to pass the test of the first stage of the process to award the final unsolicited concession," he said.

The minister said: "This means as of now, the minister's decision became academic, because there is no final unsolicited award granted to Sky Eye Hospitality and Tours due to the non-fulfilment of the four conditions in the provisional award letter."

Shifeta said Kandume has exercised his democratic right "to support my candidature for the Swapo party vice president".

He denied that Kandume is his right-hand man.

"No, he is not. Just like with other supporters who support my campaign, Kandume has made himself available to be part of the assisting chemistry in my campaign, but is not a unique figure in my campaign," he said.

Shifeta also denied that Kandume is his financial backer.
THE TROUBLEMAKER
The Namibian has tracked Kandume's rise to the big time since last year.

This includes two face-to-face interviews and more than 10 telephonic interviews with him.

Kandume attended the People's Primary School in Windhoek. He then had to divide his high school years between Jakob Marengo Secondary School, Ella Du Plessis and Concordia. He was either suspended or expelled from all three schools.

"In Grade 10 at Jakob Marengo we were expelled for the final term, but the principal said we should return to school because he said I was going to fail anyway. I didn't fail, instead they didn't allow me back at the school the following year," said Kandume.

He then worked for Namib Mills while moonlighting as a waiter.
He said he saved N$20 000 to buy himself a ticket to the United Kingdom in 2003. There he got a job caring for the elderly and also worked in factories. That's how he put himself through school to get a diploma in business.

"Being away in England for a long time taught me discipline," said Kandume.

When he decided to return home, he bought three cars he shipped to Namibia in 2008.
The cars were filled with cleaning supplies he used to jump start his cleaning business.
He then expanded into residential and office cleaning, as well as garden maintenance. By 2010, he was making N$400 000 a year.

Kandume describes his life as having been full of hardship.
AGRICULTURE DEALS
Kandume later bought a petrol station, but declined to discuss the details of that business.
"It's not always wise to mention your investments," he said.

Keeping a low profile may have helped him forge close relationships at the agriculture ministry, where his company won four tenders worth a combined value of around N$400 million.

His fortunes really took off in 2014, when his company Uundenge Investments started winning contracts from the agriculture ministry, notably in partnership with China's state-owned JV Jiangsu Zhengtai Construction Group.

Kandume's company and his partners won the tender to construct the N$180 million Windhoek Fresh Produce Market at Wanaheda, just across Havana.
Havana is home to 50 000 shacks.

Kandume sees red at the suggestion that the money was wasted on the produce market.
"How can N$180 million be too much for the work done there? It was a mountainous area. Do you still see the mountains there?" he asked.

In 2015, Kandume and his Chinese partners landed another N$147-million deal to build the agriculture ministry's new headquarters.

Despite their failure to complete the produce market, Kandume's partnership also won a N$64-million contract to build the Ongwediva meat processing plant's main building.

Kandume's company later won a N$15 million tender for the abattoir's equipment.
This has not been completed either.

"The main building is complete, but there are over nine small companies (including Uundenge Investments) that were subcontracted to provide loose equipment. The equipment has not been delivered, and that is what's holding up the project," he said.

The equipment should have been delivered three years ago.

In 2017, Kandume's Uundenge Investments emerged as the subcontractor for the debushing at Katima Farm and the Liselo irrigation project in the Zambezi region.

Kandume's name also cropped up in complaints about a N$280 million agriculture ministry contract to buy 327 tractors.

The project was funded by the African Development Bank, which last year ordered the tenders to be re-evaluated.

"Everyone has a problem with me," he said, insisting that he was not part of that tender.
"It is all about meeting requirements. For me, it's not about who is privately involved. The most important thing for me is if the tender is awarded fairly, nobody was favoured, and it's corrupt-free," Kandume said.
MAKING THE CONNECTION
Deeds documents show Kandume owns a portion of Farm Ongos with Nehemia and Mulunga.
Their farm borders the Ongos Valley housing development on the outskirts of Windhoek near Havana informal settlement.

"There is nothing wrong with doing business with people in the government," Kandume said.
Nehemia admitted to knowing Kandume, but denied being his business partner.

When asked about the Farm Ongos plot he co-owns with Kandume, Nehemia said: "My friend, maybe we should discuss that later."

Mulunga said he and Kandume own a farm together on the outskirts of Windhoek.
"We share something together (a portion of Farm Ongos). I wouldn't really call it a business," Mulunga said.

Kandume also partnered with Nekongo to develop his portion of the farm.
Kandume and Nekongo's food project, which is on a 15-hectare piece of land on Farm Ongos, has been in existence since 2020.

Nekongo declined to comment.
Kandume is an acquaintance of Vaino Nghipondoka, a businessman who won state contracts worth more than N$2 billion. Nghipondaka said Kandume is a family friend.
PROPERTY DEALER
Deeds records show Kandume owns six residential properties.

In 2015, Kandume paid N$1 million to buy a 513 square metre property at Hochland Park in Windhoek.
In the same year he borrowed N$3 million from the Development Bank of Namibia to buy another piece of land. In 2019, Kandume bought another property in Klein Windhoek with a N$9 million loan from Bank Windhoek.

Kandume said he is tired of his name always being whispered in the corridors because of government tenders.

He takes pride in his charity activities.

He said he paid N$460 000 for an electricity project in the Zambezi region, and a project in the north to teach young people how to farm with fish.

He has donated coolers to a church, helped an elderly man with polio get a wheelchair, and donated 560 food parcels in December 2021.

WHY THIS STORY MATTERS:
This story is part of a series of profiles of people of interest and a look into the blurry relationship between government officials and people they are supposed to supervise.
This article was produced by The Namibian's Investigative Unit. Send story tips via your secure email to investigations@namibian.com.na