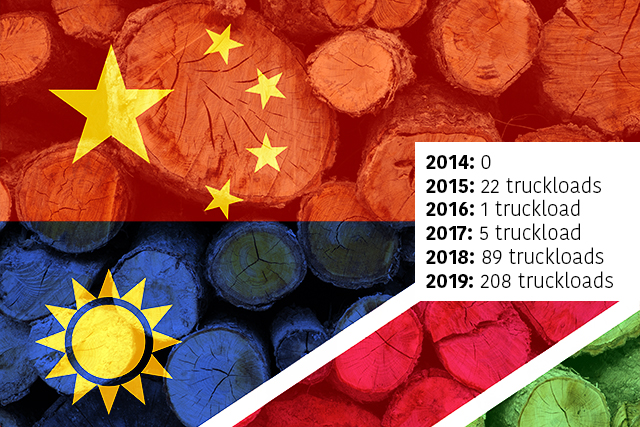 ---
By Shinovene Immanuel | 08 March 2019
---
EXPORTS of Namibian timber to China increased tenfold – from 22 truckloads in 2015 to 208 truckloads in two months of this year.
In total, 3 200 tonnes of Namibian timber were exported to China in 2018. This figure has doubled to 7 500 tonnes during January and February alone this year.
These figures, obtained from the Namibian Ports Authority chief executive, Bisey /Uirab, this week, provide yet more evidence of how Namibia's rare raw timber is being shipped to China at a faster rate than ever before.
The statistics also show that the trees being cut down by mainly north-eastern elites for sale to the Asian superpower are used to produce luxury traditional Chinese furniture.
Namport's statistics show that around 800 tonnes of Namibian timber were exported through Walvis Bay to China in 2015; 22 tonnes were shipped out in 2016; and, about 200 tonnes in 2017.
The 800 tonnes are equal to about 22 legal truckloads on a Namibian road. A truckload weighs approximately 36 tonnes.
Data shows that around 302 truckloads of Namibian timber were exported to China since 2017 to 2019. Alpheus !Naruseb was appointed agriculture and forestry minister in 2018.
The statistics paint a picture of how Namibia – a dry country– is selling its rare trees to countries such as Chile and Vietnam.
The data show that 3 762 tonnes (104 truckloads) of Namibian timber was exported to Vietnam this year only, while four Namibian timber truckloads were exported to Chile last year.
Around 640 tonnes (17 truckloads) went to France in 2017.
The environment ministry accused the agriculture ministry of dishing out permits to well-connected Namibians at Rundu to cut down forest trees in the north-eastern part of the country.
Namibian ports were further used to export 430 700 tonnes of timber from 2013 to 2019, including wood from other southern African countries. This is equal to 12 000 fully loaded trucks.
Zambia tops the list of countries which exported its timber through Namibia. The other two countries are the Democratic Republic of the Congo and Angola.
Although the Zambian government banned timber harvesting and transportation in 2015, statistics from Namport show that 2 760 timber truckloads from that country were exported through the Walvis Bay port.
Zambia reportedly banned the harvesting and transportation of rosewood to stop its rapid loss, fuelled by the growing demand for the timber in Asia.
According to an article found on theconversation.com, rosewood is a generic name for several dark-red hardwood species found in tropical regions, and fetches high prices because it is strong, heavy, has a beautiful red hue, and takes polish very well.
Reuters news agency reported in 2017 that Zambia banned the export of logs from all tree species of rose wood, and now only gives export permits for processed or sawn wood, saying it wants to boost the country's timber manufacturing sector. According to media reports, a ton of timber is sold for N$240 000 in China.
The secretary of the Mpungu District Farmers Association in Kavango East, Elia Kamati, defended the sale of timber to China.
"They opened the economy to them and everyone else. It's a free market. We are just selling our products to those who are in the market. The farmers are not the ones who brought Chinese here in Namibia. It is them who signed contracts with foreigners, so they come to do business here," he told The Namibian this week.
Kamati said he is disappointed that the government has banned the harvesting of timber.
He added that they are now being branded as criminals, while all they did was follow the procedure that the forestry ministry permitted them.
He also complained that the environmental management plan which they were given to raise revenue from timber will expire in a few years' time without any work done. They are losing time and hope, he said.
/Uirab told The Namibian on Tuesday this week that their mandate is to process the loading and exporting process at the Walvis Bay and Lüderitz ports.
He said the duty to ensure that permits are issued before the harvesting and exporting of timber lies with state agencies, such as the agriculture and forestry ministry, and the Department of Customs at the finance ministry.
/Uirab said all timber exports were made with the required documents.
"If Namport detects suspicious import or export items, such incidents are brought to the attention of relevant law-enforcement agencies," he stressed.
ENTITLED ELITE
The Namibian reported last week that a group of elites from Rundu had flooded the government with applications to cut down 200 000 trees in Kavango East.
The applicants include parliamentarians, government officials, councillors, police bosses, as well as traditional and church leaders who are among 230 individuals who since November 2018 have wanted to cut down rare rosewood trees on land spanning 570 000 hectares. This is more than the combined size of Windhoek and Okahandja.
The government banned the cutting and transportation of timber in November because of concerns that timber was being harvested without following the correct procedures, as well as broader concerns over damage to the environment caused by logging – mainly in the Kavango East, Kavango West and Zambezi regions.
Rosewood is protected worldwide because of over-exploitation. Experts note that some species of the tree take 100 years to reach maturity. In Namibia's sub-continental forests, some of the trees being harvested are 400 years old.
– Additional reporting by Nghinomenwa Erastus.
---
* This story has been updated.