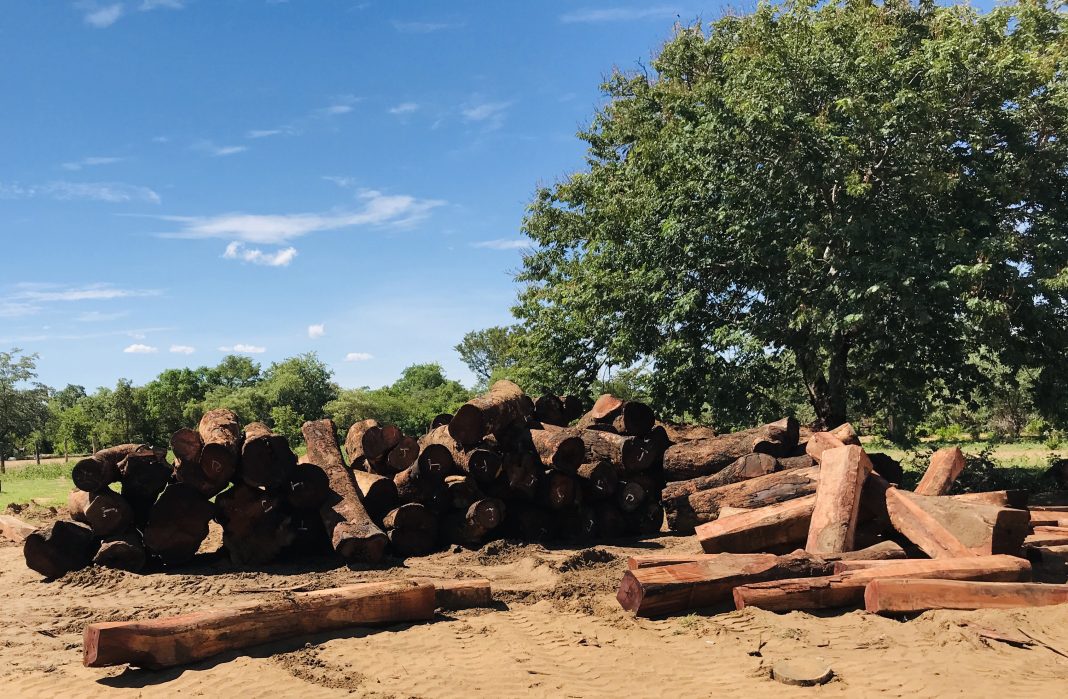 ---
Shinovene Immanuel, Okeri Ngutjnazo and Erastus Nghinomenwa | 3 January 2019
---
DOCUMENTS show that new Rundu mayor Isak Kandingu is one of the top politicians in the region who want to cash in on cutting trees.
"We applied to the ministry to cut so we can get the funds to develop our farms from standard to commercial farms," he said.
Even though the list seen by The Namibian shows that Kandingu's application was rejected, the mayor insisted that he was granted permission to cut down 600 trees on his farm.
He urged the ministry of environment to research whether some farmers can chop down more trees.
Kandingu said he follows instructions set out by the ministry when it comes to harvesting trees.
The mayor also urged the government to set a fixed price for timber harvesting. According to him, some people, like Chinese nationals, come to buy it at a cheap price.
Fellow Rundu councillor Matheus Wakudumo, an APP politician, said he applied to harvest timber to earn money for operational costs.
Timber harvesting had become a source of cash flow to sustain the farms for most subsistence farmers in the region, he added.
"We have been harvesting timber since colonial times. For those who are concerned, they should tell the real reason behind their concern.
"We have many big companies in the country that are polluting the environment. Wherever you go, there are bottles, so concerned people must start with those companies," he argued.
Wakudumo said they were unable to add value to their timber as they did not have the equipment, and accused the Chinese of ripping them off.
"We have been making China great for many years through this process because all our timber is exported there cheaply," he stressed.
In addition to being allowed to harvest the trees, Wakudumo proposed that the government should come up with a scheme where loggers "plant for pay" to ensure that as they cut down trees, they plant others.
Sebulon Chicalu, a chief human capital executive at Namibia Wildlife Resorts, was permitted to cut down 1 860 trees.
He said he wanted to use the timber for commercial purposes.
So far, he has been dealing with buyers from South Africa, Namibia and China.
IN THE EYE OF THE LENS
Namibian Broadcasting Corporation (NBC) television producer Andreas Frai, also the beneficiary of a state leasehold farm, said he would soon reach retirement age. For this reason, he wanted to venture into farming.
Frai was granted permission to harvest 1 845 trees, but said he wouldn't be irresponsible to cut down all of them as he understood the environmental impact of timber harvesting. He plans to cut less than 15% of his quota: 208 trees.
However, he said, the money realised would not be enough to cover what he planned on doing with his farm.
Frai said a harvester received N$250 a tree, meaning he would get N$52 000 from selling 208 trees.
Frai said this would be the last time he would sell timber, unless there was a project to sell timber.
He noted that he has only sold timber to local agencies which have buyers in South Africa.
NBC grilled environment minister Pohamba Shifeta during an interview last year after the government announced a ban on the timber trade.
Frai did not respond to questions on whether he had a role in setting up the interview, which could raise a possible conflict of interest.
ADDING VALUE
Kavango East Farmers Union chairman Rudolf Muremi said trade in timber started a long time ago because farmers from the region's far north could not get loans from the state-owned Agricultural Bank of Namibia (Agribank).
Muremi said he had held discussions with members on how they could add value to their timber. He felt the government should revisit their plan of having a factory at Rundu to produce semi-finished or finished products such as planks, chairs and tables.
The chairperson said they also ran a conservation awareness programme among members.
"The environment ministry barely visits Kavango East farms to see what is going on there. They only visit where the logs are collected, and say the forest is depleted," he claimed.
APP Rundu Town councillor Faustinus Wakudumo applied to harvest 1 200 trees. He said it was for personal use because he owns a property investment company.
He plans to use the trees to make furniture items such as doors, chairs and beds.
Wakudumo said the ministry of forestry regulated them to ensure that they only harvested mature trees, adding that the small trees should be left for environmental purposes.
Kavango West's crime investigations coordinator, deputy commissioner Rudolf Mbumba, told The Namibian yesterday he applied to harvest trees to upgrade his farm.
Mbumba said he had already fenced off his farm and drill a borehole, but wanted to expand his property by buying cattle and build infrastructure for his workers.
He applied to cut down 1 000 trees, including 500 of the rosewood species.
Mbumba believes tree harvesting will not damage the environment as people are only allowed to cut down a limited number.
VIEWS FROM THE GROUND
The Namibian visited the five villages of Naingopo, Masivi, Gcwatjinga, Kawe, Mbora and Sikambo in Kavango East to get reactions from people on the ground.
Daniel Karapo (41) from Naingopo village
Karapo, a community health officer, said he does not support the timber harvesting, and called the trade dubious as it brings minimal benefits to the community as people are being exploited.
He said he tried to report the matter to the authorities, but the channels of reporting were too complicated.
Karapo feels that if these natural resources are not preserved, they will disappear forever. He also talked about their importance to the community, including providing food.
He added that he doesn't know where the trees ended up, and was not aware of the prices they fetched.
His community was once offered N$110 per tree by an unknown Chinese businessman. They turned down the offer.
Musisi Rudolf (38) from Naingopo village
Musisi is unemployed, but does not support the timber harvesting business. He says they bring in nothing but the destruction of natural resources.
He has never had a chance to complain to the authorities. Musisi said he does not even know where these logs go to, and no one has told him how much they fetch. He feels the community is neglected in this business as they are not included in enjoying the benefits. Water is still a problem in some villages, and if the business was regulated properly, some villages might get boreholes from this trade, he added.
Kanyengo Kandjimi (34) from Masivi village
Kandjimi does not support harvesting the trees as it destroys the environment. He says he would suggest a total ban as the information-sharing process surrounding the business is secretive. He too does not know where this natural resource goes nor its value.
Linus Itembu from Kawe village
Itembu, a truck driver from New Force Logistics, said he supports the timber trade as it creates jobs. He too is not aware of the price per log. He believes it might cost about N$55.
Albert Simasiku (38) from Kawe village
Simasiku, who is employed by a timber harvester, supports the trade. He says it creates jobs, and provides additional income for families.
He says, the massive trees affect the grass for grazing. He says once a field is cleared of these trees, the grass will grow better for grazing. Although he is not aware of the destination of these trees, he believes the Chinese are buying them from people at about N$650 a cubic metre, which he understands is sold for recipients at N$4 000.
Michael Muronga (48) at Kawe village
Muronga, a timber loader, said he does not support either the process or the business as it destroys the environment. He feels the authorities are not regulating the trade properly, and that workers are sometimes exploited.
Kudumo Hamunyongi (52) from Mbora village
Hamunyongi, a newly appointed traditional law enforcer, supports the timber trade, even though it destroys the environment. He said he is not aware of the destination, and how much it is worth.
He is worried, though, that his village is being exploited by illegal harvesters, and that none of the villagers benefit from it.
*This article was produced by The Namibian's investigative unit. Send us story tips via your secure email to [email protected]
*This story has been updated.
---