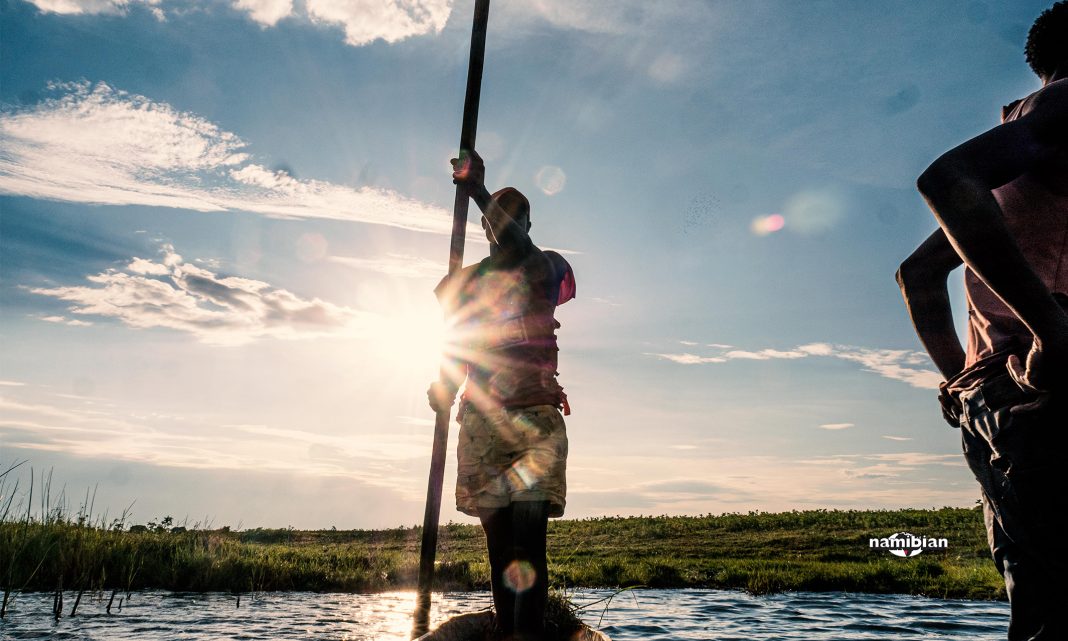 ---
By James Jamu | 18 December 2020
---
FISHERMEN at Masikili and Kasika in the Zambezi region have had to adopt counter-tactics to avoid being shot by Botswana soldiers while fishing alongside the river.
To some, these survival strategies include avoiding fishing at night while others say they have no choice but to risk it all to provide for their families.
The fears of being gunned down have been around for years. They were hightened two months ago after Botswana soldiers killed four unarmed Namibian fishermen.
Botswana uses the "shoot to kill" policy to justify killing Namibian fishermen alongside the border between the two countries.
That latest episode caused public anger, including widespread solidarity demonstrations across the country, burning of Botswana flags and demands for strong action by Namibian authorities.
More than 37 Namibian fishermen have been shot to death by Botswana soldiers since independence.
The Namibian visited the Zambezi region last month to understand the anxiety of the fishermen who have for years feared for their lives.
Intimidation, bullet wounds and near-death experiences are common personal stories along the Chobe River, with several people having been killed at Masikili, Ngoma, Impalila and, more recently, at Kasika.
During the rainy season, fishermen say inland territorial separations can prove difficult to dispute because most land is flooded and they find themselves following the river until they find fish.
The recent heavy rains in the Kabbe area from October and November have made these even more difficult to discern.
MASIKILI
The trip started at Masikili which is situated 67 kilometres outside Katima Mulilo and borders the Chobe National Park and Botswana. The word Masikili is derived from musikili, an abundant tree species in the area known for its healing remedies.
Fishermen in the area have been reluctant to fish at night as they fear being shot.
The presence of the Botswana soldiers has been subtle. Only trained eyes are capable of locating lurking troopers.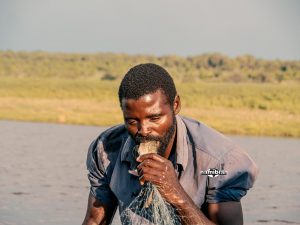 "We depend on fish here in the Chobe River to feed our families and to survive. We continue to risk our lives because we need to support our families," a fisherman from Masikili said last month.
Fisherman Brian Nyambe from Masikili says his life depends on the Chobe River.
He is unemployed and relies on catching the Zambezi bream fish which he sells at the local market.
A regular sized cooler box which can be sold for N$600 in Katima Mulilo is sold by retailers for between N$1 000 and N$1 500.
"At night, you come out with your torch because it is really dark. When you light the torch to see your way, Botswana soldiers think you are a poacher and they start firing at you," Nyambe said.
His brother Christopher was shot in the arm when he went fishing some time ago. To other fishermen, threats from Botswana soldiers are something they grew up with.
For instance, chief Simwanza Wilson Shamu from Masikili related his experience with members of Botswana's anti-poaching military unit during his fishing days.
"When I went fishing with my brother as a teenager, gunshots were fired to intimidate us. I jumped out of my canoe and swam as fast as I could to get to safety in my own land," Shamu said.
The chief pleaded with the president to protect them. "Please do something to protect us, for we have been loyal to you," he said.
KASIKA
In the far north-east part of Namibia, bordering Zambia, Zimbabwe and Botswana is a communal conservancy called Kasika.
This is a community-owned area directly across the river from Botswana's famed Chobe National Park. This is one of only two conservancies in Namibia that have permanent herds of free ranging buffalo.
For Kasika fisherman, Cacious Mwalamwala (49), taking the law into his own hands is the only way to survive.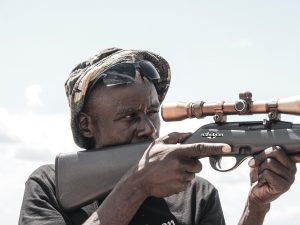 An ex-member of the Namibian Defence Force, he was a close friend and confidant of the deceased brothers, Tommy Nchindo, Martin Nchindo and Wamunyima Nchindo and their cousin Sinvula Munyeme.
The brothers from Impalila Island were allegedly shot by members of the Botswana soldiers between 20h00 and 21h00 near Kasane on 5 November 2020.
The alleged murders raised the death toll of Namibian fishermen killed by the BDF anti-poaching unit this year alone to 12.
Mwalamwala keeps three guns in his arsenal to protect himself from trigger-happy Botswana soldiers, and wildlife that sometimes strays at Kasika conservancy.
These are rifles, with a 10x magnification scope allowing him to see over 900 metres into Botswana territory, and a shotgun for close-range protection.
"They come to our side of the river multiple times to taunt and threaten us with their guns," recalled Cacious, who was emotional when narrating the series of events that led to the death of his friends.
Buffalo skulls furnish the backyard facing the three-kilometre stretch of weeds, thorns and the blazing Zambezi sun leading to the Chobe River.
The façade of the deserted Zambezi Queen boat creeps into an isolated view, reminding the people of what was once a buzzing tourist attraction.
* This article is funded and supported by Google News Initiative and The Namibian
https://newsinitiative.withgoogle.com/intl/en_gb/journalism-emergency-relief-fund/