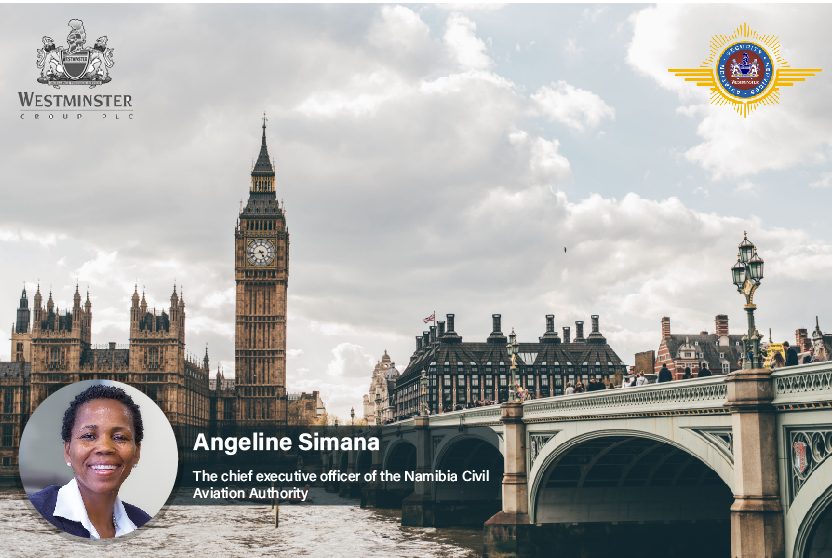 ---
By Shinovene Immanuel | 09 March 2016
---
A BRITISH aviation security firm which is being considered for a state tender at Namibian airports offered to pay university fees for the son of the director of civil aviation, Angeline Simana, in what appears to be a blatant case of conflict of interest.
The company is Westminster Aviation Security Services, a subsidiary of the United Kingdom-listed firm Westminster Group which operates in various countries.
Westminster offered to pay university fees at the time when Simana, a key State official, was vetting this company for the tender. Simana's son, Yaone Simana, applied to study at the University of Leicester in 2014.
Westminster admitted to The Namibian this week that they offered to pay for Simana's son, but claimed their effort was a temporary guarantee and not genuine.
Simana, however, denied that Westminster paid for her son's studies. Westminster Group's chief executive Peter Fowler had written a letter to the University of Leicester titled 'Yaone Simana's sponsorship', offering to fully guarantee Simana's university fees.
"I write to confirm that the Westminster Group Plc are happy to sponsor and financially guarantee Yaone Simana's studies with the University of Leicester International Study Centre covering the whole of his tuition fees and his accommodation and maintenance costs for the entire duration of his course," Fowler said in the letter seen by The Namibian.
Simana was provisionally accepted at Leicester, where he had to pay £22 000 (N$481 000) for his foundation year before he started his Bachelor of Science in Computer Science course.
The duration of that course is either three or four years.
At the time the letter was written, Simana was among the Namibian delegation who accompanied the works ministry's permanent secretary Willem Goeiemann and airport manager Anton Theart from the Namibia Airports Company (NAC) to England, where they met with Westminster.
Fowler gave a brief history of their company in the letter, saying: "Our operations include Namibia, and Yaone Simana's family are well-known to us and his mother, Angeline Simana, is the director of civil aviation in Namibia. We are, therefore, happy to sponsor and guarantee his studies."
While Westminster, Leicester and Simana insist that the offer was never enforced, eyebrows have been raised that the company was willing to pay for the studies of the son of an official key to deciding on their 25-year contract for aviation security.
Simana's version is that the company never paid for her son's tuition.
She also said that although she knew a letter existed, she did not know that it promised to cover costs for her son.
She told The Namibian last week that while meeting the security company in England, Fowler overheard her while speaking about her dilemma.
"The guy overheard me … We were actually in a meeting when he asked what the problem was. We said we were asking the school (about letting her son start school), and wrote to the high commissioner there to show that the money is there and I can sustain the boy …"
She said that was when Fowler said in the presence of others that his son had gone to that university too, and that he would speak to them. "He called the school to ask what was wrong, and the school told him that the money had not matured. He told them he knows me as credible, but he was told to put it in writing as comfort," she said.
Simana said Fowler ended up writing the letter offering to pay for her son's university fees, without her knowing what the letter entailed.
Simana said she paid for his tuition fees, using her backpay of N$400 000 which she received from the government last year in October after she was promoted to the level of director.
She showed The Namibian bank statements indicating that she paid for her son's fees, using her backpay and an SME Bank loan as well as part of her pension money.
Fowler insisted that the letter was just a guarantee, and that he had not made any payments towards Yaone's studies.
"Neither Westminster nor any of its officers, employees or anyone connected with the company have at any time provided or offered any financial assistance whatsoever to Angeline Simana or anyone else," he said, even though the letter clearly shows that the company promised to pay the university fees.
"Once he enrolled, the letter was redundant and subsequently formally rescinded," Fowler added.
The executive said it is disappointing that anyone would see this as anything other than a kind act to assist a young man from Namibia looking to better his education in the UK, and in keeping with Westminster's charitable support.
He denied knowing Simana's financial position, and that he never discussed it as "it is none of his business".
"I am not sure who is suggesting that we overheard her talking about financial problems, but that never happened, and to suggest otherwise is pure mischief-making," he said.
He added that due to the fact that they are a highly-respected British firm operating worldwide, they not only abide by the UK Bribery Act, but have various policies and procedures in place to monitor this.
* This story was produced by The Namibian's investigative unit.
---