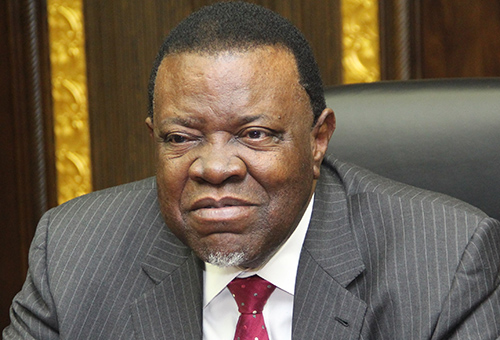 ---
By Shinovene Immanuel, Tileni Mongudhi | 2 July 2019
---
PRESIDENT Hage Geingob gave away N$2 million of the N$3 million that he earned from consultancy work in the UraMin-Areva deal to two unnamed South Africans who allegedly introduced him to the controversial transaction.
Geingob made the revelation in response to questions that The Namibian sent him, following the disclosure of his asset base. He did not provide further details.
In a move seemingly aimed at pre-empting The Namibian's report, the President released the questions sent to him as well as his answers through the social media, while ignoring follow-up queries aimed at providing further clarity.
Geingob demanded that The Namibian publish his response within less than two weeks, after it had taken him nearly a month to reply to the questions.
The Namibian wanted further clarity on the reason why almost half of Geingob's N$51m asset base is in cash and similar liquid form.
Less than 10 years ago, Geingob was reported as having defaulted paying basic bills such as those for municipal services of more than N$300 000.
The weekly Windhoek Observer, which campaigned ardently for Geingob to become the President, trashed his assets declaration in May, stating that Geingob did not mention who paid for his medical bills and that he did not declare gifts and benefits such as the all-expenses-paid trip to the World Cup in Brazil. His friends claimed they paid for him.
On the UraMin-Areva deal, Geingob did not answer long-standing questions that had been raised over the years.
UraMin was a Toronto Stock Exchange-based company that owned, among its assets across a few African countries, the Trekkopje mine in the Namib Desert. UraMin touted Trekkopje as the jewel in its crown, promising it had rich and huge deposits of uranium when selling it to the French state-owned nuclear power producer, Areva, for US$2,5 billion.
It has since been established that Areva not only paid too much, but that bribery and kickbacks of several sorts were involved in the deal and investigations are ongoing. Geingob's consultancy was among those that has come under scrutiny.
The President is yet to explain why he would hand over more than two-thirds of his fee earned from supposedly diligent consultancy work to people who merely alerted him about the project. He has not explained exactly what the " consultancy work " was that he did. At the time, Geingob was the Swapo chief whip, having served as Prime Minister for more than a decade since Namibia's independence.
In his answers, Geingob said that UraMin offered him a directorship, but he declined the offer.
"I chose to play the role of a consultant. I, therefore, served as a consultant to UraMin and helped the company secure a licence which it already had, but which was about to be terminated due to several technicalities.
"For this I received payment which was part of an amount of US$300 000," he said.
"US$200 000 went to two South African partners who brought the matter to my attention and US$100 000 was paid to me, of which I took US$10 000 to assist a person in need, leaving me with US$ 90 000."
The consultancy was not the only avenue where Geingob benefited from the UraMin-Areva transaction.
After becoming the minister of trade and industry, Trekkopje was given tax exemptions that have not been extended to other companies in the uranium mining industry, such as Rössing Uranium and Langer Heinrich.
The exemptions were given despite the ministries of finance and mines opposing them, the argument being that the others did not qualify for them. Geingob said there are minutes of the process leading to the exemptions, but decided to publish his answers without providing the media those records.
Among the questions the President is yet to respond to are:
• How did your Cabinet members react to your disclosure?
• How would you have them handle their disclosures?
• Why did you have foreign bank accounts despite having worked in government for so long?
• What is your comment on the criticism that leaders holding foreign bank accounts often lack confidence in the system that they preside over in their own country?
• Why do you have so much cash or investments that are so liquid as to easily convert them into cash?
• Would you please explain in detail the sources of your cash ?
• Why should the public not think it is odd that you had so much cash in your accounts, yet it was reported that you defaulted on the payment of basic acounts such as Windhoek municipal service accounts?
• The Windhoek Observer, a newspaper that supported your Presidency, reported two days after you made your disclosure that you should have disclosed who spent money on you in your personal capacity. The report also said that you should have declared the finances paid by private individuals for your holiday trips and medical treatments. What do you say about that?
• Did you do any paid work for anyone else personally, under HG Consultancy or another entity?
• Exactly what kind of advice and consultancy work would you have done to help UraMin secure a licence from the government that you have worked for in various high level capacities?
• Who were your South African partners to whom you gave two-thirds of your consultancy fee (US$200,000) for bringing the UraMin job to your attention?
• Is it not questionable that a process and companies which benefited directly and indirectly from your private consultancy would get further benefits from the government and specifically from the ministry that you headed?
• Did you not feel conflicted in that process of tax exemptions to Areva?
• Did you disclose such apparent conflict to anyone? To whom and when? Are there documents to that effect?
• Would you care to share with us too the minutes detailing the process leading to Areva's tax exemptions?
• Do you still insist it was the correct decision giving tax exemptions to Areva, while it had done so little work compared to other mining companies who have been and remain active such as Rössing and Langer Heinrich?
• Should the Areva exemptions not be revoked by now?
• Considering the controversy that UraMin and Areva got itself into, do you regret facilitating that deal and what would you have done differently if you had the chance to?
• With regards to the SME Bank, how comfortable are you with investing more than N$1 million in an institution (which you were directly overseeing) that is not in compliance with the country's banking laws and regulations? For instance, they are yet to publish audited financial statements as required by the law.
---