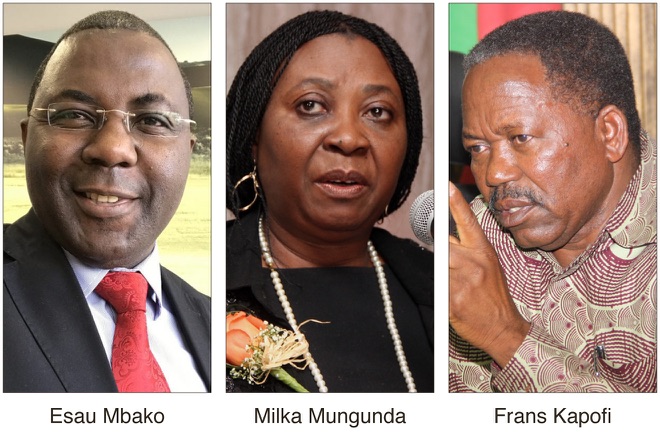 ---
By Shinovene Immanuel | 19 May 2017
---
SEVERAL senior politicians and government officials have dipped into the SME Bank for loans and overdrafts. The troubled bank's loan book shows that loans worth more than N$200 million are either not being repaid, or were not secured.
In what has been described as a free-for-all, some former members of the SME Bank board also took out loans with the bank.
According to documents seen, former SME Bank chairperson and current presidential affairs minister Frans Kapofi is one of those whose loan has been flagged as underperforming.
Kapofi, who served as the bank's chair from 2012 to 2015, when he was appointed to the presidential affairs portfolio, received a N$700 000 loan in June 2014 to buy equipment for his farm. His loan is listed as substandard, meaning it was unclear whether he had the means to repay the loan.
Kapofi confirmed the loan to The Namibian this week, but said it was not his fault that the bank did not ask him for security.
"I was never asked to provide security for that loan. Maybe it's because I was the chairperson of the SME Bank at the time," he said. He said even if he dies today, his estate would repay the loan, which he says was co-signed by his wife.
According to Kapofi, he never doubted his ability to repay the loan. The Namibian understands that he was told some years ago to pay off the loan.
He admitted that he failed to pay at some point during the loan period, but said non-payments can happen to anyone.
"My friend, drought is drought, but I am paying as expected," he said, adding that he paid N$16 000 per month towards the debt.
A minister, according to government documents, earns close to N$1,1 million per year, including all benefits.
Other top state officials in debt with the SME Bank are the finance minister's executive assistant, Esau Mbako, and disgraced former SME Bank chairperson George Simataa, who said although his N$5 million loan was approved, he had yet to get the money. Documents show that Mbako received a N$700 000 loan in December 2015. Like Kapofi, Mbako's loan is categorised as "substandard" because it was also not secured.
Mbako told The Namibian yesterday that he got the N$700 000 loan to buy a Toyota Land Cruiser for personal use. He also said he was paying back the loan, adding that he could not understand why his loan was regarded as unsecured because he had provided everything needed, including vehicle insurance.
Simataa confirmed to The Namibian yesterday that he had applied for a loan for his farm, and that it had been conditionally approved, subject to him meeting certain conditions.
"As to whether the offer is still on the table, I would say yes because no one informed me of disapproval, if any," he said, adding that he was working towards meeting the requirements.
Simataa laughed at claims that he wanted the loan to upgrade his already luxurious and well-endowed farm.
"The loan was not for upgrading the farm, but for chicken farming. Ask them to give you my business plan," he added.
Another former board member, Milka Mungunda, confirmed that she received an overdraft from the bank, but declined to provide further details, such as how much and for how long.
Mungunda claimed that she is busy repaying the overdraft.
The Namibian did not spot her name on the list from the SME Bank loan book, but her decision and that of other board members to dip into the bank for overdrafts and loans has raised eyebrows, and adds to suspicions that directors received unsolicited loans and special financial considerations.
Mungunda is the CEO of the Social Security Commission, the same parastatal which invested N$150 million with the SME Bank last year. Court papers show that SSC board chairperson Johannes !Gawaxab claimed that there was internal disagreement at the SSC about whether the investment was properly authorised.
Mungunda has insisted that procedures were followed when making the investment with the troubled bank. The SME Bank was started in 2012 when President Hage Geingob was the trade minister.
The new bank reported to him.
Geingob's personal assistant at the trade ministry was Esau Mbako.
He did not tag along when Geingob was promoted to be Prime Minister in December 2012, but stayed put at the trade ministry, where he served as an assistant to the then trade minister Calle Schlettwein.
The two are now at the finance ministry.
---