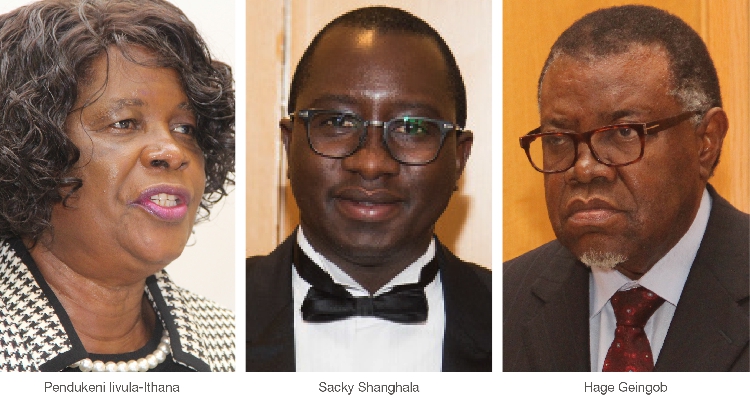 Shanghala is one of a host of Cabinet ministers who are said to be frustrated by various issues, including their lack of power to implement changes in their portfolios, and the role of presidential advisers.
The Namibian understands that home affairs minister Pendukeni Iivula-Ithana and public enterprises minister Leon Jooste are also frustrated. These three ministers are not the only ones whose frustrations The Namibian is aware of, as they also exemplify the experiences of others in Cabinet. Jooste has admitted that some people have wanted him to resign, but said he wont step down.
President Hage Geingob appointed Shanghala in 2015, but a year later, he was on the brink of quitting.
Shanghala did not respond to questions sent to him, but an official in his office confirmed that he almost resigned on two occasions last year.
A source said one of the episodes which almost pushed Shanghala to resign was when he tried to amend the Namibian Constitution over citizenship issues flowing from a Supreme Court ruling.
Documents show that the decision to amend the Constitution was approved by Cabinet – chaired by the President – but Geingob changed his mind a few weeks later, saying the proposed amendments were not needed, and leaders could not be seen to be attempting to sidestep court decisions.
Shanghalas associates said the decision to halt the amendments fed into suspicions that he was on Geingobs hit list because the President had expressed support in private, but left him hanging in public.
The second time he considered resigning, his associates said, was over the phosphate mining matter, which was linked to Geingob.
Shanghala had advised government that due to the uncertainty surrounding phosphate minings impact on the environment, Namibia was duty bound not to go ahead with marine phosphate mining until all relevant investigations had been completed.
His opinion was not well-received by some of his Cabinet colleagues, who accused him of trying to sabotage their plans.
"There was a point when his opinions were being second-guessed by ministers and other officials. He felt he couldnt win," a senior government official said.
Shanghala has had a chequered record as governments chief legal adviser. A source close to him said Shanghala has felt unsupported, especially when he tackled thorny cases like that of the Walvis Bay oil storage facility, the SME Bank and the mass housing programme.
To make matters worse, sources said two friends who were close to power warned Shanghala that Geingob intended firing him.
Shanghala did not offer to resign, but hung on until he met with Geingob earlier this year.
An official in the Presidency who was briefed about that meeting said Geingob told Shanghala that he needed the attorney general to stand his ground, and that he would not be fired for that. Sources said Shanghala also told Geingob that his friends warned him that the President wanted to get rid of him.
"The two laughed it off," a source said.
Even though Shanghala appears appeased that his job was safe, The Namibian understands that his associates feel betrayed that he reported them to the President.
Sources said he no longer wanted to quit after getting Geingobs reassurances.
What has also been frustrating Shanghala, according to sources, was the difficult relationship between Geingob and Iivula-Ithana.
"The ping-pong between the two frustrated him," a source said.
It is unclear what the two veteran politicians clashed over, but Iivula-Ithanas frustrations appear to stem from having been forced to withdraw the citizenship bill as well as the time change bill.
The proposed laws were approved in Cabinet, but were blocked in parliament.
In addition, sources said Iivula-Ithana has given up on pushing in Cabinet that the law is followed in relation to SME Bank officials who worked in Namibia without proper documents.
Iivula-Ithana was not available for comment. Public enterprises minister Jooste is apparently also frustrated, primarily by the absence of a law that would empower him to address longstanding governance issues at state-owned enterprises.
"The delay is killing him, and frustration levels are through the roof. He is powerless, and is merely a spectator to everything going on," said a minister close to Jooste.
Jooste announced last year that Cabinet had approved a new governance framework dividing parastatals into three categories – commercial, non-commercial and financial.
Under the new framework, all the commercial SOEs would be reporting to the public enterprises ministry.
"It will be a year since the hybrid governance model was approved by Cabinet. The Ministry of Public Enterprises is useless without the legislative powers," a source stated.
Jooste admitted to The Namibian that the delay was frustrating, but "it will take a massive amount more for me to even consider resignation".
"I can imagine that there may be people who want me to go, but I will not turn my back on the people of Namibia. I have out of my own free will committed to serve, and I shall finish what has been started," he said.
Jooste has on several occasions clashed with Cabinet colleagues, including works minister Alpheus !Naruseb, on how parastatals should be run.
THE A TEAM
Since President Geingob appointed his six highly paid presidential advisers in 2015, some ministers have felt like spectators in government.
"One thing; big, significant decisions are not taken by Cabinet as used to be [sic]. Maybe the A Team (presidential advisers) does," said a minister, who declined to be named.
According to the minister, presidential advisers have taken over the role of ministers.
"Which is unconstitutional. Nobody has challenged this system. The advisers are paid the same salary as that of a minister," the politician added.
Public documents show a minister earns around N$1,1 million per year, the same amount earned by four of the six presidential advisers.
"Cabinet, in terms of Article 35 of the Constitution, is to be appointed from members of parliament. Where do the advisers come from to run the affairs of the country? The situation is worrisome," the minister noted.
A pro-Geingob source said some presidential advisers were key to the process of verifying technical submissions made by ministers in order to properly advise the President.
PRESIDENTIAL DENIAL
State House spokesperson Albertus Aochamub told The Namibian that the President was not aware of Shanghalas resignation plans.
"If the person you are accusing of having threatened to resign chose not to speak to you, how would the President know the details?" he asked, adding that the attorney general and all ministers have regular access to the President to raise all their issues with him.
"It could be the reason why he didnt respond to such false claims," he said.
According to Aochamub, concerns that Cabinet functions had been outsourced to presidential advisers were unfounded.
"Maybe it also fits into your long-held dream that the Geingob administration must fail, and that the country of your forefathers must burn up in cinders," he added.
Aochamub said the President "generally" holds regular individual consultations with Cabinet ministers, and always insists that all issues be decided by Cabinet collectively.
"This style of leadership helps all of Cabinet to own the decisions made and defend those as a collective, as envisaged in the Cabinet handbook," he added.
Aochamub said Geingob would be hosting quarterly reviews with ministers to discuss their performance.
"It is the ideal platform for ministers to raise issues pertaining to performance, and how the President, as coach and leader, can help them grow," he continued.
The spokesperson said Geingob was always available to answer his ministers via SMS, WhatsApp or through other means.
He explained that presidential advisers did not attend Cabinet meetings, but they advised the President on matters presented to them.
Aochamub further stated that claims that Cabinet decisions were being pushed by private interests were pure innuendo.