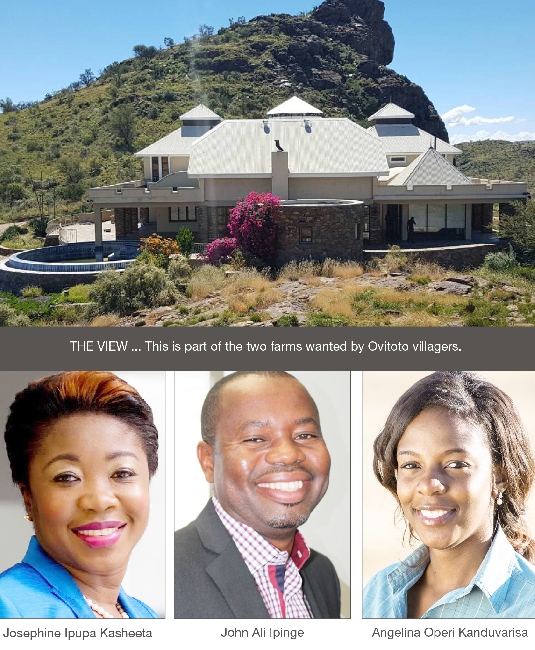 ---
By Shinovene Immanuel and Ndanki Kahiurika | 5 May 2017
---
AN OUTCRY has erupted in Ovitoto over two farms that were given to a hunting outfit owned by a few well-off individuals ahead of locals who wanted to expand their conservancy.
Bought in February 2016 by government, the farms – Gusinde No.197 and Osema No.63 – contain about 800 wildlife apparently worth more than N$3 million. The two farms with a combined 9 128 hectares are adjacent to the Ovitoto Conservancy, 45 kilometres east of Okahandja, and are now apparently worth about N$40 million.
Local villagers had been lobbying government for the farms through the Ovitoto Conservancy they formed in 2008, but they lost out to Ovitoto Game and Hunting Safaris about three weeks ago.
The land reform ministry announced three weeks ago through the media that the two farms had been leased to the hunting outfit for 99 years.
Government said there were 31 applicants but only 10 qualified, while two were disqualified on technical grounds, including a sole application by the Ovitoto Conservancy.
Ovitoto Game and Hunting Safaris was formed two weeks after government advertised the farms in September 2016 to specifically apply for the land.
The owners of Ovitoto Game and Hunting Safaris are: Road Fund Administration CEO John Ali Ipinge (40%), Namport manager Josephine Ipupa Kasheeta (20%), 65-year-old Ovitoto 'community activist and representative' Gabriel Mureti (20%), Avani Hotel manager Erenstine Jessica Tjiundje (10%), Agra researcher Angelina Operi Kanduvarisa (3%), and the Ovitoto Community Conservancy (7%).
The Namibian understands that Mureti was brought into the company because of his influence in the community as an 'elder' and a lobbyist'.
Researcher Kanduvarisa is a niece of chairperson Lisias Tjaveondja, who signed partnership agreements with Ovitoto Game and Hunting Safaris on behalf of the Ovitoto community.
Kanduvarisa, Tjiundje and Kasheeta declined to comment while efforts to contact Mureti were unsuccessful.
The Namibian Association of Community Based Natural Resource Management Support Organisation states that the Ovitoto Conservancy has more than 3 600 members.
It is, therefore, unclear why the company hand-picked a few individuals from the area instead of allocating the shares to the conservancy that has many members.
BEING BULLDOZED
Ovitoto Game and Hunting Safaris' proposal says the company wants to use the farms for game and wildlife conservation, trophy hunting, a lodge, adventure trips (such as hiking, game drives, horse trails, quad biking), breeding endangered species and bio-diversity conservation.
Ovitoto conservancy chair Tjaveondja said he realised too late during negotiations with the private company that they had to settle for less than they had wanted. Documents show that shares were issued on 1 October 2016.
"They [the company] just called me one day in a rush and I was told to sign the documents. I did not have time to read them. I was shocked to find that it appears that I signed for 7% shares. You won't notice these things when you are being bulldozed. The 7% shares mean nothing," said Tjaveondja. Documents seen by The Namibian show that Tjaveondja gave the private company the green light in a letter dated 30 September 2016.
"The Ovitoto Conservancy fully appreciate the effort and good gestures by Ovitoto Game and Hunting Safaris by allocating some shares in this venture. This will not only benefit the owners through direct ownership but also through employment opportunities," he said.
Tjaveondja said he informed community leaders about the partnership, including Ovaherero Traditional Authority chief Vipuira Kapuuo.
Kapuuo told The Namibian last week that the community has been trying to get the farms for ages by talking to political leaders in government.
He said they met land reform minister Utoni Nujoma when they heard that government was buying the farms last year.
They also met National Assembly Speaker Peter Katjavivi and environment minister Pohamba Shifeta, who both endorsed their plan to own the farms, the chief said.
Kapuuo said they only learnt in newspapers that the farms had been given to Ovitoto Game and Hunting Safaris.
"It was a disappointment to us because we had begged for that farm and thought we would get it. It was not something that would benefit one or two people. It was going to benefit the whole community. We are begging government to please put it on hold and listen to us again," he said.
Kapuuo issued a statement this week accusing the lands ministry and the private company of colluding with select Ovitoto residents to win the farms.
"I am appealing to our government through our President to intervene and request the Ministry of Land Reform to rescind this decision that led to the allocation of the aforesaid farms," he said.
IPINGE EXPLAINS
Majority owner Ipinge denied claims that his company gave the conservancy a raw deal.
"Taking into consideration the team's empowerment agenda, it was decided that 40% of the company shares be allocated to people and the community via the Ovitoto Conservancy," he told The Namibian this week.
Ipinge said three of the five shareholders are from Ovitoto (owning 33%) and that the owners are highly skilled leaders. "Sixty percent of the shareholders are women," he added.
He said around N$3 million to N$5 million was needed for the first year, rising to an investment of N$12 million over the next three years.
Ipinge and Kasheeta are the directors of the company.
Ipinge said the company only has two directors because "as a start-up venture, you want to have an effective and small team to drive the business agenda and see the company through its formation stage. However, you then expand it as you go along".
Lands ministry permanent secretary Peter Amutenya did not answer detailed questions sent to him this week.
He, however, issued a statement last week saying the community will benefit since they are shareholders in Ovitoto Game and Hunting Safaris.
---