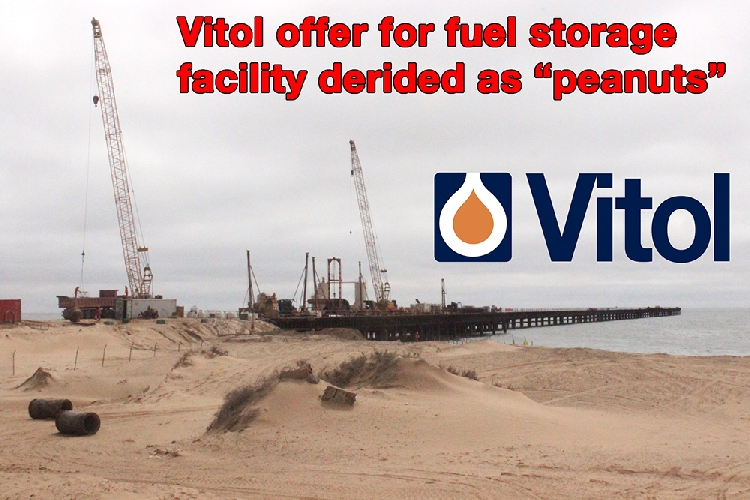 ---
By Shinovene Immanuel | 23 February 2018
---
SWITZERLAND energy company, Vitol SA, offered to pay the Namibian government US$1 (about N$11,70) per year to rent the N$5,6 billion state-owned fuel storage facility at Walvis Bay for 10 years.
Vitol SA, which is one of the world's biggest oil trading companies, supplies crude and oil products, and refines petroleum through Vivo Energy, which runs Shell branded service stations and products in Namibia. The Swiss company now wants to take over Namibia's oil storage facility when it is completed around July this year.
That oil facility overlooks the Atlantic Ocean and is strategically located five kilometres from the port town of Walvis Bay – between the naval base and Bird Island.
It will store 70 million litres of petroleum products such as petrol, diesel, paraffin and others.
Vitol is not the only company interested in the storage facility. The Namibian understands that a national oil company from the Middle East is also circling around the facility.
Documents seen by The Namibian show that Vitol SA offered the Namibian government a proposal to operate the storage facility for 10 years maximum, even though the company said it was open to a 15 to 20 year deal.
"Rent is to be US$1 (one US dollar) per annum," the Vitol SA offer, that was made in November 2017, stated. US$1 is currently about N$11,70.
Three senior government officials familiar with the proposal described the offer as "peanuts" and an attempt to take the state "for a ride".
There is no final decision on whether the entire facility would be leased to a private company, but Vitol SA appears to have a head start.
Officials familiar with the proposal said Vitol was ahead of others because they went through politicians. Vitol denied any wrongdoing in answers sent to The Namibian this week.
Vitol SA submitted a proposal to finance minister Calle Schlettwein last year, who then submitted it to Cabinet for discussion.
According to the proposal document, Namibia's oil storage facility is capable of storing 70 000 cubic metres (equal to 70 million litres) of petroleum products.
People briefed about this matter said although the offer states that the facility would be rented out for US$1 per year, Vitol wants to give the government around N$160 million as part of the transaction. It's unclear how that money would be paid if it is not part of the agreement. The N$160 million is still considered peanuts by government officials.
The document states that Vitol would offer a measly 30 cubic metres (or 30 000 litres) of petroleum storage space, out of 70 000 cubic metres, to the government for emergency uses.
The rest of the storage space, 69 997 cubic metres, would be used by Vitol. This translates to Vitol using 99,9% of the facility, which was "apparently" built to store Namibia's strategic petroleum reserves.
Vitol promised to supply 19 000 cubic metres of diesel and 12 700 cubic metres of unleaded petrol to Namibian fuel stations, a proposal described by a source as a move that could hand the Swiss company 45% of the Namibian fuel market.
The offer also states that government would have to buy petroleum products at market prices from its storage facility.
Vitol also wants special treatment from government if the state gives the National Petroleum Corporation of Namibia (Namcor) the right to exclusively import 50% of Namibia's petroleum needs.
"Any mandate granted to Namcor or another government designated entity for the import of (petroleum) products would not apply to Vitol, Vivo/Shell downstream business for the duration of the lease," the offer states.
Some senior government officials expressed discomfort with the Vitol proposal, saying it was a bad deal for the country, compared to what Namibia could get if the lease of the facility was put out on public tender.
SAME PRICE FOR SAME SERVICE
Vitol's spokesperson, Andrea Schlaepfer, told The Namibian on Wednesday that claims that their offer was "peanuts" were inaccurate.
"Any proposal made by Vitol would be in line with current commercial arrangements. In case this is unclear, this means in line with what is currently charged for the same service by other storage companies," she said.
Schlaepfer said Vitol was committed to following due process, as directed by relevant authorities, and has done so in this instance.
"The process is completely open and other parties are able to put forward alternative proposals," she said.
The Vitol SA offer exposes the lack of planning by government. A 2017 report by former attorney general Sacky Shanghala stated that government was clueless about many key aspects of the oil storage facility, including the lack of a plan to recover the N$5,6 billion being pumped into the project. Shanghala warned that the burden of repaying the facility would be placed on the shoulders of petroleum users.
Apart from the existing fuel levy paid by motorists, and which generated over N$270 million in 2015, other levies are being proposed to recover the cost of building the N$5,6 billion facility. One will be called the infrastructural levy, and would last for 15 years.
Other proposed levies include marine facility fees, which would be paid by those who used the offshore facilities, and would be applicable for as long as the storage facility was operational.
Critics are accusing finance minister Schlettwein of pushing the Vitol proposal. Schlettwein has denied any wrongdoing, insisting he only passed on the proposal and that no decision has been made. Former energy minister Obeth Kandjoze warned the finance minister against using the public to pay for facilities, just to hand them to private companies to make profit.
Kandjoze got support from some of his critics, but the same people warned that the former energy minister was associated with people who were pushing another foreign entity to take over the fuel storage facility. Sources said the Vitol proposal stems from trips to the US by President Hage Geingob over recent years.
PAST DEEDS
Vitol states on its website that it owns and operates terminals, storage tanks and pipelines in 14 countries on five continents.
The company has, however, since 2016 been implicated in a questionable transaction involving the strategic fuel reserves of South Africa.
Vitol was one of three companies that controversially made N$5 billion profit when South Africa's state-owned Strategic Fuel Fund cheaply sold its strategic fuel reserves to the three companies in 2015.
*The Namibian would like to clarify that Vitol SA does not own Shell Namibia, as reported on Friday. Shell Namibia Upstream BV is a separate entity that deals with offshore oil blocks and exploration. Vitol owns Vivo Energy, which is the Shell licensee for Africa, except South Africa and Egypt, operating Shell service stations and marketing Shell fuel products. We regret the error.
---