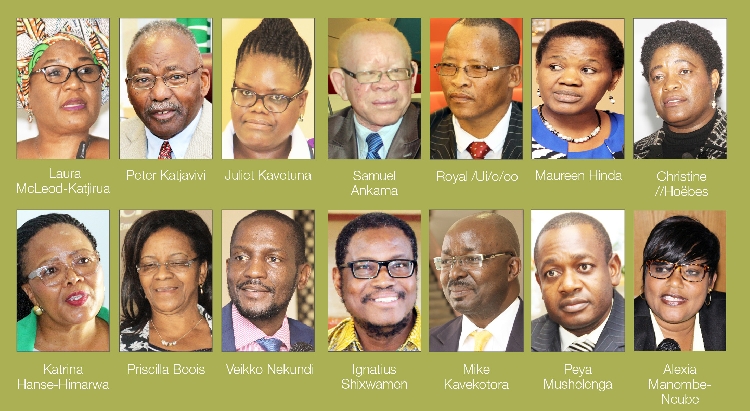 ---
By Shinovene Immanuel, Okeri Ngutjinazo |2 March 2018
---
Many politicians in the National Assembly own fishing companies, a sector rife with perceptions that it mostly benefits well-connected Namibians.
These details were revealed in the long-awaited publication of the 2015-16 lawmakers' assets register that contains what National Assembly members own and their businesses.
The register was released last week after pressure from, among others, President Hage Geingob, who urged lawmakers to be transparent. The last time the National Assembly published lawmakers' assets was in 2009.
The Constitution requires members of the National Assembly to make their financial assets and interests public to ensure that they do not use their elected positions to advance private interests.
The latest assets declarations show that politicians mostly own fishing companies.
The data shows that at least 24 of the 104 members of parliament either own or are directors of fishing companies.
The government has over the past few years dished out fishing quotas to several companies to empower Namibians, but it did not work as expected after some sold the quotas, and only a few made progress.
Having a fishing quota allows a company to harvest fish from the Atlantic Ocean for five years.
In 2015, former lawmaker Kazenambo Kazenambo summed up the fishing quota empowerment system as "a dog-eat-dog situation" and "Mafia thing".
"There is no empowerment there. I am speaking from experience. People are being used and robbed," he told The Namibian.
There is a perception that the fishing sector mostly benefits the well off, or those close to fisheries minister Bernhard Esau.
The fisheries minister has so much power that he does not inform the public how many quotas he allocates per company per year.
This secrecy has led to a fishing sector dominated by a clique of elites, who break no sweat, but get fishing rights and quotas, only to sell them on to the likes of Spanish, Chinese and other genuine investors.
Esau will be at the centre of attention this year when he announces the new fishing quota holders for the next five years.
Politicians rarely criticise the current fishing regime, where the majority of Namibians continue being rent-seekers.
BIG FISH
Speaker of the National Assembly Peter Katjavivi has an interest in three fishing companies – Ngatukondje Pamwe (25%), Mukurob (14%) and Ohere (15%).
Home affairs minister Frans Kapofi is a director of Mbashe Fishing, a company that has enjoyed fishing quotas from the government over the years.
Kapofi's deputy, Maureen Hinda, owns 25% of Bethanien Fishing, another frequent fishing quota recipient from the government, while land reform minister Utoni Nujoma owns shares in Namibia Harvest, Etosha Fisheries and Blue Sea Fishing Trust.
Former home affairs minister Pendukeni Iivula-Ithana owns Etosha Fisheries, whereas urban development minister Peya Mushelenga owns 20% of fishing firm Aloe Investments.
He also owns 20% of Marazul Pty Ltd in Mozambique.
Education minister Katrina Hanse-Himarwa owns 15% of Moria Fishing CC, and she is also a director of Morcar Fishing company.
Khomas governor Laura Mcleod-Katjirua is a director of a company called Epia, which has an interest in fishing. Epia is a partner of the Ohlthaver and List (O&L) group of companies, which also owns retail shops like Pick n Pay.
Poverty eradication minister Zephania Kameeta is a director of Merlus Development Trust, which is owned by fishing firm Merlus Group.
Deputy health minister Juliet Kavetuna owns 20% of Kenmacri CC, which has an interest in the fishing sector, while deputy land reform minister Priscilla Boois owns 15% of Moria Fishing Company.
Former deputy fisheries minister Chief Samuel Ankama, who was moved to the Office of the Prime Minister as a deputy minister, owns 15% of Oshongo Fishing Enterprise.
Some politicians are aware that they were brought into the companies to make it easy to get fishing quotas from the government.
Deputy minister at the international relations ministry Christine //Hoëbes owns 20% of Karenipamwe Fishing, and 5% of Opononolo.
Deputy urban development minister Derek Klazen is director of Aluhe Fishing, which he declared had paid rent for his house from 1 December 2015 to December 2016.
Klazen said yesterday that the company stopped paying the rent after he bought it. Aluhe Fishing is part of the Omualu Fishing Company, a joint venture of five fishing companies. Deputy public enterprises minister Veikko Nekundi owns 8% of Reho Fishing, which is part of a joint venture called Mack Fishing, which is also a shareholder of RDS Fishing.
The ACC investigated the allocation of fishing quotas given to Mack Fishing in 2015 by fisheries minister Esau.
Alexia Manombe-Ncube, a deputy minister responsible for disability affairs, declared that she owns 5% of TVD Fishing, while deputy agriculture minister Anna Shiweda owns a 25% stake in Mediva Fisheries.
Deputy minister of marginalised communities in the Presidency, Royal /Ui/o/oo, said he is an acting director of Ombaye Fishing Company.
Swapo lawmakers Faustina Caley owns 8% in fishing firm Inchingo Lyobwani Enterprises, Emilia Nuyoma-Amupewa owns 10% of Epoko Fishing, while Loide Shinavene has a 46% stake in fishing firm Selcar.
Only three politicians from opposition parties declared that they own or have links to fishing companies.
All People's Party (APP) president Ignatius Shixwameni declared that he owns Nkororo Fishing and Investment, while Rally for Democracy and Progress' (RDP) lawmaker Mike Kavekotora has a 10% stake in Ozohi Fishing, a company that was part of Etale Fishing, which closed down in 2013.
Etale was a consortium which received fishing quotas from the government, but later folded.
United Democratic Front (UDF) vice president Dudu Murorua owns 28% of Great Kunene Fishing.
RED FLAGS
Some of the disclosures added more questions than answers. For instance, Katjavivi disclosed that he worked as an adviser for the international natural resources company Vedanta Mining Co.
Katjavivi told The Namibian yesterday through his assistant that the consultation he did for Vedanta focused on "corporate responsibility and targeted community development programmes".
He is yet to answer the question on how much he was paid for his services. International mining companies have a history of paying politicians to push through deals under the smokescreen of consultancies.
New deputy minister Nekundi declared that a company called Jeovani Properties bought a vehicle for him.
He said he would pay it off without interest. "When I pay it off, it will be transferred into my name," he said.
The Namibian linked Jeovani Properties to people in business connected to tender magnet Vaino Nghipondoka in a 2016 report.
SHANGHALA'S MANY HATS
The latest declarations also show that former attorney general Sacky Shanghala was involved in several private companies.
He was demoted by President Hage Geingob from the powerful attorney general position to the minister of justice last month.
Shanghala declared that he owns 50% of two property companies called Koinseb Property 16 and Olea Investment Number 9 CC. He also declared that he had a 10% stake in a dormant company named Madawa Investment Holdings (Pty) Ltd.
Shanghala said he is a director of six companies, including a company which owns erf 7000 in Klein Windhoek. His house is in Klein Windhoek.
He also owns 50% of Erf 3485 Ongwediva CC. Some people use close corporations to own their houses for tax reasons.
Shanghala is a director in Libra Two, Misty Investments Seventy and NMG Consultants and Actuaries (Pty) Ltd (Namibia), and Olea Investments.
He declared that he fenced off communal land of an unknown size because he is waiting for land boards in the Oshikoto and Kunene regions to allocate land to him.
He is also a trustee of Omholo Trust and Cambadora Trust, which gave him various "loans and benefits" and is likewise a trustee of the Aaron Mushimba family trust.
---