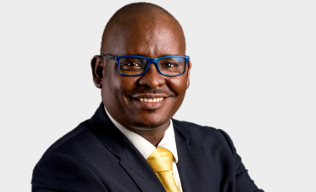 ---
By Shinovene Immanuel and Ndanki Kahiurika | 24 March 2017
---
THE Social Security Commission (SSC) bought two plots in Windhoek for N$33 million, overpaying by as much as N$18 million, according to estimates made by at least one highly-rated expert.
This deal also appeared to enrich a businessman who works in government by around N$18 million as he was part of the N$33 million deal.
SSC, a national workers' welfare state agency, plans to build its new headquarters on the 3 000 square metre land along Hosea Kutako Drive in Windhoek North, opposite the Electoral Commission of Namibia, and across the N$1 billion home affairs ministry head office currently under construction.
Documents from the Deeds Office show that the SSC bought the two plots – erf 1372 measuring 949 square metres for N$13 million (around N$13 400 per square metre), and erf 8451, which is 2168 square metres, for N$23,6 million (around N$11 000 per square metre).
Asked whether the prices were reasonable, prominent property valuer Jurie Scholtz, who owns Property Valuations Namibia, bluntly stated that N$33 million was too high.
"I cannot see how the property went for N$33 million. The actual value is in the region of N$15 million," Scholtz said, without hesitation.
These transactions were rubber-stamped by SSC chief executive officer Milka Mungunda under the watch of the board, which is headed by Johannes !Gawaxab.
Mungunda defended the transaction as kosher, but refused to provide any explaination why the SSC would pay over the odds.
According to calculations by Scholtz, the two plots should be worth a maximum N$15 million. He said the plots are "no doubt" situated at an excellent location, but the high real estate market prices have slowed down, and he could not see how the figure could have reached N$33 million.
THE MIDDLEMAN
These transactions evolve around a middleman named Ambrosius Tierspoor, who is a spokesperson at the National Road Safety Council and director on the Motor-Vehicle Accident Fund board.
Deeds documents show that the commission bought erf 1372 for N$13 million from Tierspoor and his wife Mercia. That plot was bought in December 2016, and transferred to the commission on 22 February 2017.
Tierspoor refused to comment when asked to do so yesterday. "SSC is my client. You are not my client, and I will not speak to you," he said.
The SSC then bought erf 8451 for N$23 million from a company called Hosea Kutako Property Investments Number Three Seven Six Eight CC.
This plot was bought on 12 August 2016, and transferred to the parastatal on 10 December 2016.
Information from the registrar of companies at the industrialisation ministry shows that Hosea Kutako Property Investments Number Three Seven Six Eight is owned by car dealer Llewellyn Anthony.
Anthony, the owner of Sirkel Motors, said he sold his company Hosea Kutako Property Investments, including the land, last year as a CC to Tierspoor for N$16 million.
Anthony told The Namibian yesterday that he heard that Tierspoor had sold the plot to the SSC.
"I got N$16 million from a Mr Tierspoor. But then he must have sold it to the SSC for N$23 million. Something is wrong here. That is a big difference in numbers," he said.
Tierspoor's involvement in the N$23 million transaction means he made close to N$7 million in profits in that transaction alone.
COMPARISON
The Namibian reported in 2015 that President Sam Nujoma's foundation sold two hectares (20 000 square metres) to the home affairs ministry for N$13 million to build their head office.
Nujoma's foundation got that land for free from the municipality, which had taken it away from the Namibia Sports Commission which wanted to build a multipurpose complex for sports and other youth activities.
SSC sources questioned why the parastatal is splashing money on property since the commission may have to wait for over 20 months to rezone the property which is currently zoned residential.
The SSC is also criticised by insiders for spending N$33 million on two plots, while it could use less money to acquire land for its headquarters.
Some SSC officials see this deal as opening up opportunities for a few colleagues to benefit. Others say the N$33 million price tag for the land alone is flimsy justification for the construction of an expensive office.
Officials at the SSC complained that the commission has over the years splashed public money on property worth close to N$200 million across the country, some of which is now underused or empty in large parts.
This includes the plot at Otjiwarongo, where the SSC plans to build its regional headquarters for N$48 million.
Besides, a contract to construct the regional headquarters at Otjiwarongo was called off last year, amid allegations that it was simply because the Chinese-owned company which lost the SSC tender is a regular business partner of the daughter of SSC board chairperson !Gawaxab.
Efforts to get comment from !Gawaxab were not successful.
Plans to build the SSC head office in central Windhoek were cancelled last year after the commission decided to sell the plot – about 4 750 square metres – situated in the central business district (CBD) along Independence Avenue between Fidel Castro Street and Sam Nujoma Drive.
The SSC cancelled the land acquisition, saying they had decided to sell the land in order to buy land closer to the "people".
The SSC had bought the CBD property from the United Africa Group in 2013 for N$47 million – itself considered costly – for the new head office that would have cost N$700 million.
The SSC draws its income from employers and employees in a form of tax meant to provide a safety net for workers in certain circumstances, such as those on maternity or sick leave.
---