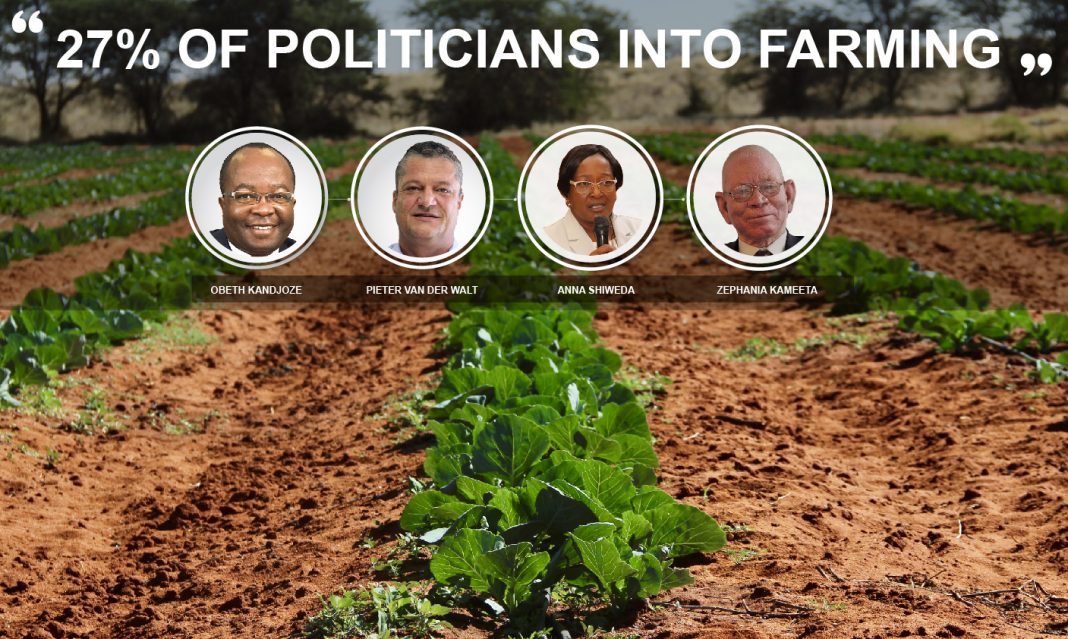 ---
by Shinovene Immanuel, Okeri Ngutjinazo | 6 March 2018
---
TWENTY-EIGHT out of 104 politicians in the National Assembly declared that they own farms or farming companies, but half of them failed to indicate the size of the land they own.
This is according to the latest assets declarations, for the years 2015 to 2016, made public in parliament two weeks ago.
Politicians have, since 2009 until last week, been playing hide-and-seek on revealing what they own.
The law requires every member of the National Assembly to make their financial assets and interests public every year to ensure that they do not use their elected positions to advance their private interests.
Although 28 politicians declared their farming interests, The Namibian is informed that some members of parliament failed to declare their farms, while others shifted their land into property companies.
According to the statistics, only 14 lawmakers out of 28 who declared that they were involved in farming indicated the sizes of their farms, which totals up to around 38 340 hectares (one hectare is equal to one average football field).
The total size of farmland owned by politicians could double if the other 14 parliamentarians who have an interest in farms disclosed the size of their land.
Some of the land declared by politicians includes communal farms.
National Assembly Speaker Peter Katjavivi declared that he owns 50% of a farm in the Okahandja area.
Katjavivi yesterday refused to respond to questions about the lack of consistency in the declarations of parliamentarians, and about why some lawmakers failed to declare the sizes of their farms and their locations.
"This is a matter for the parliamentary committee on privileges, and therefore in my capacity as Speaker, I am not answering these questions," Katjavivi told The Namibian.
Former youth minister Jerry Ekandjo, who was dropped from Cabinet in January this year, also owns a farm in the Okahandja area.
Prime Minister Saara Kuugongelwa-Amadhila declared that she owns 50% of a farming entity called Seize the Moment Investment 56 CC. She is also a member of that close corporation.
Deputy prime minister Netumbo Nandi-Ndaitwah said she owns a family farm measuring 6 200 hectares.
Lands minister Utoni Nujoma said he owns a farm in the Grootfontein district, where deputy labour minister Tommy Nambahu also owns a farm of 5 000 hectares.
Nujoma admitted during a parliamentary debate in 2015 that it has become a fashion trend to own a farm.
Swanu parliamentarian Usutuaije Maamberua also owns a farm near Grootfontein, while fisheries minister Bernhard Esau owns a farm in the Gobabis area.
Economic planning minister Obeth Kandjoze declared that he owns 50% of a farm near Gobabis. He also owns 50% in Kandjoze Farming CC, which he said is an inactive farming business.
Popular Democratic Movement (PDM) president McHenry Venaani owns a farm in the Gobabis district. The leader of the official opposition in the National Assembly also said he owns 100% of Otjohima Investment, a farming and construction firm.
Trade minister Tjekero Tweya owns a farm, and a company called Wedhapo Investment General, which is involved in farming, mining, agriculture and tourism, while deputy minister in the Office of the President Samuel Ankama declared ownership of 30 hectares of farmland.
Labour minister Erkki Nghimtina said he owns a farm of 5 400 hectares at Otavi, while economic planning deputy minister Pieter van der Walt owns a 3 240 hectare farm.
Former home affairs minister Pendukeni Iivula-Ithana declared that she owns 50% of a farm, and poverty eradication minister Zephania Kameeta declared that he owns farm Shadeck, measuring 11 000 hectares, in the Hardap region.
Safety and security minister Charles Namoloh declared that he owns a farm of 2 000 hectares in Kavango, while Swapo lawmaker Sebastian Karupu disclosed that he owns a 5 000-hectare farm. Fellow lawmaker Julius Hambyuka owns nine hectares.
Information minister Stanley Simataa owns 50 hectares of farmland, and deputy works minister Sankwasa James Sankwasa owns two farms: 60 hectares at Sikanjabuka, and 100 hectares at Yambezi-Muyako in the Zambezi region.
All People's Party president Ignatius Shixwameni also indicated that he owns a farm.
Rally for Democracy and Progress lawmaker Agnes Limbo said she owns a farm of 28 hectares.
Deputy justice minister Lidwina Shapwa declared that she is leasing farm Noseberg, while deputy mines and energy minister Kornelia Shilunga owns a farm in Oshikoto.
Deputy agriculture minister Anna Shiweda declared that she owns Gross Barmen Farm CC, which measures 6 500 hectares.
Former presidential affairs minister Immanuel Ngatjizeko owns a farm in the Outjo district – the same area where two opposition party members have farms.
Rally for Democracy and Progress (RDP) lawmaker Mike Kavekotora and United Democratic Front (UDF) vice president Dudu Murorua own farms in the Outjo area. Murorua's farm measures around 4 700 hectares.
Kavekotora said executives and those connected to them were the ones benefiting the most from these plots and properties.
"The policy of lumping all politicians together is wrong," he said, adding that ministers and deputies are the ones benefiting from state resources.
Kavekotora noted that the resettlement programme is skewed towards ministers, and that those benefiting from land now might not want to find a solution to the land crisis.
The majority of farm owners in the National Assembly are Swapo Party members. This did not come as a surprise to Venaani, as he believes that Swapo is "an oligarch".
"If you are in Swapo, you get enriched. Even junior councillors who just started there have more," he said yesterday.
Venaani claimed that the farms and property owned by the lawmakers are acquired with their own resources. He, however, questioned the issuing of fishing quotas to politicians.
The politicians with farms join the list of former lawmakers who were part-time farmers, such as former President Hifikepunye Pohamba, President Hage Geingob, former vice president Nickey Iyambo, erstwhile Prime Minister Nahas Angula, ex-deputy prime minister Marco Hausiku, former energy minister Isak Katali, and former health minister Richard Kamwi.
---