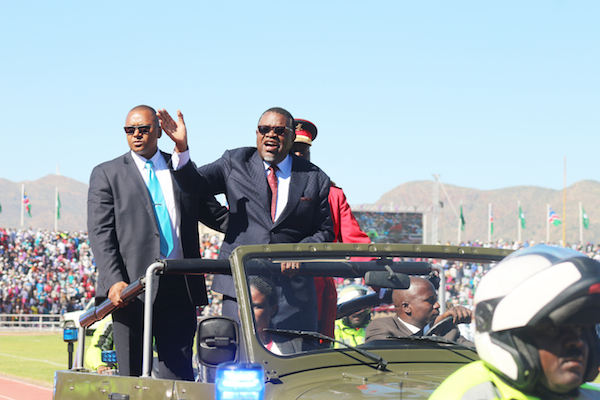 ---
By Tileni Mongudhi | 14 2016
---
PRESIDENT Hage Geingob has stood by the head of his security detail, deputy commissioner Johan Ndjaronguru, despite advice from security agencies to get rid of him.
The Namibian learnt that Geingob has so far received at least two reports suggesting that Ndjaronguru did not pass the vetting process to determine his eligibility to lead the President's security detail.
Geingob allegedly insisted that Ndjaronguru stays at State House, even after being informed that the officer is being investigated for suspicions that he derives financial and material benefits from crime. Law-enforcement agencies are probing his close relationship with former policeman David Swartz, who has appeared in court on drug-related charges on at least three occasions since 2011.
The prosecution has not succeeded in securing a drug-dealing conviction against Swartz.
However, he was convicted of theft for defrauding the Social Security Commission of about N$300 000 in 2006. (See accompanying story) Police sources said Ndjaronguru became the subject of investigations after officers probing Swartz discovered what they perceived as a relationship that was "too close for comfort".
It is understood that Swartz lives in a house owned by the State House security chief, who is married to his sister Anita Ndjaronguru.
Ndjaronguru told The Namibian last month that he was consulting relevant authorities to confirm whether he was being investigated.
"I will have to confirm with the offices of the (Police) Inspector General, prosecutor general and director general of the (Namibia Central Intelligence Services) NCIS, if indeed such investigations are ongoing, and then wait for a written response from them," he said in an emailed response to detailed questions sent to him last month.
He added that as a police officer, he cannot speak to the media on matters that could be under investigation or before court.
"I will gladly revert to you as soon as I have received responses from the offices referred to, as well as authorisation to engage the media," he stated.
Ndjaronguru did not answer any of the detailed questions sent to him regarding the investigation, or his relationship with Swartz.
Sources close to the investigation said police suspect Ndjaronguru has acted as Swartz's proxy.
They are working on the theory that some of Ndjaronguru's assets, in fact, belong to Swartz, and that they were acquired using proceeds of crime. This theory is derived from what investigators claim is Ndjaronguru's unexplained income.
Ndjaronguru's government salary is about N$450 000 a year.
He has other business interests, including a 25% stake in Soft Cloud Investment Close Corporation. The company manufactures paper and toilet paper at its factory at Gobabis. This venture is, however, not believed to be his source of extra income.
Police sources told The Namibian that he also receives large sums of money – said to be up to N$100 000 at a time – from three other businesses, but has allegedly not yet given the police a comprehensive explanation of the sources of this income.
Although The Namibian could not obtain the names of the said entities to ascertain their business activities, police sources said the authorities are targeting two properties in Khomasdal, Windhoek, which belong to Ndjaronguru and his wife.
Police crime intelligence has been monitoring a house on Erf 3326 Dhalia street Khomasdal, which according to deeds records belong to the Ndjarongurus, who acquired the property in August 2012 for N$1,2 million. According to court documents, Swartz resides at this address.
Another house being monitored is at Erf 4509 Diamant Street, Khomasdal. This property was purchased by the Ndjarongurus for N$200 000 in February 2002, and they currently live there. The Namibian understands that the property used to belong to Anita's parents.
Swartz has no property or vehicles registered in his name, or to his business – D and C Trading Close Corporation.
Because Swartz makes millions but has no assets, authorities believe the Ndjarongurus hold his assets for him.
The Namibian understands that the police crime intelligence unit has kept the police chief, Inspector General Sebastian Ndeitunga, informed of the investigations. Ndeitunga has taken no steps against Ndjaronguru.
The police did not respond to detailed questions sent to Ndeitunga's office in March.
A State House source alleged that Ndjaronguru did not pass the security clearance test when he was employed as the head of Geingob's security.
The source said the President had insisted on appointing Ndjaronguru, against the advice from both police crime intelligence and the secret service.
A senior police officer, who asked not to be named, told The Namibian that the State House security chief has been trying to leave his job, but the President has prevented him from doing so.
He has allegedly had to endure stigma and taunts from certain colleagues because he was a member of the apartheid South African security forces.
Ndjaronguru's close relationship with the President goes back to the1990s when Geingob became Namibia's first Prime Minister, and Ndjaronguru was part of his security detail.
He also worked for Geingob when he served as minister of trade, and was made head of the Prime Minister's security detail during Geingob's second stint in that post in 2012, with the rank of chief inspector.
He was promoted to deputy commissioner last year after Geingob assumed the Presidency. Geingob's office did not respond to questions from The Namibian at the time of going to press.
Who Is David Swartz?
The police may not have been able to pin drug dealing charges on David Swartz – but last year they succeeded in nailing him on 51 counts of defrauding the Social Security Commission (SSC) by submitting false sick leave claims totalling N$300 000.
Swartz and his co-accused Willem Platt appeared in the Windhoek Magistrate's Court in Katutura in November last year on charges of fraud, alternatively theft under false pretences.
In a surprisingly light sentence, Swartz was found guilty of the alternative charge of theft under false pretences, and the court ordered him to repay the SSC N$13 000.
In 2011, Swartz appeared in the Windhoek Magistrate's Court on charges of the possession of cocaine. The case number was 31687/2011. He was scheduled to appear in court on 16 December 2011.
Although The Namibian was unable to establish the outcome of the case, it appears the charges were dropped. The court records do not reflect what happened to the case beyond 16 December 2011.
On 1 June 2013, Swartz was again arrested with three others after police allegedly found them in possession of 15 crack cocaine tablets. Swartz was released on bail of N$15 000.
Court documents show that Ndjaronguru's son bailed out Swartz and two of his co-accused. The other two suspects were granted bail of N$1 000 each.
The charges were dropped after one of Swartz' co-accused, Eliaser Iyambo, produced a statement on 16 March last year, taking full responsibility for the drugs.
On 5 December 2011, the police drug law-enforcement unit again arrested Swartz during a raid on a house in Khomasdal, Windhoek, where he was staying.
According to court documents, the raid took place after undercover officers allegedly bought drugs from Swartz two days earlier.
During the raid, Swartz allegedly swallowed an item police believed to be a crack cocaine tablet, which fell out of a plastic bag which was full of money.
Police later allegedly found another crack cocaine tablet hidden with the money.
During the arrest, police also seized two vehicles and household goods they believed had been acquired with the proceeds of crime.
The case was later withdrawn because police could not pin drug dealing charges on Swartz. Because they had been seized under the Criminal Procedure Act, rather than the Prevention of Organised Crime Act, police were forced to return Swartz's seized belongings because the criminal cases had collapsed.
Although police sources portray Swartz as an illusive underworld figure, without a conviction their actions are starting to paint Swartz as a victim of continued police harassment.
Swartz lawyer, Boris Isaacks, said he will arrange with his client and take instructions. He also said there was no gurantee of responding to questions yesterday.
• This report was produced by The Namibian's investigative unit.
---