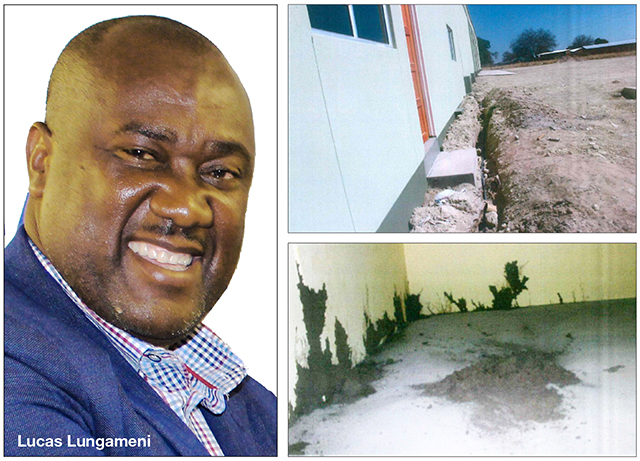 ---
By Shinovene Immanuel | 04 June 2019
---
Amta agreed to pay N$1,6 million a year – from 2015 to 2020 – to rent a warehouse at Oshikango to store fresh produce at the border town.
But the agency rarely used the property, prompting the board to question why Amta management wasted taxpayers' money on a building that is gathering dust.
Details about this case come at a time when news leaked that Amta board chairperson Esther Kaapanda quietly resigned in February this year, after complaining about rampant financial irregularities at the state agency established to sell agricultural produce and promote food security in Namibia.
Documents show that Amta agreed to pay Shapumba Tower Investment CC around N$140 000 per month from December 2015 to December 2020 for renting the Oshikango warehouse.
That company is owned by businessman Erastus 'Chicco' Shapumba, who denied any wrongdoing, and insisted that Amta should be grateful to him.
According to the agreement, that amount increases by 8% a year.
Documents and interviews with Ministry of Public Enterprises officials show that the Amta board was briefed in November last year that the building was in a shocking state.
A document seen by The Namibian shows that the parking bay for trucks at a building that is supposed to store fresh produce is not paved, resulting in a lot of dust that, amongst others poses an environmental risk, such as raising dust in settlements in the surrounding area.
"There are open construction sites, such as incomplete trenches, which are safety and health hazards. The warehouse is not electrified," a document said.
In addition to the above hazards, the building allegedly does not have a security gate.
"Overall, the facility is in a dilapidated state, and not optimally utilised," the document added.
Shapumba denied that his building was a health hazard, and insisted that the contract between him and Amta was clear.
"Amta should ask their lawyers to interpret it for them. We have explained this transaction. This is jealousy," he said.
The businessman added that Amta is perhaps struggling to manage their business well, and also blamed Namibians in general for the problem.
"Namibians are lazy, and just want to complain. They just want tenders," Shapumba fumed.
Amta has been relying on bailouts from the government since it started operating in 2013. The parastatal received around N$30 million from the national budget in the last two years.
The alleged wastage at Amta has brought to the fore a debate among top government officials on whether Amta should have been a parastatal in the first place, especially since it has mostly benefited a clique of business people and a few executives who earn millions of dollars in salaries.
Documents obtained through an investigation conducted by the public enterprises ministry show that Kaapanda was one of the few board members who questioned why Amta bosses were overpaying themselves, and dragging the parastatal into dubious land deals.
Agriculture minister Alpheus !Naruseb confirmed yesterday that Kaapanda resigned, but declined to provide details about her departure.
Documents leaked by a source at the public enterprises ministry confirm that the agency broke national regulations on how much their managers should earn.
Public enterprises minister Leon Jooste proposed last year that Amta managers should review their salaries because they have been overpaid since 2013.
Public enterprises' regulations state that Lucas Lungameni as managing director should not earn more than N$1,3 million, while senior managers should not earn over N$1 million. However, documents showed Lungameni earned N$1,5 million per year, while senior managers earned more than N$1 million annually.
Lungameni was the kingpin in many of the decisions that are now being questioned by the board.
!Naruseb told The Namibian yesterday that there are processes that need to be followed to hold anyone accountable.
"The people who overpaid themselves should explain why they did so. I did not give any permission for them to overpay themselves," the minister stressed.
Questions sent to Lungameni and the board last week were not answered. Kaapanda, who was appointed by former agriculture minister John Mutorwa last year, declined to comment when asked by The Namibian yesterday, saying she cannot discuss confidential matters.
These are not the only controversies at the parastatal which had 168 workers, costing N$63 million in salaries.
The Namibian reported in 2007 that Amta overpaid by N$27 million when it bought a N$40 million property in Windhoek from businessman Shapumba.
Amta did not only pay for dodgy land deals, but the company also surrendered its core mandate, and is being turned into a middleman entity.
Amta recruited Fysal Brenner from Fysal Fresh Produce to buy products from various producers in Namibia as well as the Southern African Development Community region, and to transact 120 metric tonnes of produce per month for the Ongwediva fresh produce hub.
This meant that Amta, which was supposed to create sustainable, community-driven agricultural development to reduce poverty and create sustainable markets linked to rural economies, will provide only 44% of produce to that hub.
---