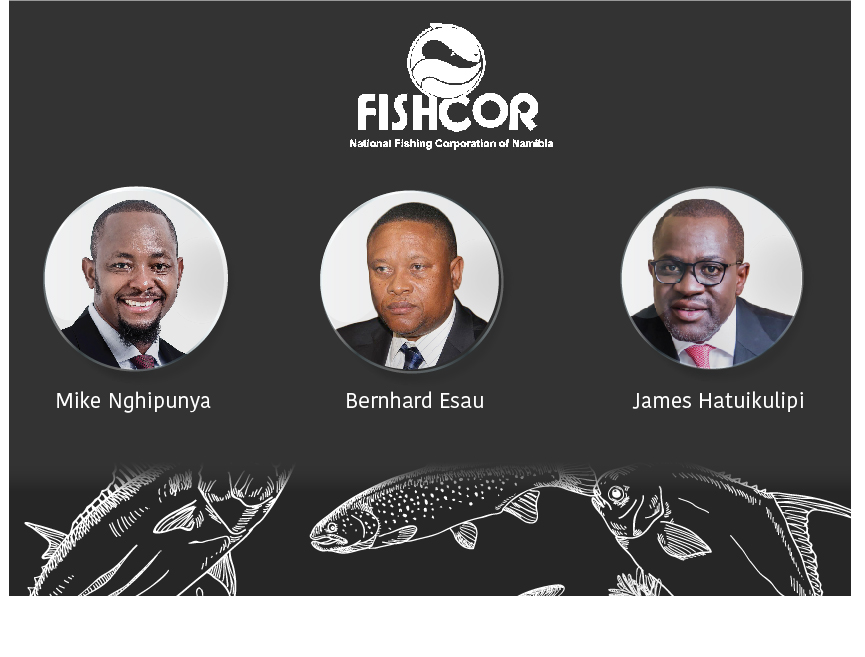 ---
By Shinovene Immanuel and Ndapewoshali Shapwanale | 9 April 2018
---
FISHERIES minister Bernhard Esau has handed the state-owned entity, the National Fishing Corporation of Namibia, a fishing quota worth more than N$1,8 billion over a 15-year period, documents show.
The quota represents 16% of the total allowable catch (one out of every seven fish caught) while other companies must scramble for the leftover allocations.
Locally listed Bidvest Namibia which employs about 1 200 people through its different fishing entities recently announced plans to close operations after Esau slashed their quota.
With the latest arrangement, the National Fishing Corporation of Namibia (Fishcor) and their Angolan-based South African partners will now get most of the fishing quotas in the next 15 years.
Fishcor, which was supposedly set up to promote Namibian enterprise, has been in the news over alleged mismanagement, cronyism and abuse of political connections.
The state-owned corporation carries the government's interest in the fishing industry through entities such as Seaflower Whitefish Corporation, Seaflower Lobster Corporation Limited and hake firm Seacope Freeze Fishing.
The High Court ruled in 2014 that Esau's allocation of 10 000 metric tonnes of horse mackerel to Fishcor was illegal.
Judge Shafimana Ueitele in his judgement said the allocation was unlawful as Fishcor was not a horse mackerel fishing rights holder.
Ueitele, however, did not cancel the allocation because a lawsuit against the quota was not done within reasonable time.
Documents seen by The Namibian show that Esau last year committed to spoon-feeding Fishcor and promised, "to reserve and make available 50 000 metric tonnes or more of horse mackerel per annum to the National Fishing Corporation of Namibia Limited from either the total allowable catch, either as commercial, non-commercial or reserve quota".
Fish traders interviewed by The Namibian estimated that the quota is worth about N$120 million per year, or N$1,8 billion over 15 years, as per agreement between Fishcor and the fisheries ministry. That figure is an estimation based on the current price of horse mackerel (known as maasbanker).
QUESTIONABLE PARTNERSHIP
The fisheries ministry is accused of destroying local fishing companies such as Bidvest to create one fronted by Fishcor but controlled by a foreign company, Seaflower Pelagic Processing (Pty) Ltd.
The agreement struck by Esau and Fishcor led to the formation of Seaflower Pelagic Processing (Pty) Ltd, which will run a horse mackerel factory for freezing an estimated 600 metric tonnes of fish a day.
Fischor confirmed last week that it owns 40% of the new company Seaflower Pelagic Processing (Pty) Ltd while the Angolan-based company, African Selection Fishing Namibia (Pty) Ltd (ASF), owns 60%.
This effectively means the company that will get 16% of horse mackerel is majority-owned by an Angolan entity, at the time President Hage Geingob is supposedly trying to push through laws that will empower Namibians.
Seaflower Pelagic Processing's directors are Fishcor board chairperson James Hatuikulipi, Fishcor chief executive Mike Nghipunya, Angolan-based South African accountant Johannes Augustinus Breed, and two other South Africans, economist Adriaan Jacobus Louw and lawyer Maren Brynard de Klerk.
Hatuikulipi is a cousin to Esau's son-in-law and a close friend and business partner of the former attorney general, now justice minister Sacky Shanghala, who is an ally of the fisheries minister.
Esau announced the agreement between the fisheries ministry and Fishcor and the formation of Seaflower in a May 2017 government gazette.
The documents also reveal that Fishcor's new partners would assist in designing, constructing and operating a land-based plant to process 600 tonnes of horse mackerel a day.
The construction of the plant will cost N$530 million. The plant will be situated on land secretly bought by Fishcor for N$160 million from Etale Properties, a company partly owned by Namibian businessman Jose Luis Basos.
STRUGGLES
Some fishing companies are struggling after Esau had reduced their quotas. One of them, Bidvest Namibia, announced last year that it would close down operations because of Esau's allocation of quotas over the past three years.
The Bidvest plan, announced on the Namibia Stock Exchange in November last year, will result in jobs in the fishing industry dwindling.
Weekly newspaper Windhoek Observer quoted IJG Securities head of research, Eric van Zyl, as saying: "It is ironic that Bidvest, a Namibian-listed company (in which many Namibian pensioners have an interest), lost quota allocations while foreign companies find it easy to obtain quotas".
The fishing quota system was designed to empower the masses in Namibia, but the benefits have largely gone to well-connected individuals.
Esau has come under fire on several occasions for favouring those close to him in the allocation of quotas.
The sector is also dominated by a favoured clique, who win fishing rights and quotas, only to sell them to Spanish, Chinese and other investors. Esau did not respond to questions sent to him two weeks ago.
DEFENCE
In a move seemingly aimed at pre-empting The Namibian's report, Fishcor chief executive Nghipunya circulated the email with the questions and answers that originated from our queries to 12 media organisations.
Nghipunya confirmed the ownership structure of the new joint venture to The Namibian last week, but denied that Esau spoon-fed them.
"The guaranteed quota is not to spoon-feed Fishcor, but to ensure that government achieves its objective of sustainable job creation and value addition through the onshore processing of horse mackerel," he said.
Asked why they hand-picked the Angolan company, Nghipunya said the partners were selected after an investigation on setting up a fish factory.
According to him, they will be doing the fishing itself, and instead of freezing the fish on the vessel, it will be done at the onshore factory.
Nghipunya said the Angolan company would invest N$372 million into construction and the refrigerated sea vessels.
"The construction work is progressing well, and should be completed within the scheduled time, estimated to be the end of September 2018," he said.
The factory complex which will be the largest onshore pelagic processing factory in sub-Saharan Africa will employ approximately 700 people, he said
The 700 people are 500 people less than what Bidvest fishing employs.
"This project will offer a good platform for processing collaboration with other horse mackerel right holders in the industry as our capacity can be extended to 70 000 metric tonnes per annum," he said.
Nghipunya declined to provide the value of the fishing quotas they will receive from the state since the price of the fish varies annually.
"Fishcor will still receive 40% of the profit in SPP [Seaflower Pelagic Processing] as per the shareholding structure," he added.
"Please note that the guaranteed quota will only be allocated once the factory is commissioned as the objective is for it to be utilised for onshore processing," he said.
*This article was produced by The Namibian's investigative unit. Send us story tips via your secure email to [email protected]
---