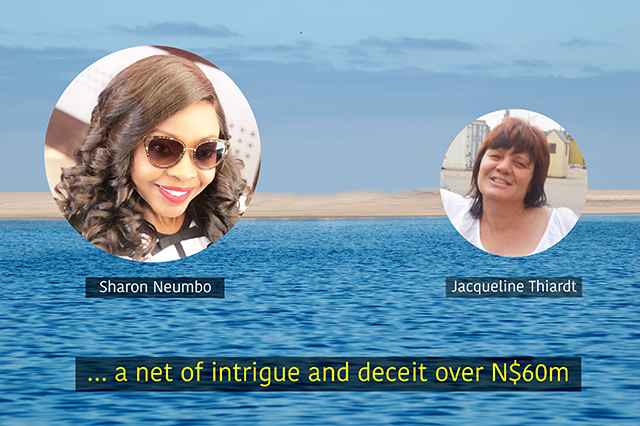 ---
By Shinovene Immanuel | 26 September 2019
---
A BUSINESSWOMAN was arrested on Friday, a day after asking the police to investigate the alleged illegal transfer of N$60 million from a fishing company she co-owns.
The next day, Saturday, she was charged with fraud in an ongoing case that spans a number of transactions linked to the allocation of fishing rights and quotas. People intimately connected to the powers-that-be in politics and the industry are implicated in deals worth more than N$500 million.
Sources fear that businesswoman Sharon Neumbo's arrest could be a tit-for-tat move by a politically aligned clique of business people, who want to stop her from cooperating with investigations into questionable fishing deals.
The Anti-Corruption Commission is probing funds allegedly paid to the state-owned National Fishing Corporation of Namibia (Fishcor).
The Namibian understands that Neumbo was recently drawn into assisting the ACC, which is reportedly looking at how senior government officials and business people benefit from fishing licence deals.
Among others, the ACC is tracking millions of dollars transferred into bank accounts in Mauritius and Dubai.
"I am not sure that the case is the same with the fisheries case under investigation," ACC director general Paulus Noa told The Namibian over the weekend.
In the meantime, The Namibian has pieced together evidence by reviewing financial records, police documents, and interviews with people familiar with the matter.
ARREST
Neumbo's company is among a Namibian group of fishing quota beneficiaries – Sinco Fishing, Epango Fishing and Yukor – which teamed up to form a consortium which partnered with an Icelandic company.
Together with the Icelandic firm, Samherji HF, they formed a company called Arcticnam in 2013.
Neumbo, chairperson of the board of directors of Sinco Fishing via her company Cassidra Fishing, filed a complaint with the police last Thursday. She asked them to investigate N$60 million she says was illegally moved from Arcticnam's bank accounts.
"I request police investigation and possible prosecution in this matter," she said in her statement.
Police swooped on Neumbo while she was at a board meeting at 11h00 on Friday, citing accusations that she committed fraud by dubiously borrowing N$230 000 from the company last month.
The arresting officer then allegedly declined to charge her immediately. She spent time in the police cells, and was released on N$5 000 bail on Saturday afternoon.
People close to Neumbo believe her arrest is aimed at intimidating and discrediting her as a witness in the N$60 million case and the ACC investigation.
The case against her was opened by Jacqueline Anna Thiardt, her business partner in Cassidra Fishing. Thiardt is accused of siding with people implicated by Neumbo.
IN THE BEGINNING
This saga goes back six years – to when Namibian shareholders were paired by the fisheries minister – during a round of the allocation of fishing rights termed Namibianisation.
Around August 2016, the Namibian shareholders – whose contribution to such joint ventures were fishing quotas – allegedly started questioning how N$60 million disappeared from Arcticnam.
"Each time questions relating to financial management were posed, either inadequate or no answers came to light. Generally, the financial position of the company was presented via PowerPoint, and never via management accounts or audited financial statements," Neumbo stated.
She said Namibian shareholders were informed that N$60 million was transferred from Arcticnam to Mermaria Seafoods Namibia and Mermaria Investments in Mauritius.
They were told that it was a royalty payment to the two companies.
Namibians were not satisfied with the Icelandic company's answers. Their suspicions were aroused further after a meeting held at Walvis Bay in August 2016.
"Given that no real answers were given, the meeting resolved that a police case be opened," Neumbo said in her police statement.
That case was withdrawn at the end of 2016 after the complainants stopped the process.
It appears the ACC is also investigating the matter, including talking to insiders and people with knowledge of the transactions.
It is the same case Neumbo asked the police to reopen last Thursday.
In her statement, she said Articnam Fishing's First National Bank statement shows that these funds were paid to two Icelandic-owned entities – Mermaria Seafoods Namibia and Mermaria Investments in Mauritius.
"After the bank statements were obtained with the assistance of the police, it was confirmed by the rest of the Namibian shareholders that an amount close to N$60 million had been illegally transferred from the Namibian joint venture company Articnam Fishing's First National Bank account," she continued.
The funds were paid from Articnam's First National Bank account on 30 November 2015, 7 May 2016 and 10 June 2016, Neumbo said.
She said the requests for the transactions were completed by Namibian citizen Jacqueline Thiardt and signed by Icelandic national Johaness Stefansson – Articnam's managing director at the time.
Steffanson is said to have teamed up with Namibians after he left the Icelandic camp at the end of 2016. He allegedly confirmed the "illegal" transfers from Articnam. Steffanson could not be reached for comment.
Walvis Bay-based Thiardt – through her lawyer – denied that she was part of this transaction.
"Our client denies the allegations levelled against her. She was not part of management nor the board of the company alleged to have transferred N$60 million illegally," her lawyer, Vetu Uanivi, said yesterday.
Most Namibian partners are pointing fingers at their Icelandic partners. They accuse them of masterminding the money transfers which later turned out as having ended up in the pockets of some politically well-connected Namibians.
Arcticnam managing director Egill Arnason – who represents the interests of the Icelandic company in the Namibian partnership– referred questions to their lawyers.
Lawyer Kula Simson from Sisa Namandje & Co told The Namibian yesterday that the police case had not reached them. "But our position is clear: We are not going to entertain any propaganda of some sort," she said.
VESSEL
Neumbo dragged four Icelandic companies owned by Samherji HF to court last month after it tried to sell a N$400 million vessel bought by the joint venture Articnam.
"The Namibian joint venture partners have been taken for a ride by their partners from Iceland," she said in court papers. The High Court subsequently declined to block the sale of the vessel.
FISHCOR
The state-owned fishing company, Fishcor, has been entangled in a net of questionable deals over the past several years.
The ACC confirmed it was investigating fisheries minister Benhard Esau and Fishcor's board chairperson, James Hatuikulipi.
Esau was being investigated over the appointment of Hatuikulipi to the Fishcor board, and then unlawfully awarding them quotas they were not entitled to. Esau denied any wrongdoing.
Hatuikulipi – Investec Namibia's managing director – is related to Esau's son-in-law, Fitty Tamson Hatuikulipi, who married Esau's daughter Ndapandula.
In 2016, Hatuikulipi defended his appointment, and threatened to sue The Namibian. He argued that his appointment was merit-based and not linked to his relationship with the minister.
Hatuikulipi is a close friend and business partner of justice minister Saky Shanghala, who supported fisheries minister Esau in changing the law in 2015 to broaden the minister's powers to allocate fishing quotas at whim.
Before he changed the law, Esau had lost a court challenge over horse mackerel fishing quotas he awarded to Fishcor.
Esau has since favoured Fishcor with long-term fishing quotas worth over N$1,8 billion over 15 years.
* This article was produced by The Namibian's investigative unit. Send us story tips via your secure email to [email protected]