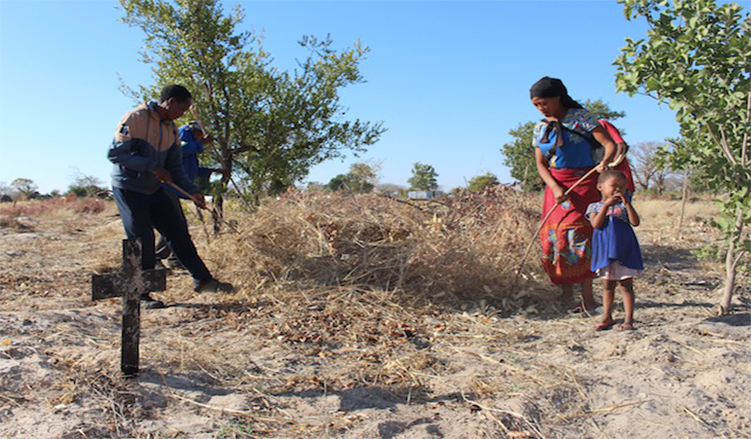 ---
By Nomhle Kangootui | 7 April 2020
---
WHEN Petrus Kapasu was a youngster, his friends used to ask him if it was true that when San people died they disappeared or transformed into snakes.
At the time Kapasu, now 29, had no answer.
As he got older, his grandfather taught him more about the San people.
He explained the San's close relationship with nature and ancient wisdom often resulted in people attributing mystical qualities to them.
"He would tell me we are special because we are the most ancient people and this land belongs to us. He would also tell me we should not allow ourselves to be belittled by people, and to be proud to be San," Kapasu says.
It was this understanding and appreciation of his people's roots that led him and other members of his community to tackle a project at Rundu honouring their ancestors: They would restore the graveyard where their elders and family members are buried.
BATTLING THE ODDS
It's 10h00 on a Tuesday at Rundu's Ndama location, where around 220 San people live side by side.
Kapasu and two other men have met up with The Namibian behind the Ndama Primary School.
Kapasu tells us poverty and unemployment are widespread at Ndama and access to education is poor.
But this is home.
He said he and other residents will work hard to change what they can in their community.
"That involves restoring the community's graveyard," he says.
Kapasu says the road to the site, stretching over about a kilometre, is very sandy and is not accessible by car.
At first glance, the area looks like a forest with piles of cut trees and heaps of grass lying around.
Some Ndama community members have been using the graveyard as a dump site, but others have started cleaning it up in May last year.
Up to 10 people get together every day to clean Ndama's only graveyard where San people are buried.
Today seven people are hard at work – among them a 27-year-old mother of three and two pensioners.
"Currently we do not have really good tools to clean with, so we borrow axes and other tools from people around the location. I hope fellow San people will realise it is important to show our ancestors respect by starting to clean the graveyard," Kapasu says.
He says he doesn't know how many people are buried at the cemetery, as they never kept count nor have any records.
Victoria Kauma, Rundu Urban constituency councillor, told The Namibian they are aware of the challenges the San communities face.
"In fact, we had a meeting last week to look at their needs. We will soon provide the most needy with food," Kauma said.
She said while it is difficult at times to cater for all the San people as some move around a lot, they would do their best to help where they could.
"The project they are busy with is a good one and we want to encourage them to continue," she said.
'IT'S OUR LEGACY'
Council spokesperson Benjamin Makayi says the council is only responsible for cemeteries in its care.
"The Ndama graveyard is one of the cited graveyards not under the auspices of the council yet. We are in the process of formalising regulations and of taking over some of the cemeteries. This will require comprehensive consultation with the 'owners' of such cemeteries," Makayi says.
Pensioner Petrus Muyenga, a volunteer cleaning the graveyard, is not surprised by the council's answer. He says even when he was growing up, the San people felt left out.
"I feel connected to my forefathers, my grandparents. Family members are buried here. It hurts to see them disappearing in the forest growing here," Muyenga says.
Elizabeth Mahongo (27), a mother of three, says when she dies one day she wants to be buried in a decent place.
"I do not want my children and grandchildren to forget about me, that is why I am helping," Mahongo says.
Kapasu says they need help with equipment and is appealing to good Samaritans for donations.
"We at times do not feel like Namibians. Other cemeteries are maintained, why not ours? Currently we are using our hands and knives to cut the grass and little trees, but we need real axes and other tools. We will not stop until the council recognises us and shows our dead some respect," he says.
'DISCRIMINATION STILL ALIVE'
Deputy minister for marginalised communities, Royal Ui/o/oo, expressed his concern about the cemetery.
"It is so unfortunate that discrimination is still alive at Rundu and other places where San people live. Why do the San people have a separate place to bury their people? Why can't we (as San people) be buried with the rest of the people at Rundu? I will definitely not leave this here," he said.