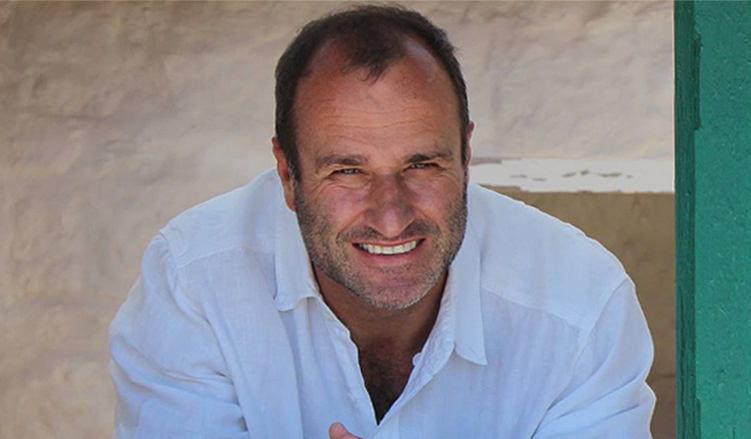 ---
By Tileni Mongudhi and Mathias Haufiku | 23 April 2020
---
FORMER minister Sacky Shanghala's lawyer Marén de Klerk and two South African businessmen were key beneficiaries of a N$20 billion deal with the state-owned National Fishing Corporation (Fishcor).
Company documents show a group of fewer than five people were lined up to land a total of N$3,6 billion in profits from the transaction.
The Namibian first reported on the opaque partnership two years ago.
Now new information – including the shareholders' agreement and company ownership structure – reveals De Klerk's stake in a company that allegedly benefited from a free     30-year fishing quota deal.
De Klerk owns law firm De Klerk, Horn & Coetzee (DHC) Inc. He represented Shanghala in 2017 after Job Amupanda, leader of the Affirmative Repositioning movement, described the former minister as "an epitome and symbol of corruption in Namibia".
LAUNDROMAT
The Namibian understands the government – through Fishcor – poured close to N$700 million in start-up capital and loan guarantees into the joint venture called Seaflower Pelagic Processing in 2017.
Documents show the government received a raw deal as a minority owner while shouldering the costs of a majority shareholder in a joint venture set up in 2017.
This partnership is now the subject of a court case in which two former ministers are accused of masterminding a scheme to get at least N$75 million.
Seaflower Pelagic Processing was used as a conduit for money laundering, court charges allege. That N$75 million includes funds that allegedly financed president Hage Geingob's Swapo presidential campaign.
Geingob has in the past refused to comment on these allegations.
Former fisheries minister Bernhard Esau, ex-justice minister Shanghala, ex-Fishcor board chairperson James Hatuikulipi, his cousin Tamson 'Fitty' Hatuikulipi and suspended Fishcor chief executive Mike Nghipunya were charged in February this year with corruption and money laundering. They are all in custody awaiting trial.
Hatuikulipi led one of Africa's biggest asset management companies, Investec Namibia, now renamed Ninety One Asset Management Namibia.
Shanghala's lawyer De Klerk – currently in South Africa – is wanted by the Anti-Corruption Commission in Namibia for questioning over Fiscor transactions tied to the joint venture.
His company Celax Investment Number One is alleged to have been used to launder the N$75 million from the Fishcor venture.
RAW DEAL
A government notice issued in a 2017 Government Gazette shows former fisheries minister Bernhard Esau awarded Fishcor's Seaflower Pelagic Processing a guaranteed renewable fishing quota for 30 years valued at N$3,6 billion. This figure is only for the sale of the fishing quota without adding value.
Seaflower Pelagic Processing would then sell that quota to international players such as Samherji, the Icelendic company that is accused of bribing Namibian ministers.
At the time, it was touted as a coup for Fishcor, but new details from company documents show the government got a raw deal.
The concession should net an estimated N$20 billion over 30 years based on the current price of horse mackerel (known as maasbanker) including operational costs and profits.
The agreement between Fishcor and its technical partner, African Selection Fishing Namibia, shows the government was bound to ensure that Seaflower was guaranteed an annual horse mackerel quota for 15 more years once the first leg expired, bringing the total duration to 30 years.
FISHY PARTNERSHIP
This transaction appears to have been deliberately planned.
Esau and Shanghala changed the law in September 2015 under Geingob's administration to validate giving horse mackerel quotas to Fishcor under the smokescreen of governmental objectives.
The exact amendment to the Marine Resources Act stated "the State is entitled to utilise or harvest marine resources to advance any socio-economic, cultural or other governmental objectives in the public interest, through an entity or person designated by the minister, on direction from Cabinet".
This paved the way for Esau to award Fishcor's subsidiary Seaflower Pelagic, with a 15-year guaranteed fishing quota.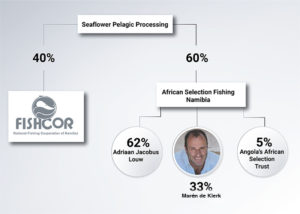 Fishcor owns 40% of Seaflower Pelagic, while African Selection Fishing Namibia owns 60%.
Seaflower Pelagic had five directors when the deal was sealed.
Africa Selection was represented by De Klerk, Angolan-based South African accountant Johannes Augustinus Breed and South African economist Adriaan Jacobus Louw, while Fishcor was represented by James Hatuikulipi and Mike Nghipunya.
Now documents show the key players in the transaction are De Klerk and Louw – through African Selection Fishing Namibia.
A statutory inspection by The Namibian in March found that African Selection Namibia was initially majority-owned by Adriaan Jacobus Louw, with a 62% stake. Other shareholders were De Klerk's Celax Investments Number One (33%) and Angolan-based African Selection Trust (5%).
Africa Selection Trust operates as a discretionary trust, meaning the beneficiaries are unknown.
The Namibian could not trace Africa Selection's name at the Master of the High Court.
ONE-SIDED
Sources familiar with the deal said there appeared to be a plan to ensure that the government shouldered all the risk in the deal, including delivering close to N$700 million in start-up capital.
This included a N$530 million government guarantee for building and setting up a fish-processing plant at Walvis Bay, as well as for the purchase of a refrigerated trawler for the venture.
The Namibian reported in 2018 that Fishcor – whose board was headed by Hatuikulipi – bought a fish factory at the coast for N$160 million in 2016 amid concerns that the parastatal overpaid by as much as N$50 million for the building.
Fishcor chief executive Nghipunya claimed at the time that African Selection Processing would contribute N$372 million towards building the processing plant.
The 2017 partnership agreement between Fishcor and African Selection contradicts this. It shows that the government carried the financial burden despite being a minority shareholder. This included being responsible for loans, collateral and guaranteed state-funded fishing quotas.
The government, through Fishcor, was responsible for guaranteeing the start-up capital, buying Etale Factory, as well as ensuring the venture has a fishing quota for 30 years.
The shareholder agreement shows that African Selection does not have much responsibility apart from managing the Seaflower venture at no charge to Seaflower.
Fishcor, on the other hand, was responsible for buying the Etale Factory and transferring it to Seaflower, which is majority-owned by Africa Selection Fishing.
In February, public enterprises minister Leon Jooste wrote to Fishcor's board of directors asking them to review all existing commercial agreements between the company, its subsidiaries and any other entity which Fishcor entered into and are currently in force.
He said agreements found not to be in the company's best interest should be renegotiated or cancelled.
Jooste said the board would be held collectively accountable for these agreements.

WANTED MAN
Celax is 100% owned by lawyer De Klerk, who is also the company's sole director.
Celax Investments Number One formally registered on 24 January 2017, six days before
African Selection Fishing Namibia signed its shareholder agreement with Fishcor.
However, The Namibian's investigations found that De Klerk resigned as a director of SeaFlower and African Selection Fishing (Namibia) on 15 January this year.
He also transferred Celax's 33% stake in African Selection to Louw, who now owns 95% of Africa Selection Fishing (Namibia). The remaining 5% is held by Africa Selection Trust. Louw (49) holds dual Namibian and South African citizenship.
He is a director of 15 other companies, mostly involved in the fishing sectors of Namibia, Angola and South Africa.
Breed (38) is also a director of several of the same 15 companies.
Celax is accused in the Fishrot court papers of being used as a conduit to divert N$75 million from Fishcor. Questions sent to Louw's and De Klerk's email addresses were not answered.
The state alleges that Esau used his position as fisheries minister, Shanghala used his position as attorney general and later minister of justice, Hatuikulipi used his position as Fishcor board chairperson, and Nghipunya used his post as CEO of Fishcor to access N$75 million between August 2014 and December 2019.
The money is alleged to have been paid through Celax via the law firm De Klerk, Horn & Coetzee Incorporated.
The Namibian understands that the Anti-Corruption Commission started taking an interest in De Klerk's role in the deal around the end of 2019. He was briefly questioned by ACC officials in January this year before he left for South Africa.
ACC director general Paulus Noa last month said although De Klerk was a person of interest, the ACC had not yet formally interviewed him.
"We are aware of all those tricks [share transfers], and I can assure you that we have a consolidated case against Mr de Klerk," Noa said when asked if the ACC knew that De Klerk had transferred his SeaFlower shares to Louw.