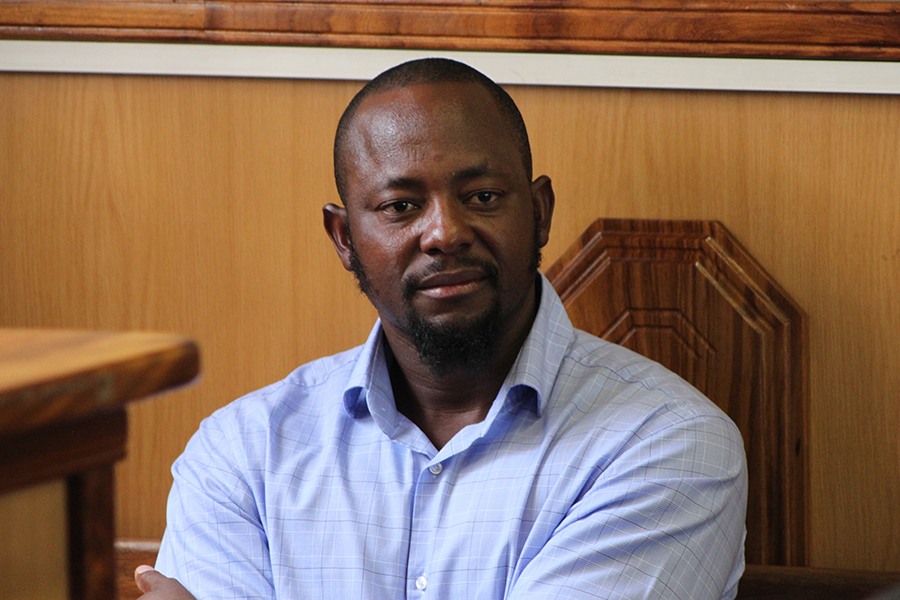 By Shinovene Immanuel | 24 November 2021
A DELOITTE investigation into the Fishrot corruption scandal has linked former National Fishing Corporation of Namibia (Fishcor) chief executive Mike Nghipunya to around N$72 million worth of deals he made in a private capacity.

The investigation report, dated June 2021 and titled 'Investigation into the Fisheries Sector', was done by Delloite on behalf of the Anti-Corruption Commision (ACC).

Extracts from the report were used by the prosecution in the court this month as part of Nghipunya's bail hearing that has been postponed to January next year.

Nghipunya was last year arrested in connection with corruption and money laundering.

He was key in making Fishrot payments of around N$92 million from Fischor to law firms owned by lawyers Marén de Klerk and Sisa Namandje.
A large chunk of the N$92 million was used to fund residential properties and nice-to-have luxuries.

The rest of the money allegedly funded president Hage Geingob's political campaigns and enriched politically connected individuals, such as Vaino Nghipondoka and Armas Amukwiyu.

Publicly, Nghipunya has been pinning N$92 million payouts on Swapo and pointing fingers at former Fishcor chairman James Hatuikulipi for instructing him to make Fishrot payments.

A report by Deloitte, however, shows Nghipunya was linked to separate transactions worth N$72 million through three entities he allegedly controlled.
The state has used these payments in court as part of its evidence against allowing Nghipunya to be granted bail.

A table found in the Deloitte report states that the three entities linked to Nghipunya were Gwanyemba Investment Trust (N$24 million), Ndjako Investment (N$30 million), and Wanakadu Investment (N$18 million).

Nghipunya has denied ownership of Wanakadu Investment and Ndjako, but admitted he had plans to acquire a stake in those companies.

The state believes Nghipunya had a stake in these two companies that are co-owned by two of his co-accused in the Fishrot fraud and corruption case – Otneel Shuudifonya and Phillipus Mwapopi.

Ndjako Investment and Wanakadu Investment benefited from Fishcor fishing deals where Nghipunya was chief executive.

For instance, Ndjako Investment received N$3,4 million from Low-Key Investments on 4 July 2018, which received a 'government objective' hake quota from Fishcor when Nghipunya was the boss at the national fishing company.

Wanakadu Investment got a N$4,1 million tender from Fishcor to deliver drought-relief fish to feed poor Namibians.

The fish was never delivered, the state said in court.

It is also alleged that Nghipunya, co-accused Mwapopi and Wanakadu Investment defrauded Fishcor by getting the state-owned company to pay the close corporation about N$4,2 million for dried fish sold to Fishcor, which was allegedly not delivered.

Of the nearly N$4,2 million paid to Wanakadu Investment, N$3,15 million was then transferred to companies controlled by former Fishcor board chairperson James Hatuikulipi.

Deloitte believes Ndjako and Wanakadu were owned by Nghipunya.
"Mr Nghipunya held an undisclosed business interest in Ndjako Investment CC of 50% during the period under review. His total net amount to and from persons of interest in the accounts of Ndjako Investment CC amounted to N$12 million," Deloitte's report said.

It stated that Ngipunya also has a hidden interest in Wanakadu Investment.
His stake in that entity is estimated to be at around N$5,6 million.

Ndjako Investment and Wanakadu Investment were allegedly used to pay for Nghipunya's thirst for residential property across the country.

Among many other transactions, Ndjako paid about N$1,8 million to partly cover the purchase price of two apartments which Nghipunya bought in the Freedom Plaza 1990 building in the central business district of Windhoek.

When Nghipunya bought a second flat in the building at a price of N$2,25 million in March 2019, Ndjako Investment paid N$450 000 of the purchase price and transfer costs of about N$114 000, the report states.

Another close corporation, Wanakadu Investment, paid the full purchase price of about N$232 000 for a plot of land which Nghipunya bought at Omuthiya in February 2017.
NOVANAM AFFAIR
The Deloitte report shows those three entities paid out N$31 million to parties of interest.

Nghipunya has not denied his links to Gwanyemba Investment Trust, which dealt with around N$24 million.

Gwanyemba Investment Trust was registered in 2017 and lists the beneficiaries as Mike Nghipunya and Hidishange Samuel Israel.
The Deloitte report shows that Spanish-owned company NovaNam Group paid Nghipunya's Gwanyemba Investment Trust around N$15,2 million.

Other entities that paid millions to Gwanyemba Investment Trust is Ndjako Investment (N$7,4 million), and Eco Fish Farms CC (N$1,3 million).
NovaNam Group is one of the main players in the fishing industry that had direct business dealings with Fishcor where Nghipunya was the boss.

During his court testimony two weeks ago, Nghipunya said the board agreed for him to engage in private business dealings with a company which did business with Fishcor.

The payments from NovaNam are listed as 'consultancy'.
"And you don't see anything wrong with that?" prosecutor Cliff Lutibezi asked Nghipunya, noting that he said he was doing consultancy work for companies at the same time he as Fishcor CEO was making business agreements with the companies.

To this Nghipunya said: "No."