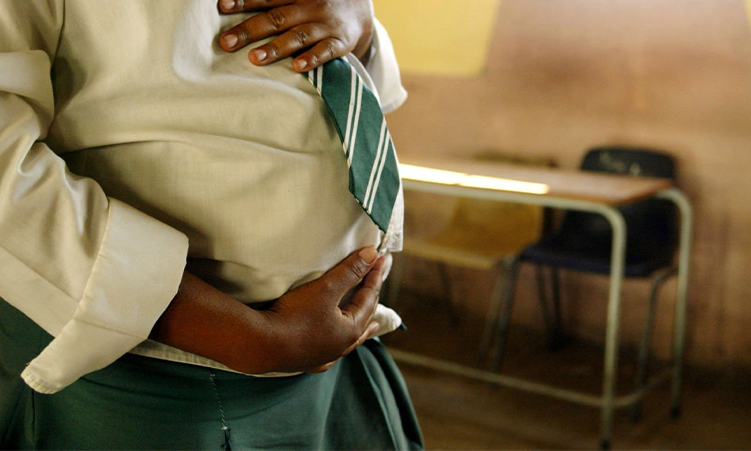 By Donald Matthys | 16 July 2022
ABOUT one in four girls in Namibia will become pregnant before they turn 20, as some 160 800 teenage pregnancies were recorded in the country from 2010 to 2022.
In some years, the teenage pregnancy rate is higher than the rate at which pupils advance to tertiary education.

For instance, from 2018 to 2021, teenage pregnancies stood at 56 300, while the number of Grade 12 pupils who qualified for university stood at 37 480.

Northern regions, such as Ohangwena, Kavango East, Omusati and Oshikoto, are among the most affected areas, highlighting the challenges girls in the country's most impoverished regions are faced with.

Statistics from the Ministry of Health and Social Services show around 23 700 teenagers fell pregnant over the 12 years in the Ohangwena region – one of the most poverty-stricken regions of the country.

In second place is the Kavango East region, with 19 800 teen pregnancies, followed by Omusati at 17 700.

The Oshikoto, Kavango West and Khomas regions all recorded around 12 600 pregnancies each.

The others are Omaheke (5 700), Hardap (5 500) and //Kharas (4 000), recording the lowest number of teenage pregnancies.

Nationally, Namibia sees about 13 000 teenage pregnancies per year, with no signs of a reduction in this number.

In the first two months of 2022, over 2 400 teenage pregnancies were recorded across the country.

SEX FOR RESOURCES

Ohangwena education director Isack Hamatwi says teenage pregnancies hold back girls' education.

"If they return the same year, they can be left behind, because others have gone far with the syllabus," he says.

The director blames the trend on poverty, saying that desperate teenagers fall prey to those willing to exchange resources for sex.

"Poor monitoring at home is another cause. Many of these pupils live with their grandmothers . . . They don't fall pregnant at school, but mostly at home," he says.

Hamatwi says many pupils also fall pregnant during school holidays when they leave hostels to return home.

"When they come back, they start showing they are pregnant," he says.

He says attempts are made to prevent teenage pregnancies.

"We are also waiting for the implementation of the Education Act that would have measures to be taken to deal with those who are impregnating pupils," he says.

CHILD MARRIAGE

Steven Haingura, the principal of Kaisosi Combined School at Rundu in the Kavango East, says child marriage is a major cause of teenage pregnancies.

"Girls believe the ultimate thing in life is to get a husband and children. This belief is encouraged by parents who want a son-in-law to take care of them financially," he says.

Ndamona* fell pregnant two years ago in Grade 8.

She was a pupil at Rundu Secondary School.

She says the pregnancy forced her to drop out of school to take care of her child. She also felt shunned by classmates, she says.

"I don't have qualifications to get a job, but it's difficult to go to school or get a job because no one will stay with the baby. They told me it's my responsibility and I must deal with it," she says.

Ndamona currently lives at Swakopmund and hopes to go back to school and change her life.

A 17-year-old who got pregnant in Grade 10 at Okahandja Senior Secondary School says she used to be in a relationship with a 22-year-old man.

"When you fall pregnant and drop out of school, opportunities are rare," she says.

NUMBER-1 KILLER OF GIRLS

Minister of health and social services Kalumbi Shangula on Monday said only 24% of teens aged 15 to 19 have reported using contraceptives, while 19% of girls that age had already experienced their first pregnancy. Shangula was speaking at a World Population Day event at Rundu.

"Pregnancy- and childbirth-related complications are the number-one killer of girls aged 15 to 19 in developing countries," he said.

He urged parents to discuss sexual health with their children.

"To improve access, family planning services must be provided at all clinics, health centres, hospitals, casualty departments, outpatient departments, and all the wards where female or male patients are admitted," Shangula said.
THE CULPRITS

Executive director of education, arts and culture Sanet Steenkamp said the real culprits impregnating schoolgirls are married, wealthier men.

"That is the sad reality. Therefore, this is not only an educational matter, this is a matter that must be . . . highly debated at all levels of society," she said.

The Office of the First Lady has in past years backed campaigns related to substance and drug abuse, high teenage pregnancy rates, school dropouts, sexual harassment, mental health, and a lack of social services.

Veronica Theron, gender and child protection specialist in the Office of the First Lady, said teenage pregnancies hurt women's long-term socio-economic status.

She said teenage pregnancies are directly linked to school dropouts, youth unemployment, and mental health challenges.

"Life skills classes/sex education classes are not fully utilised and are used to do homework, while not all life skills teachers are comfortable to discuss al the topics," Theron said.

A 2020 study conducted by the University of Namibia's Nelago Indongo, an associate professor in statistics and population studies, found only 39% of teenagers who fell pregnant during the period under review, were using contraceptives.

The study shows most used contraceptive injections (71,8%) followed by condoms (16,8%) and pills (9,4%).

Ohangwena has the lowest proportion of teenagers using contraceptives (13,6%) while 43,3% of teenagers in the Kunene region reported using contraceptives.

About 30% of teenagers in the Kunene region were using injections. Condom use was more prevalent in the Khomas, Oshana and Oshikoto regions, the study found.

According to the study, teenagers on average have partners who are older than them.

DROPOUTS ON THE RISE

The latest statistics from the Ministry of Education, Arts and Culture indicate that around 24 700 pupils dropped out of school in 2020 alone – more than double the number in 2011.


In 2011, pupil dropouts stood at 11 640.

Pregnancy-related school dropouts rose over the last three years, peaking in 2021 at 3 658. The ministry recorded 2 291 dropouts in 2020, and 1 560 a year earlier.

A significant number of pupils (1 334) dropped out between 2010 and 2022 because of the long distance between school and home.

The majority of these pupils were from the Kavango East, Kavango West, Kunene, Omusati, Otjozondjupa and Khomas regions.

Steenkamp said these dropouts are of serious concern.

The ministry allows girls to return to school after giving birth, as per its Prevention and Management of Learner Pregnancy Policy.

School dropouts face daunting employment prospects, labour expert Herbert Jauch said.

With youth unemployment at over 50%, he said dropouts could find themselves among thousands of people applying for one cleaning position.

Dropouts are more likely to join the ranks of the unemployed or eke out a living in the informal economy, he said.

"The first disadvantage is that the doors for further education are almost closed . . . Secondly, in the labour market, they are faced with thousands of others looking for work in lower skills categories, and the chances of success are very small," Jauch said.

*Not her real name

*Additional reporting by Eino Vatileni, research contributed by Tutaleni Pinehas