By Timo Shihepo | 22 July 2022
SEVENTEEN YEARS AGO, a police commissioner bluntly told the then newly appointed inspector general Sebastian Ndeitunga to stop running the police like it's his kambashu (shack).

That encounter is one of the many episodes Ndeitunga has faced since being named the chief of police in 2005.

"I remember the incident," Ndeitunga told The Namibian yesterday.
"These are people who don't know how to control their anger and frustrations. Sometimes they have a civilian mentality," he said.

At the time, some senior police figures felt that Ndeitunga had come out of nowhere, after he leapfrogged Junias 'Jungle' M'Lukeni, who was the deputy inspector general of police operations at the time, to replace Lukas Hangula, the outgoing police chief.

"I was already in the system as deputy inspector general and on occasion having acted as an inspector general," Ndeitunga said.

All these years later, Ndeitunga has ended up being the longest serving inspector general in independent Namibia.

In that time, he has ordered controversial crackdowns on crime, waged a notorious war on miniskirts, and been questioned for having close ties to influential Chinese business people like Stina Wu.

Last year he threatened to take over the Windhoek municipality's political leadership, which is now being run by an opposition coalition.
State House said president Hage Geingob will soon announce the name of the new police chief.
BAPTISM OF FIRE
Less than three months after taking the job, Ndeitunga had to explain to the public how Lazarus Kandara, accused of corruption and under police protection, managed to kill himself with his own gun in front of the Windhoek Police Station.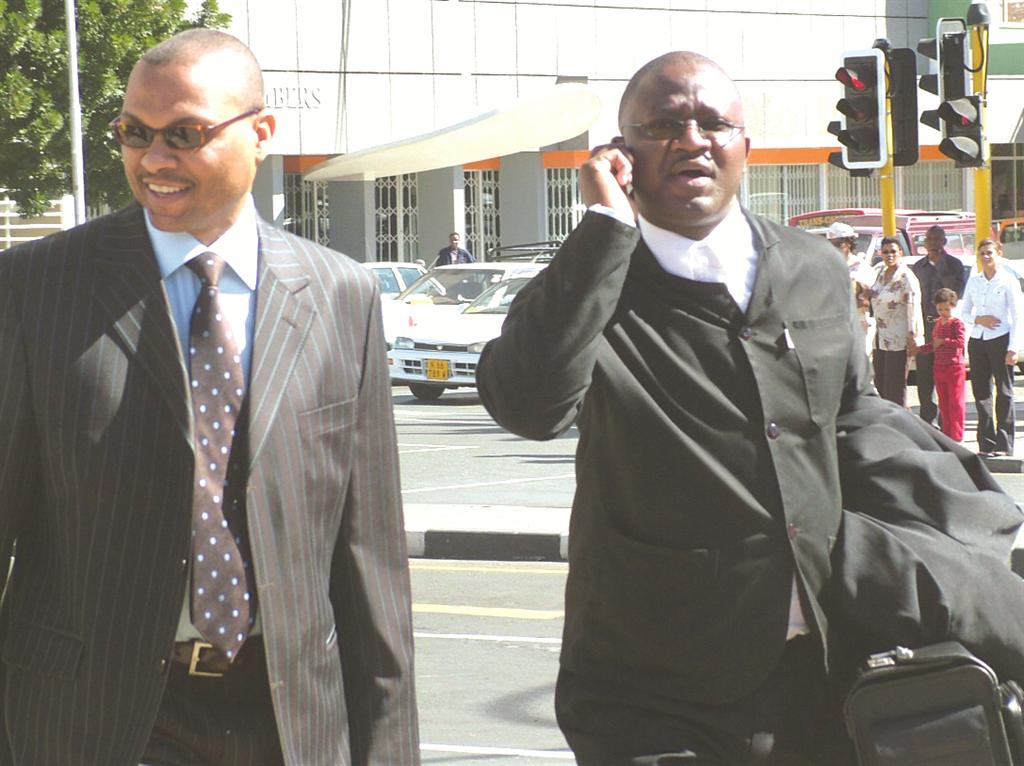 In 2016, he fired deputy commissioner Godfried Khariseb from the commercial crime investigation division. Three years earlier, Khariseb had accused Ndeitunga of allowing nepotism, tribalism and favouritism to flourish in the force.

The official reason for his dismissal was absenteeism.
Today Khariseb works in the private sector.

"He had to protect himself against those surrounding him, the system and political influence," Khariseb said.

Presidents trusted Ndeitunga because "he was willing to keep secrets and to obey all their commands", said Khariseb.

"He never sought to reform the police force."

"Promotions were done on a tribal basis, and at times to pretend inclusivity. The force's discipline suffers," he said.

"There was no grooming or succession plan for leadership positions in the force, it was done randomly."

Ndeitunga pushed back against his critics, such as former magistrate Peter Kavaongelwa, who claimed that Ndeitunga wasn't Namibian.
The feisty police chief sued him for N$100 000, and won.

On his critics, Ndeitunga says it's impossible to satisfy everyone and some people might be angry at him because they wanted to be the inspector general.

"Your chance will come. Those who have retired, unfortunately it's goodbye."
STINA WU CONNECTION
His journey has not been without controversy, especially as a friend of businesswoman Wu, who has built a multibillion-dollar property empire in Namibia.

Ndeitunga admits that he is close to Wu, and does not seem concerned about those who say their friendship is too close for comfort.
Police insiders assert that Ndeitunga protected Wu, allegations denied by the two.

Ndeitunga told The Namibian last month that Wu is a friend, but denied that they are business partners.

"Whenever you are engaging with these people, make sure that you guard against the concept of state capture. It should be a cordial, friendly and professional relationship," he said.

He confirmed that in 2010, he asked the Chinese embassy to recommend "credible" companies that he could partner with on a business idea. But his company struggled to do business.

"I created [a company called] Slavery Never Again, hoping that it would be a successful company but business did not go well. I abandoned it," he said.
Ndeitunga has also been linked to other controversial people, such as his friendship with two controversial Lebanese brothers.

In 2014, The Namibian reported that a fugitive of justice, convicted Mafia boss Vito Palazzolo, also known as Roberto von Palace Kolbatschenko, visited Ndeitunga at his office.

Ndeitunga also met a Russian national Valentin Khalin, who sold himself as a businessman with strong connections to Namibian politicians.
Ndeitunga has denied any wrongdoing.

"I am close to many people. I don't discriminate against people, as long as what you do is not against the principles of the law or unethical. Anyone who approaches me will receive the same service, whether you are from Jupiter, the ocean or the moon," he said.
'OKANDEITUNGA'
For some, Ndeitunga is most notorious for threatening to arrest women wearing revealing clothes.

"These young ones of our society… they named me miniskirt and OkaNdeitunga," Ndeitunga said.

"Myself… I like to look at miniskirts," he said jokingly. "People took this out of proportion."

"If you are wearing something that does not cover your wealth and diamond (private parts) then I have a certain problem," he said.
"Everyone wearing a miniskirt must now pay me because that is my trademark."

Despite the controversy, Ndeitunga's record on gender issues in the police force is more dynamic.

Under his leadership, women like Kauna Shikwambi rose from the junior ranks to become deputy commissioner and police spokesperson. Anne-Marie Nainda also rose to become his deputy, and is now a strong candidate to succeed him.

Women have assumed other leadership roles under his watch, including that of police inspector, the regional commanders of Ohangwena and Oshana, and key Air Wing posts.

"Women in uniform are capacitated, educated and continue to progress in ranks," Shikwambi told The Namibian last month, crediting Ndeitunga for opening doors for women.

She said she initially feared him when they first met in the 1990s, but today she credits Ndeitunga as leaving a huge legacy in terms of law and policing.
TRANSLATOR
Ndeitunga was born in Angola in 1962. He joined Swapo in exile in 1974, earning the combat name Haitota.

He became an aid assistant, Portuguese interpreter, and bodyguard to top Plan official Nghiyalasha Haulyondjaba.

One day, Ndeitunga asked for permission to watch a battle between two factions in Angola's civil war.

Haulyondjaba initially refused, fearing for his bodyguard's life but later relented, which saw Ndeitunga return with several guns slung across his shoulders.

"He said he got them when Angolan fighters were running and throwing the guns away. I told him to keep it a secret and not to mention it to anyone," Haulyondjaba said in a personal document obtained by The Namibian.

Ndeitunga left Angola to study in Cuba, returning to Namibia in 1989.
He'd just become a fisheries inspector at Walvis Bay, when former president Hifikepunye Pohamba offered him a job in Windhoek.

Ndeitunga was just 43 when Pohamba named him head of the Namibian Police.

He loves telling a story about how Pohamba complained that his drivers didn't earn enough to buy food. He called Ndeitunga to say that he didn't want to be guarded by hungry people.

"He said, I have given the order and you should remember that you are talking to the appointing authority," Ndeitunga told The Namibian.
Ndeitunga sent another team to guard the president.

He said whoever is named as the new inspector general should fight for better working conditions for the police, especially in terms of salaries and accommodation.

"Some of them are working at places with a lot of temptations, hence the issue of corruption comes in due to a low salary," he said.

Ndeitunga married his longtime sweetheart in Cuba. They have five children. One is in the military, but none have shown an interest in being a police officer, Ndeitunga said.

His daughter Namupa Ndeitunga describes her father as a hardworking man.

She admits that it's not always easy being the police boss's daughter.
"I don't go out there telling people that he is my father," she said.
Sometimes, her friends nag when her father makes the news.

"They will take screenshots on social media and say I must tell my father to act right when something has happened."
PROPERTIES
Ndeitunga owns several residential properties across the country, including a plot at Ondangwa he bought for N$14 200 in 2000, and a house in Hochland Park, bought for N$600 000.

In 2007, he bought a house in Katutura for N$250 000, and two years ago he purchased a plot at Nkurenkuru for N$42 150.

In 2015, Ndeitunga and former Cabinet ministers found themselves at the centre of the Ukwangali community's unhappiness, due to land they received from the late chief Daniel Sitentu Mpasi.

The Kwangali Traditional Authority had angered the community by dishing land out to influential politicians, including Pohamba, but Ndeitunga says he followed procedures.

"The land I got is very small (5 hectares). The late chief said he would allocate land to any police personnel close to the border so that they help minimise cattle theft," said Ndeitunga.
NEXT TOP COP
Ndeitunga's top choices for his successor are major general Nainda, who heads administration, and major general Joseph Shikongo, who heads operations.

"I am not a perfect man," he said. "They might probably even perform better than how I did."

In retirement, Ndeitunga says he's looking forward to listening to his favourite local songs and enjoying his freedom.

"I go to kapana. I go to eat mopane worms. I go to restaurants. I am free."
He also says he'd like to rest for at least three months.

"I will just be sleeping almost every day to rest before I embark on a journey to visit my family around the country and in Angola," he said.
"I have neglected them for a long time."
*This article has been produced by The Namibian Investigative Unit. Contact us via your secure email: [email protected]
– Additional reporting by Tileni Mongudhi and research by Viktoria Mvula