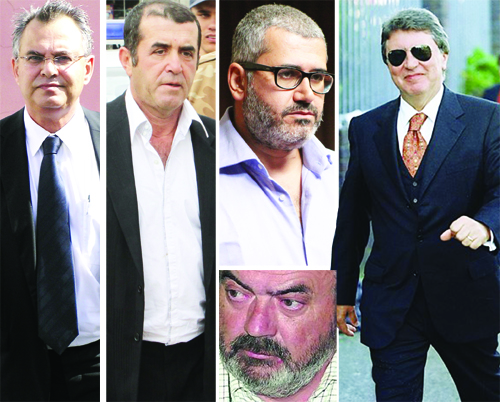 ---
By Tileni Mongudhi | 7 February 2014
---
THE arrest and subsequent extradition to Italy of convicted mafioso and Namibian resident Vito Palazzolo has turned the spotlight on Namibia as a safe haven for fugitives from justice.
At least two other Namibian residents wanted for alleged crimes in other jurisdictions, Jacob (Kobi) Alexander and Boris Bannai, are currently resisting extradition.
Like Palazzolo, they have forged business links and friendships with politically connected members of the Namibian elite, including, in Bennai's case, the son-in-law of President Hifikepunye Pohamba.
Palazzolo, also known as Roberto von Palace Kolbatschenko, arrived in Namibia in 2006 after staving off extradition attempts from South Africa, for more than 20 years. He bought a house and at least one farm in Namibia.
Arrested while on holiday in Thailand, he was extradited to Italy in December last year and is currently serving a nine-year prison term for mafia-related offences.
There is one known successful extradition of a foreign national from Namibia – Lebanese businessman Fadi Ayoub, who was returned to France in September 2012 to face a rape charge. Ayoub fled France in 1993 after skipping bail and arrived in Namibia in 1999. After two-decades on the run, Ayoub was extradited in 2012. He has since returned to settle in Namibia as a free man after he was acquitted of all charges.
However, others have successfully resisted similar moves by foreign governments.
In 2006 the Namibian Supreme Court upheld German national Hans Juergen Koch's four-year battle to stave off extradition to Germany to face fraud and tax evasion charges. Koch died in Namibia in 2008.
Alexander has fought US attempts to extradite him to face charges of fraud, money laundering, obstruction of justice and witness tampering since 2006, while Bannai has been on Poland's wanted list since 2010.
Both appear to have benefited from bungling by Namibian officials – or worse. Alexander was granted a work permit despite his alleged failure to disclose his residence in the US and the charges against him.
The Namibian Investment Centre, which falls under the trade and industry ministry, helped expedite his permit, after he promised to invest more than N$300 million in Namibia.
The centre can issue an Investors' Status Certificate, intended to smoothen residence applications, if an applicant proves he or she has invested more than N$1 million in the country or has N$1 million in his/her bank account.
The magistrate threw out Bannai's extradition case on grounds that the request failed to reach the court in time. However, the Polish authorities hotly deny this.
In court papers Bannai said he has up to N$300 million in investments in Namibia and that his Namibian company, Purity Manganese, employs about 400 workers and pays about N$2 million a month in salaries.
Vito Palazzolo
The Namibian media linked Palazzolo (born 1947) to questionable diamond polishing licences and reported that he is Zacky Nujoma's business partner in diamond and uranium deals. Zacky is the son of former president Sam Nujoma.
In 2007, Zacky was quoted dismissing Palazzolo's organised crime links as "an old CIA story". Last week, he claimed not to have known about Palazzolo's past. "Then I did not know him; now things have changed," he said on the phone.
They had not been business partners, but "merely friends", he added.
It is understood that in 2010 Italian authorities, working through Interpol, began asking the Namibian government about extradition procedures, and that Italian officials visited Namibia to meet the authorities.
One government source told amaBhungane that the Italians voiced fears that Namibia might not help them, as Palazzolo had managed to stave off extradition while in South Africa for more than two decades.
The source said local police and Interpol started monitoring Palazzolo's movements. When he got wind of this, the source added, he and Zacky confronted Namibia's police chief, Inspector General Sebastian Ndeitunga, in his office.
Interviewed last week, Ndeitunga denied being confronted but said he vaguely remembered Zacky affording him "a courtesy visit" in which he introduced his business partner.
"I remember someone who came to my office with Zacky Nujoma. I cannot recall the details," Ndeitunga said.
Zacky said he recalled the meeting and that it was to seek clarity on claims that Palazzolo was a wanted man. "I wanted to know what is happening since he [Palazzolo] and the media were saying different things."
He recalled that "some form of communication structure" between Palazzolo and the police, including Interpol, was subsequently set up.
The Italians are said to have initiated a formal extradition process in late 2011. The source said the plan was to arrest Palazzolo on his return from Asia.
However, it was "fortunate that he was arrested somewhere else, as extradition attempts would probably have failed here", said the law enforcement source.
Boris Bannai
Bannai, also known as Boris Biniashvili (56), is an Israeli who arrived on Namibian shores in about 2008 after doing business on and off in the country since 2001.
Bannai's main known Namibian associate and alleged business partner is oil exploration millionaire Swapo Ndume, President Hifikepunye Pohamba's son-in-law.
The two men are regularly seen wining and dining at Windhoek's posh Hilton Hotel where Bannai occupies a suite. They are known to attend each other's family events.
Last week Ndume confirmed that he and Bannai "are very good friends" but denied they are business partners.
He said he believed in Bannai's innocence. The charges Bannai faces in Poland arose from a legitimate business transaction, he said, "now some people got greedy and are trying to take what is not theirs".
In 2010, the Polish authorities asked the Namibian government to assist their investigations into Bannai, focusing on Purity Manganese, which runs a mine at Otjozondu, near Okahandja.
According to an Interpol document seen by amaBhungane, the Poles accused Bannai of accepting an advance payment of US$4,3 million from a Polish company, Eurostal, for manganese, which he then failed to deliver. The money was then laundered, including to "the accounts of other un-traced entities".
Bannai did not comment on this specific allegation.
In 2012, Poland applied for Bannai's extradition to face charges of fraud, money laundering, violating his fiduciary responsibility to his Polish company and manipulating its shareholding to benefit himself and his son David.
According to the Interpol document, the Polish District Court concluded that Bannai was hiding from the Polish law enforcement authorities and had failed to appear when summoned by the public prosecutor's office.
An Interpol official motivated for Bannai's arrest in Namibia, saying he was a flight risk. He cited the fact that he left Namibia in December 2011 on an Israeli passport valid until June 2016 and tagged by Interpol to track his movements, but returned in January 2012 using another Israeli passport valid until December 2021 that was not tagged.
Approached for comment, Bannai denied any wrongdoing, saying the Polish authorities had never summoned him.
"I have never had two valid passports and was never on any Interpol list," he said in an email. "Seems like a number of corrupted criminals including government employees [are] trying to offense (sic) me for personal gains."
He said he did not need political protection and was unaware that Ndume could give it to him.
Following the Polish extradition plea, Bannai was arrested in Namibia in March 2012 and granted bail of N$1 million. The court ordered him to report weekly to a Namibian Interpol representative.
But his extradition hearing before Windhoek magistrate Ruth Herunga appears to have been botched by justice ministry officials.
Herunga threw out the case when it came before her on the 30th day of Bennai's arrest, as per the Extradition Act, because not all papers were submitted on time.
However, Poland's ambassador to South Africa and Namibia, Anna Raduchowska-Brochwicz, said that the extradition request reached Namibia on April 21 – two days before the hearing – and that the Namibian authorities confirmed its arrival.
Raduchowska-Brochwicz said three subsequent requests to Namibia for an explanation – on April 30 2012, October 29 2012 and May 16 last year – had gone unanswered.
A justice ministry source also questioned the failure to submit the documents on time, saying that the ministry had the option of filing the request over the weekend or on Monday before the court proceedings started.
The officials could also have informed Herunga that the request had arrived.
A lawyer, who asked not to be named, questioned why the magistrate threw the case out so early in the day, rather than waiting for near the close of business.
Bannai is now suing the Namibian government for N$10 million for wrongful arrest. AmaBhungane understands that he is back in his native Israel; it is unclear whether he plans to return to Namibia.
AmaBhungane has also learned that between 2002 and 2003 Bannai appeared before the West Virginia Mason County Court in the US on at least seven occasions over alleged offences involving his company Highlanders Alloys, including failure to pay workers and writing bad cheques to suppliers and workers.
In some of these cases he paid fines.
Jacob (Kobi) Alexander
Alexander (born 1952) first arrived in Namibia in about April 2006, but officially settled in the country in July 2006.
In hearings at the Namibian Investment Centre he pledged investments of N$300 million if he received Namibian permanent residence. Court papers indicate that he initially brought in about N$50 million.
Two months later he made headlines in the Namibian media after being arrested at the request of the US government seeking his extradition. A week later he posted bail of N$10 million, a record for Namibia.
Insight Namibia magazine reported that approval of Alexander's work permit application took a day – another record.
This was disputed by then-Home Affairs permanent secretary Samuel Goagoseb, who said the application took a week. But Goagoseb admitted to Insight that rules were ignored when an earlier permit was granted.
In particular, the Immigration Control Board only received police clearance from Israel, not the US, and allegedly had no idea Alexander was wanted in America.
AmaBhungane has also seen documents showing that Alexander's work permit application was incomplete, while the Namibian authorities failed to pick up discrepancies between the application forms submitted by him and his wife.
In the US Alexander is wanted on 35 counts emanating from a stocks option backdating scheme he allegedly ran at a New York firm he founded in 1986, Comverse Technology.
US justice department documents seen by amaBhungane put his "ill-gotten gains" at up to US$138 million (R1, 5 billion).
By the time the US government froze Alexander's bank accounts he is alleged to have moved more than U$64-million (N$700-million) offshore to Israel.
Alexander's friends in high places in Namibia principally include politically connected businessman Lazarus Jacobs, co-owner of the company Paragon Investments with Desmond Amunyela. Initially a media concern, Paragon is now involved in fishing, property development, mining and hospitality industries.
Jacobs and Amunyela are friends of Prime Minister Hage Geingob, who is set to become the next president of Namibia in March next year, and also have ties with former president Sam Nujoma. Jacobs also chairs the parastatal Communication Regulatory Authority of Namibia.
He told amaBhungane that he and Alexander were friends, not business partners, and described as "unfounded" any suggestion that Alexander was seeking political protection through him.
Yet, in an affidavit to support Kobi's application for Namibian residency, Jacobs states that they had established a "professional, business and personal relationship".
Alexander is currently challenging the constitutionality of Namibia's Extradition Act. In responding papers, former justice minister Pendukeni Iivula-Ithana argued in 2008 that "having successfully delayed his extradition to the US since 2006, [Alexander] is now attempting … to finally terminate any effort to have him extradited to the US".
Alexander's lawyer, Louis du Pisani, said his client would not comment.
Namibia's ministry of justice refused to comment on Bannai or Alexander's case, saying they were "subject to confidentiality".
* This article was produced by Tileni Mongudhi, while a Fellow of the M&G Centre for Investigative Journalism (amaBhungane) in Johannesburg.
---