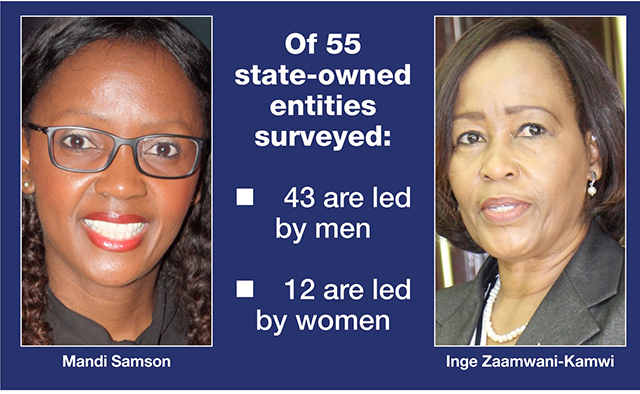 ---
By Maria Shaanika | 11 December 2018
---
Zaamwani-Kamwi, who managed Namdeb for 16 years, is now president Hage Geingobs constitutional and private sector adviser.
She spoke to The Namibian ahead of Womens Day about her time as boss of Namibias largest diamond company, which is also the most significant contributor to state coffers. Swapo introduced 50/50 gender representation in 2013 leading to Namibia having 46 women out of 104 lawmakers in the National Assembly.
The same cannot be said about women in leadership positions in 90 public enterprises. Research by The Namibian over the past two months reveals that men continue to dominate top parastatal positions, making them the highest earners.
Of 55 state-owned entities surveyed, 43 are led by men as chief executives or managing directors. Women are in charge of only 12. About 197 men hold top management positions, while women hold 127 top management positions. The Namibian also found that men are in charge of strategic positions such as finance while women mostly manage marketing and human resource departments.For instance, national power utility company Namibia Power Corporation (NamPower) and Namibia Airport Company (NAC) have a management representation of eight men and two women.
NO KNOCK-ON EFFECT
Zaamwani-Kamwi told The Namibian last week she had expected the ruling partys 50/50 gender policy to influence companies to adopt similar policies and practices.
"I am not surprised but rather disappointed that, 28 years after independence, the proportion of women in senior leadership positions in corporates, including state-owned enterprises, remains highly skewed towards men," she said.
Zaamwani-Kamwi said she was not sure if the way men behaved towards her was because she was black or because she was a woman.
"The body language of the men in charge of the operations at the mine was not welcoming and seemed to say you are not going to make it and we will make sure you do not succeed," she said.
To Zaamwani-Kamwi, this was problematic.
"My response was that if we were to succeed in leading the company, we needed to work together and that those who felt they were unable to work with me, they had a choice whether to stay or to go," she said.
She advised women in management to work hard, focus, be professional and not to compromise on their conduct.
Air Namibias acting managing director, Mandi Samson, said she has always felt equal to her male counterparts, even in the male-dominated industry.
But, Samson added, women, in general, face challenges because of stereotypes that suppress their potential, resulting in a setback to effective growth in the industry.
Our research shows that of 12 executives at the national airline, only two are women – an internal auditor and acting managing director. Nonetheless, Samson believes the airline is making progress regarding womens empowerment.
According to her, the parastatal employed its first black women aircraft engineers who had to overcome significant challenges and perceived misconceptions by joining a male-dominated industry. Samson encouraged women to join aviation technical fields and embrace their capabilities to create a more gender-inclusive Namibia.
"It has been proven time and again that women can effectively execute jobs that are traditionally known to be for men," she added.
A CRYING SHAME
Some public enterprises appear to be ashamed of their track record to the extent that they have classified details on gender representation in management as "confidential".
This includes the National Housing Enterprise. Its website shows that four senior managers are men, while the business development and operations department has six men.
NHE spokesperson Eric Libongani declined to provide gender representation figures at the company.
Likewise, NHE chief executive Gisbertus Mukulu said the information on gender representation in his management ranks was a secret.
Two years ago, The Namibian reported that Mukulu got the NHE chief executive position despite being outperformed by former TransNamib chief executive Saara Naanda-Katiti. Ironically, according to that news report, urban development minister Sophia Shaningwa pushed for Mukulus appointment ahead of Naanda. The NHE board – led by motivational speaker Sam Shivute – denied these allegations.
The skewed representation of women in parastatal positions flies in the face of targets agreed to by the government.
Namibia is a signatory to the Southern African Development Community (SADC) 2008 protocol on gender and development, which has a target of 50% representation of women in all areas of decision-making such as parastatal leadership in member states. The United Nations sustainable development goals state that women should have equal opportunities for leadership at all levels of decision-making in political, economic and public life.
Despite the gloomy outlook on womens representation in top positions at parastatals, there are a few state-owned entities which are shining stars in womens representation.
For instance, of 19 executives at the Namibia Broadcasting Corporation (NBC), 11 are women. Out of nine executives at the Namibia Qualification Authority, six are women.
* This article was produced by The Namibians investigative unit as part of this years Womens Day commemoration.
* Additional reporting by Shinovene Immanuel.
---