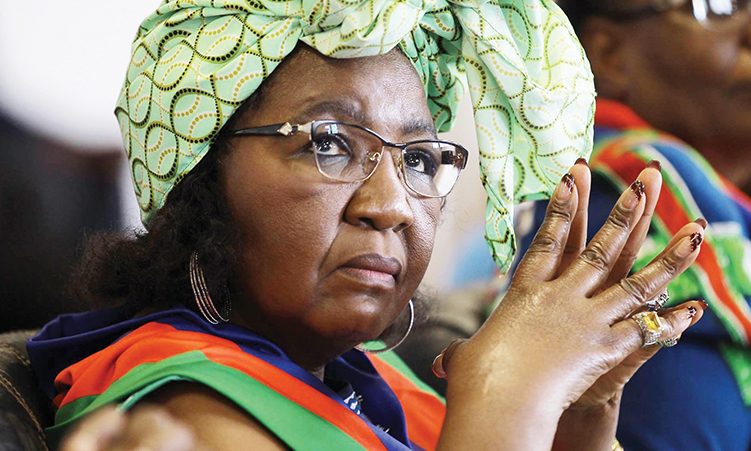 By Eliaser Ndeyanale | 28 October 2022
SWAPO secretary general Sophia Shaningwa claims the Anti-Corruption Commission (ACC) threatened to arrest her when they summoned her to their office following allegations that Swapo received money through the Fishrot corruption scandal.

Shaningwa said this at a Swapo campaign at Ongwediva this week.
She said the ACC called her in, gave her a list of all those implicated in the Fishrot corruption scandal, and told her to check the party's financial records to see whether there were funds from the accused persons in its accounts.

Shaningwa, who is seeking to be elected as secretary general of the party at next month's congress, said the ACC gave her a month to scrutinise the party's financial records and provide it with feedback on whether Swapo was in possession of Fishrot money.

"They said if I don't do it, they will arrest me. When I got the names, I checked through the party accounts whether there were funds from those implicated, but I couldn't find anything.
"I also sought the assistance of audit firm BDO, and they could not find any cent that was deposited into the party's accounts from those implicated in the Fishrot scandal.

"Swapo did not receive money from those illegal and illicit dealings," she said.
"If anyone insists that Swapo has received such funds, he or she must provide the account number where that money was deposited into . . .

"If you got Fishrot money, you got it as an individual," Shaningwa said.

She said she was called in by the ACC by virtue of being Swapo's secretary general to clear the party's name.

Shaningwa said she would defend the party, but not individuals.

"Swapo will not be destroyed under my watch as if I was not in exile," she said, adding that "I will talk about the Fishrot scandal until I die".

She said the Fishrot corruption scandal has caused Swapo to lose seats in the National Assembly and the National Council.

"Many people have put their Swapo attire in the coffers. People have boycotted elections, saying Swapo is a thief, but we navigated through," she said.

Shaningwa said some people claim Fishrot activities took place during her tenure as secretary general.
"I was not the secretary general. Don't distort history. In 2017, I was the minister of urban and rural development," she said.

While addressing the Swapo campaign at Omuthiya on Saturday, Swapo's regional coordinator for the Oshikoto region, Armas Amukwiyu, said businessman James Hatuikulipi, who is implicated in the Fishrot corruption scandal, has bankrolled Swapo campaigns with more than N$5,2 million.

He said he did not know the money was allegedly stolen from a state-owned fishing company.

"A donation was given to us by a certain James Hatuikulipi. We said thank you. We did not know the money was stolen," Amukwiyu said.

The Fishrot corruption scandal involves deals worth around N$2 billion diverted from the government to allegedly, among others, bankroll president Hage Geingob's political campaign.

Amukwiyu said Hatuikulipi's donation was made through Swapo's regional coordinators' forum.
The Namibian has in the past reported that the forum was created to secure Geingob's ruling party interests in the regions.

Hatuikulipi was the managing director of Investec Asset Management Namibia (now Ninety One Asset Management Namibia).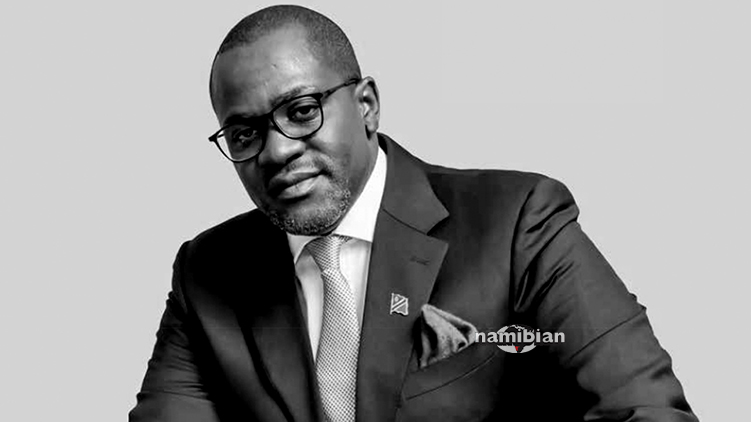 He is currently in prison awaiting trial.

Amukwiyu on Saturday said Hatuikulipi made the donation as a private individual, and not as Fishcor's board chairperson.

Amukwiyu will be contesting for the Swapo secretary general position at the upcoming Swapo congress.
NOA RESPONDS
ACC director general Paulus Noa says the commission does not threaten potential witnesseses or suspected individuals with arrest.

"They are served with summons specifying the date on which a person must appear before an investigator to be questioned and provide information. He/she may be required to depose a statement under oath.

"It is a criminal offence if that person fails to appear before an investigator for no valid reason.
"The person is clearly informed about that in the summons, and reference is made to that specific section of the law. That is not a threat," Noa says.

He says the same procedure has been applied to Shaningwa.

"In any case, we summoned her in her capacity as the current secretary general of her political party, and not because we were suspecting her of any corruption.

"Thus there was not even a reason to subject her to threat. She was not a secretary general of the Swapo party when the so-called Fishrot case happened.

"As secretary general, she is the administrative custodian of the books and bank accounts of the party, hence the ACC served her with a summons to provide information and depose a statement under oath.
"She was never a suspect and is still not a suspect," he says.