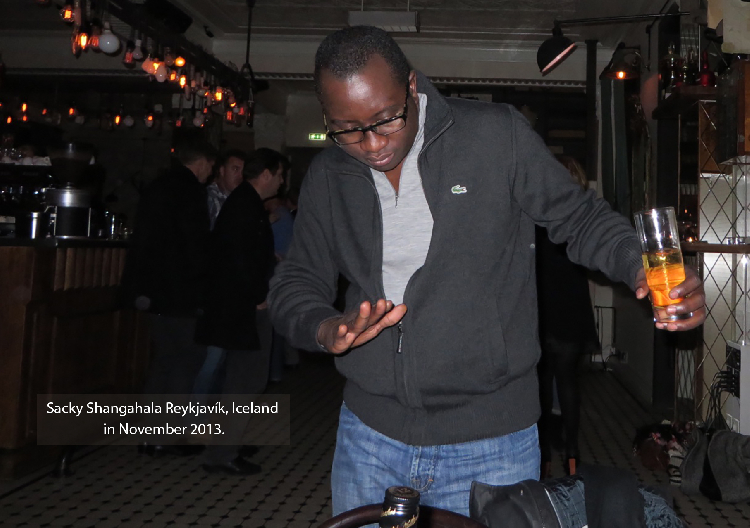 ---
By Shinovene Immanuel | 14 November 2019
---
"GENTLEMEN, we are in business," disgraced former justice minister Sacky Shanghala told Icelandic and Namibian businessmen after they secured a fishing licence in Angola.
Shanghala said this in an email sent at 00h28 on 26 February 2014.
It was in response to an email from Icelandic businessman Jóhannes Stefánsson on the same day that said: "Dear colleagues. According to João, the fishing licence for Angola is ready, which is great news! Waiting for a copy of it and further info."
João is the son of former Angolan fisheries minister Victória de Barros Neto.
Stefánsson was the point man in Namibia for Icelandic seafood company Samherji HF, a key player in the scheme.
Shanghala, former fisheries minister Bernhard Esau and Investec Namibia's managing director James Hatuikulipi, are named as the masterminds of the fishing donation hook-up, which generated kickbacks of at least N$150 million over four years.
Hatuikulipi responded to Stefánsson, saying it was the "best news ever".
Getting a fishing licence from Angola was crucial to justifying the fishing quota donation from Namibia.
This quota meant for Angola was transferred to a private company called Namgomar in June 2014, and eventually benefited individuals.
Shanghala and Esau yesterday resigned from their ministerial positions after details of the scheme were exposed by The Namibian, WikiLeaks, the Icelandic National Broadcasting Service (RUV), Al Jazeera and the Iclandic daily newspaper Stundin.
Former justice minister Shanghala promised to respond to questions sent to him on Friday, but he never did.
The masterminds bene­fited by as much as N$150 million. It is believed these fishing deals involved as much as N$2,5 billion, including fishing quotas issued to a state-owned company, the National Fishing Corporation of Namibia (Fishcor) and Icelandic seafood company Samherji HF. Fishcor's board is headed by Hatuikulipi.
It is not the first email which indicates the intention to benefit from Namibia's fishing resources under the guise of a donation to the Angolan government.
Four months later, the Namibian team prepared a presentation – seemingly aimed at wooing the Icelanders – shared via email on 20 August 2014.
It was sent by Shanghala to people including Icelandic fishing company chief Thorsteinn Mar Baldvinsson, Stefánsson, James Hatuikulipi and Tamson 'Fitty' Hatuikulipi.
The presentation was made a month after Esau signed the donation agreement with his counterpart in Angola.
Titled 'Namgomar opportunity presentation to Mr Torsteinn', the presentation maps out the scheme. It states that benefiting from fishing quotas would not have worked unless the Namibian government came up with an agreement with Angola.
"We have achieved it," the Namibians boast in one of the slides.
"Period: Five years, renewable in perpetuity unless one country cancels the agreement."
Another slide states: "No need to re-apply (no expiry, diplomatic relevance)."
Yet another slide reads: "The opportunity we have in Angola and Namibia is not available to everyone. Before everyone wakes up, we need to move and make [an] impact. This will protect both ministers."
Next slide: "We need to ensure that in Angola and Namibia, even if government/minister changes, there will be no need to touch the arrangement, but to ensure that quota is issued."
"Therefore, we need to prepare a plan for Angola, and manage the Angolan partners and their expectations."
Leaked records show that Shanghala, Hatuikulipi and his cousin 'Fitty' Hatuikulipi also benefited from free airfares and hotel payments. 'Fitty' is married to fisheries minister Esau's daughter Ndapandula.
Stefánsson – the whistle-blower who revealed information leading to the downfall of the two Namibian ministers – was key in paying for travel arrangements of the four people.
One email shows that Samherji HF representative Stefánsson paid for flights in April 2016. Destination: Reykjavik, Iceland's capital city.
Flight tickets show they stopped in London for four days before heading to Reykjavik on 12 April 2016. Emails provide evidence that Namibian politicians and businessmen were benefiting from the Icelandic fishing company that was plundering the fishing quota meant for the Angolan government.
Former Angolan fisheries minister Victória de Barros Neto and her son, João de Barros, are also named in documents outlining the scheme.
Angolan president João Lourenço fired Neto from the fisheries portfolio in January this year. It is unclear if her dismissal was related to the Namibian fishing scheme.
Investec Asset Management executive Ricardo Gustavo, who reports to Hatuikulipi, acted as a front for the Angolan government through a company called Namgomar, which received the fishing quota donated by the Namibian ministry of fisheries.
The Namibian reported last month that Gustavo is the sole director of Namgomar, supposedly a government-to-government joint venture used as a conduit for facilitating the licence and quota donations between the two governments.
*This article has been amended to remove emails that allegedly portrays Shanghala asking for 900 euros.