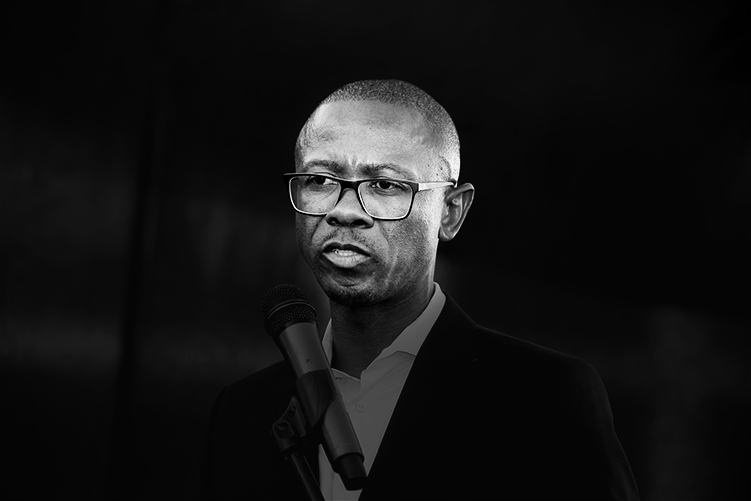 ---
By Shinovene Immanuel | 24 July 2020
---
TOP LAWYER Sisa Special Namandje (47) has cemented his reputation as a shrewd legal fixer, negotiator and trusted confidant in what many view as a relatively short period.
A sizeable number of his clients are prominent multi millionaires, business people and politicians of the highest stature, no less than president Hage Geingob and former presidents Sam Nujoma and Hifikepunye Pohamba.
For some, he is the poster child of black professional success and excellence, who broke into the Namibian law fraternity's elite league that is still dominated by white-owned firms.
For others, he is too cozy with those who wield state power and thus not strictly a legal bigwig.
Pohamba and Geingob each wanted him to be the attorney general, approaches he turned down.
He has for years been the ruling party's elections chief. Namandje's prominence took on wider proportions at the end of last year when he was mentioned among several personalities in the Fishrot exposé.
Now there are public calls, including from within the law profession, to investigate whether Namandje might have unlawfully enabled the illicit flow of money in the Fishrot scandal, in which two ministers face corruption charges.
Namandje, whose middle name was 'Special' until he dropped it in the 1990s, rose from being a prison warder to becoming a lieutenant colonel in the Namibia Defence Force, where he served as head of policy and planning.
After resigning from the military in 2001, he earned his stripes as a criminal lawyer and soon became one of the most sought-after legal minds in Namibia, later setting up his own law firm, Sisa Namandje & Co. The law firm now employs 40 people including 18 lawyers.
He built a reputation for often getting favourable deals for clients even when the odds appeared stacked against them.
Two cases catapulted him into the limelight.
Representing former deputy minister of transport Paulus Kapia at the Avid corruption inquiry in 2005 stands out for him. The Avid case was the 'Fishrot saga' of its time.
Prior to that, he was the lawyer of choice for notorious repeat armed robber Thomas 'Bobgreen' Nandjembo.
Read more on his profile: Profile: Sisa Namandje
'HERO' AND 'VILLAIN'
Namandje's 'rights and wrongs' have divided public opinion for years.
When he takes on a popular cause, such as tackling the government over a controversial permit to undertake seabed phosphate mining, he is lionised.
When he defends powerful figures seen as corrupt, he is the fat-cat lawyer Namibians love to hate.
Critics point to his entanglement with politicians as one of the causes of his troubles.
Namandje counters that he has been inadvertently caught up in a web of politics, alleged selective morality by the Law Society of Namibia (LSN) and envy among fellow lawyers who are allegedly pushing the narrative that he is "untouchable".
He argues that he is subject to more intense scrutiny than most members of the legal profession because he often represents politicians disliked by sections of the public.
Despite Namandje's pushback, the law society is determinied to scrutinise his firm for suspected ethical breaches.
The society took Namandje's law firm to court earlier this year to get an order to inspect its financial records and assess whether allegations of money laundering hold water.
"[I] have reason to believe that Mr Namandje and/or the other directors at Sisa Namandje & Co Inc may have engaged in money laundering activities using the firm's trust account, and in the course thereof have contravened the requirements for the keeping of trust accounts in a number of respects," Law Society director Retha Steinmann said in court papers this year.
It alleged that Namandje's law firm was involved in N$23 million worth of transactions linked to the 'Fishrot' scandal.
About N$17 million of that amount came from the state-owned National Fishing Corporation of Namibia (Fishcor).
A total of N$6 million went to Swapo's Oshikoto regional coordinator Armas Amukwiyu, and N$9 million to businessman Vaino Nghipondoka.
"Due to their positions and influence, it is recognised that many politically exposed persons are in positions that potentially can be abused for the purpose of committing money laundering offences and related predicate offences, including corruption and bribery," Steinmann said in the court papers.
Namandje has strongly denied the allegations and asked the High Court to declare the rule which authorises the Law Society to get a search warrant enabling an investigation of his accounts as unconstitutional and contrary to the Legal Practitioners Act of 1995.
He accused the Law Society of acting unlawfully and leaking clients' confidential information.
The High Court verdict is set to be handed down on 14 August.
RUSSIAN LANDLORD
Namandje was Russian businessman Rashid Sardarov's lead lawyer when he bought and donated four farms worth  N$43 million to the government.
In return, Sardarov will lease the farms from the state for 99 years.
The transaction sparked a public furore with the government accused of feeding Sardarov's thirst for foreign land. The Russian now owns  more than 10 farms in Namibia.
Sources said Sardarov's company, Comsar Properties, paid Sisa Namandje & Co N$21 million for "consultancy, agency and due diligence work" done between 2016 and 2018.
Sources said the payment included consultancy and transactions related to land, a proposed desalination plant, an oil refinery and an energy plant.
The Namibian understands that Sisa Namandje & Co used most of the N$21 million to reduce their loan for the construction of their head office in Windhoek in 2018.
The law firm paid for the work with a loan and their own funding.
President Hage Geingob inaugurated the company's head office –  valued at N$30 million – in 2018.
PALACE POLITICS
Much of the controversy around Namandje stems from a 16-year entanglement with Swapo's palace politics.
He has presided as the electoral chief at Swapo's elective congresses since 2004, with his role including setting the rules and counting ballots for would-be party [and thus state] presidents.
He was also asked by the ruling party to advise it on how to reform Swapo's private companies.
Namandje's role as election chief and as a lawyer for one of the candidates competing for top jobs in the organisation became a  bone of contention at Swapo's 2017 elective congress.
Namandje has  defended his role. "I started counting votes at the 2004 extraordinary congress when I was Sam Nujoma's lawyer.
I counted votes in 2007 when I was advising Nujoma and was Hifikepunye Pohamba's lawyer," he said in 2018. "Why is it only a problem when it is Geingob?"
Critics have also used his close ties to Namibia's first president to cast doubt on his impartiality.
Ahead of the Swapo congress in 2012, Oshikoto regional party coordinator Armas Amukwiyu – then a Geingob loyalist – questioned Namandje's fairness in running the elections.
On the flip side, Namandje has also advocated freedom of expression in the party, and paid the legal bills for youth leaders such as Job Amupanda and ex-Swapo Party Youth League secretary Elijah Ngurare when the party's top leadership – including Geingob –  expelled them from Swapo in 2015 for publicly criticising the president.
Namandje is said to have brought South African lawyer advocate Vincent Maleka to represent the trio who subsequently won their case for reinstatement as Swapo members.
"I was one of the few people who refused not to communicate with them openly, as I am independent," he  told The Namibian in 2018. "I don't allow other people to tell me who to communicate with."
In 2016, when Geingob's administration approved controversial seabed phosphate mining, Namandje represented clients who opposed the move.
He has also represented the government in court. In 2017, he was defence lawyer for the authorities after Geingob cancelled the N$7 billion  Hosea Kutako International Airport tender..
It subsequently emerged that a clique of lawyers was lined up to get N$103 million in kickbacks if the airport construction had proceeded.
The Namibian understands that Namandje has recently taken his foot off the pedal with regard to party affairs.
He has also come under fire for representing the rich in cases where they have benefited from state deals.
For instance, he represented businessman Erastus 'Chicco' Shapumba when the struggling state-owned Agro-Marketing and Trade Agency (Amta) bought a property in Windhoek for N$40 million.
Amta overpaid Namandje's client by as much as N$27 million, documents show.
He also represented SME Bank fraud accused kingpins, such as Enoch Kamushinda, who is accused of masterminding the theft of up to N$250 million of taxpayers and customers' savings from that bank.
SPECIALIST
There have been public calls to investigate Namandje following revelations that his company's trust account received the payment of N$17 million from a national fishing company that benefited politically connected individuals.
Apart from representing unpopular clients, he has generally steered clear of controversy.
However, by October last year, he found himself fighting for his reputation, dispatching letters to the news organisation Al Jazeera.
Qatar's state-owned broadcaster produced a documentary 'Anatomy of a Bribe' after a sting operation targeting Namandje and his close friend Sacky Kadhila Amoomo. It painted a picture of them as linking fishing investors to people with political power.
Al Jazeera provided evidence that N$17,5 million passed through Namandje's law firm from Fishcor, funds that ended up in accounts of people connected to Swapo.
Namandje is seen in the documentary saying: "If you want local partners, local business people, I can also get you to the right people to speak to. That's my specialisation, and I do deliver.
"You guys must be careful speaking to people about paying the minister. If you speak to a number of people about that, you will end up (makes handcuff gesture)," Namandje said.
He accused the broadcaster of deceiving and entrapping him.
Namandje is understood to have quietly improved the law firm's internal due diligence processes to vet clients to avoid being caught up in another scandal.
* This article is supported by IJ Hub and the Advancement of Journalism Centre. It was fact checked by Victoria Wolf.
Read more on how Namandje booted Hoze Riruako from Swapo congress and the people who inspired him to be a "fearless lawyer".